Madden NFL 24 All Exciting New Features: Summary Quick Preview
Welcome, fellow gamers! Get ready to dive into the exhilarating world of Madden 24. In this guide, we'll unveil the astounding array of all new features that EA has packed into the game. As part of the EA Creator Network, we've been granted early access to this dynamic build, offering you a sneak peek into the exciting changes. From enhanced gameplay mechanics to revamped franchise modes and exhilarating Superstar challenges, we're here to take you on a fast-paced journey through the game's latest innovations.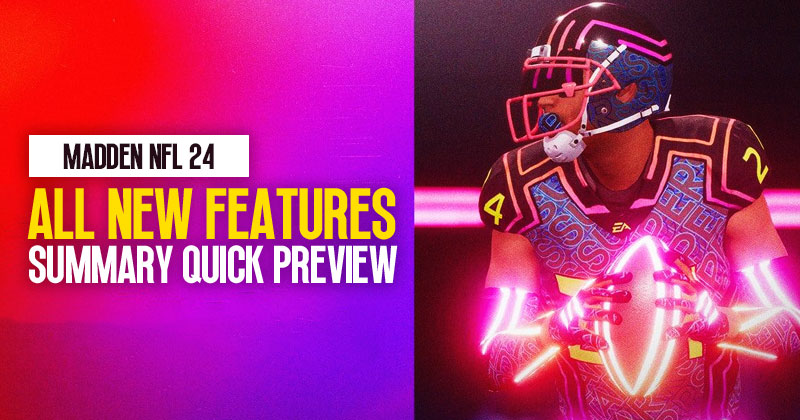 ↖ Gameplay and General Improvements
| Feature | Description |
| --- | --- |
| Improved RAC Catching | Enhanced run-after-catch mechanics for better control and momentum retention. |
| Realistic Momentum | Player weight and momentum have a significant role in tackling, leading to more authentic outcomes. |
| New Pass Animations | Introduction of new pass animations like dive throws, sidearms, no-look throws, and jump throws. |
| Player Models | Updated player models with varying body types that affect movement and interactions. |
| Sapient Crowd | Crowds, refs, coaches, and sideline characters display Sapient technology for heightened realism. |
| Referees on the Field | Referees return, including female refs on the field. |
| Pass Effectiveness Adjustments | Balanced gameplay with high balls being less overpowered. |
| Expanded Playbook | 500 new plays across 70 formations to diversify strategic options. |
| Enhanced Animations | More lifelike animations for fumble recoveries, scoop and score situations, and pileups. |
| Advanced Blocking AI | Improved AI blockers that intelligently target opponents for better blocking performance. |
| Adaptive AI | AI learns and adjusts from play to play, reducing the effectiveness of repetitive strategies. |
| Tackle Animations | 1700 new or improved tackle animations for enhanced realism. |
↖ Cross-Play and Catch Mechanics
| Feature | Description |
| --- | --- |
| Cross-Play | Madden 24 introduces cross-play, allowing players from different platforms to compete head-to-head. |
| Expanded Catch Animations | Dive catches have been added to the game, complementing a wide range of new catching animations. |
| Comprehensive Catch Interactions | Players can now execute swats, catch tackles, and hit sticks in all contested catch situations. |
| Authentic Receiver-Defender Interactions | New animations enhance the realism of interactions between receivers and defenders. |
| Weight-Based Outcomes | Player size and weight now influence outcomes, resulting in different tackling strategies for smaller and larger defenders. |
| Dynamic Blocking AI | The AI blocking system adapts based on the number of defenders, reducing exploitative gameplay. |
| Effective Linemen | High-rated blockers perform better against smaller defenders, discouraging one-dimensional running tactics. |
| Special Teams Revamp | Onside kicks and special teams plays have improved physics, delivering more impactful moments. |
| Mobile QB Dynamics | Mobile quarterbacks like Justin Fields and Lamar Jackson showcase more realistic mobility on the field. |
| Diverse QB Abilities | Quarterbacks consider 12 skill-based factors when making throws, enhancing the complexity of passing dynamics. |
↖ Franchise Mode Overhaul
| Feature | Description |
| --- | --- |
| Training Camp Returns | Immerse yourself in training camp activities with 11 new minigames in franchise mode. |
| Playable Minigames | Access 26 balanced playable minigames from the main menu, suitable for any team. |
| Expanded Trade Slots | Manage your roster strategically with six trade slots, offering more flexibility. |
| Future Draft Picks | Engage in trade negotiations with the ability to trade up to two years' worth of draft picks. |
| Varied Draft Generators | Experience 50 new draft generators featuring unique prospects, including 99 Club talents. |
| Realistic Draft Classes | Draft classes adhere to NFL jersey number rules for authentic player creation. |
| Fair Catch Rule Impact | Make use of the fair catch rule on kickoffs to start at the 25-yard line, promoting special teams play. |
| Relocation Variety | Choose from 15 new cities worldwide for team relocation, each offering a unique experience. |
| Coach-Driven Relocation | Coaches initiate relocations, leading to diverse storylines and branding options. |
| Streamlined Relocation | Rapidly change cities with instant relocation options when starting a new franchise. |
| Branching Paths | Enhance contract negotiations and long-term planning with the introduction of a fifth-year option. |
| Talent Trees | Enjoy expanded talent trees for specialization in head coaches, coordinators, and player personnel. |
| Deeper Commissioner Tools | Utilize commissioner tools like depth chart reordering and trade difficulty settings. |
| Enhanced Fantasy Draft | Opt for a snake draft option in fantasy drafts, adding depth and catering to preferences. |
| Commissioner Impact | Customize progression/regression sliders and draft times to cater to league customization. |
| Co-Commissioner Advancement | Co-commissioners can advance drafts, contributing to smoother league management. |
| Staff Talent Progression | Fine-tune the franchise experience by modifying staff talent earning rates for coaches. |
| Balanced Playtime | Match draft time with player schedules by toggling it on/off from the main menu. |
↖ Superstar Mode Evolution
| Feature | Description |
| --- | --- |
| Superstar Mode Revamp | Face of the Franchise mode becomes Superstar mode, focusing on NFL career progression. |
| Combine Experience | Start Superstar mode with combined drills, including the 40-yard dash and position-specific exercises. |
| Player Grading System | Receive letter grades and feedback to enhance performance evaluation and draft stock. |
| Tiered Abilities | Customize your player with new bronze, silver, and gold tier abilities. |
| Comprehensive Scoring | Quarterbacks evaluate 12 factors for skill-based throws, adding depth to passing dynamics. |
| Enhanced Mobile QBs | Mobile QBs exhibit realistic agility and movement patterns, like Justin Fields. |
| AI Alert Logic | AI quarterbacks make audibles based on defensive formations, adding strategic variety. |
| Improved QB Progressions | AI QBs have speedier progressions and make low throws on covered passes for a fresh challenge. |
| Superstar Missions | Complete on-field and off-field missions, including career milestones and brand objectives. |
| Dynamic Social Media | Engage in off-field activities like community events, training, recovery, and minigames. |
| Superstar Showdown | Experience the new 3v3 Superstar Showdown mode, emphasizing fast-paced, first-to-21 scoring. |
| Player Progression | Enjoy unique Avatars and progression paths for each playable position. |
| Multi-Position Stars | Become a two-way player, enhancing non-specific ratings through Superstar Showdown play. |
| Custom Emotes and Celebrations | Express yourself with custom emotes and celebration animations. |
↖ Ultimate Team Innovations
| Aspect | Description |
| --- | --- |
| Item Catalog | Provides different methods for players to acquire items, such as sets and packs, auctions, and challenges. Players can build their collections through various in-game avenues. |
| Live Event Hub | A simplified hub designed for new players, offering programs, challenges, and card functions. It guides newcomers through the features of Ultimate Team, making it easier to start. |
| Onboarding Tutorials | New tutorials specifically created to introduce rookies to Ultimate Team. These tutorials help new players understand the game mode's mechanics and features more easily. |
| Competitive Rewards | In competitive modes, players can earn exclusive limited and base player items. Additionally, there's a substantial prize pool, providing an extra incentive to engage in competitive play. |
↖ Other New Features
| Feature | Description |
| --- | --- |
| Final Event Showdowns | Six events with a $1.7 million prize pool, offering intense competitive gameplay. |
| Authentic Live Finals | All finals are conducted in person, enhancing the excitement of the competitive atmosphere. |
| Additional Minigames | Enjoy and conquer 26 unique minigames, providing a variety of challenges and rewards. |
| Avatar Customization | Personalize your Avatars using unlockable gear earned through Superstar modes, adding a unique touch. |
| Inclusive City Choices | Choose from 34 cities, including international locations, for a fully immersive relocation experience. |
↖ Wrap-Up
And there you have it, a whirlwind tour of the all new incredible new features that Madden 24 brings to the table. From improved gameplay to franchise mode enhancements and the evolution of Superstar and Ultimate Team modes, there's something exciting for every Madden enthusiast. Remember, this early access build might still see some changes, so stay tuned for the official release. Thanks to EA for letting us capture this footage and share it with you.
Most Popular Posts
Popular Category Lists