Madden NFL 24 Before Release: 12 Essential Details You Need To Know
Get ready to step onto the virtual field like never before with Madden 24! With a dynamic blend of cutting-edge features, enhanced gameplay mechanics, and a roster of top-tier players, Madden NFL 24 is shaping up to be a game-changer in the sports simulation genre. From cross-platform play to revamped modes and stunningly realistic visuals, this guide dives into the 12 essential details you must know before the game hits the shelves.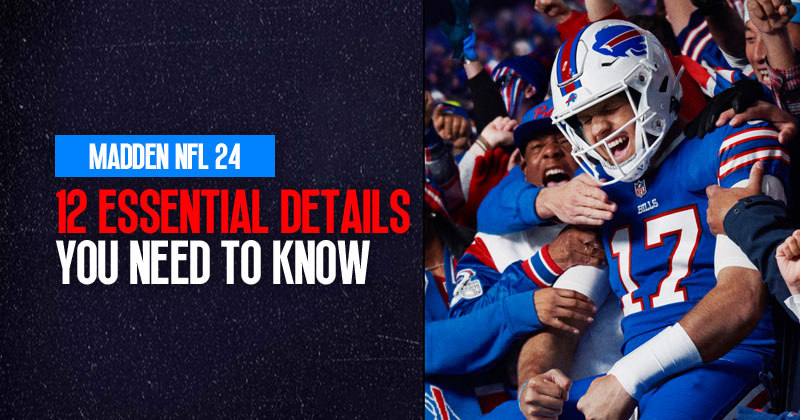 ↖ Detail 1. Release Date
Madden 24 will be released on August 18, with early access on August 15 for Deluxe Edition pre-orders.
↖ Detail 2. Pre-Order Info
The main distinction between pre-ordering Madden's Standard and Deluxe Editions is the three-day early access and 4600 Madden points for Ultimate Team.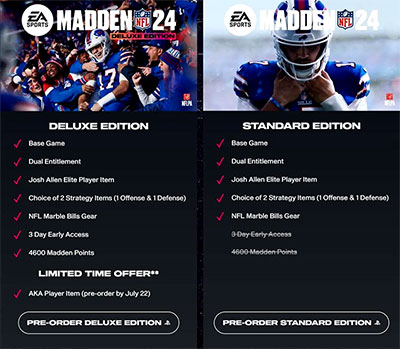 ↖ Detail 3. Cover Athlete: Josh Allen
Following Patrick Mahomes in Madden 23, EA continues with a QB for this year, selecting Buffalo Bills' standout Josh Allen. He's the first Bills player ever on the cover.
↖ Detail 4. Ratings
The upcoming game will feature five players starting with a 99 overall rating:
Aaron Donald
Justin Jefferson
Travis Kelce
Patrick Mahomes
Zack Martin
The Chiefs, reigning Super Bowl champs, and NFC's strong team, the San Francisco 49ers, are the only ones with three players rated 95 or higher, with San Francisco having five such players.
Madden 24 Player Rating: https://www.ea.com/games/madden-nfl/player-ratings
↖ Detail 5. Cross-Play Has Landed
Play head-to-head in Madden 24 across PC, PS5, and Xbox Series X|S. Cross-play is supported in Head-to-Head, Madden Ultimate Team, Superstar KO, and Superstar Showdown modes.
↖ Detail 6. More Improvements Franchise Mode
Madden Franchise mode revamp, a multi-year effort, is now yielding noticeable enhancements to the once-impressive feature. The return of mini-games, customization, and improved trade logic are the highlights. EA has brought back iconic features like mini-games and linked them to the franchise mode, enhancing player engagement. Mini-games like Rush and Attack now contribute to your training camp progress, adding interactivity to player development.
On the customization front, relocation restrictions are lifted, offering more choices for cities, logos, and team names. While the ability to upload/create logos needs to be added, this is a positive step. The upgraded trade and player logic is promising, though its actual effectiveness remains to be seen in the retail version. Nonetheless, Madden Franchise is making a strong comeback.
↖ Detail 7. The Return of Superstar Mode
EA is embracing a proven strategy from successful sports titles, evolving career modes into live services. Users can create players for various positions, facilitating teaming up with friends and adapting to any team. The single-player section has smartly moved away from a rigid storyline, incorporating the NFL Scouting Combine and on-screen progression concepts. If the experience matches the appearance, Superstar mode might become one of the series' best additions, rivalling Ultimate Team's success.
Superstar Mode Guide: Gameplay & Exciting Features
↖ Detail 8. Ultimate Team Updates
If you're seeking innovative ways to play MUT, Madden 24 might not bring those. However, expect tuning and quality-of-life updates for the mode. Changes include a new onboarding system and revamped live events hub. Champion card starting OVR ratings are now set at 87 to keep player meta fresh. Cross-Play, a widespread addition, will significantly impact MUT, enabling cross-platform battles. Content is crucial for MUT, so the true value depends on EA's live events, card series, and post-release plans. Stay tuned for more.
↖ Detail 9. New Tackling Features
FIELDSENSE technology is back in its 2.0 phase. EA's deep dive blog highlights three main areas of improvement: more realism, smarter AI, and improved animations via the new SAPIEN technology. In Madden 24, the upgraded Hit Everything system introduces catch tackles with choices and additional animations to assist defenders in disrupting passes and preventing receivers from catching.
EA has expanded tackle animations with better control and diversity based on defender size and strength matchups. The New Defender Advantage formula dynamically selects tackles using player attributes like size, speed, and momentum. Changes include:
Removing 'Conservative Tackle,' now A/X is Wrap tackle with outcomes from the Tackle Advantage Algorithm.
Smaller defenders trip larger ball carriers.
Big Man Wrap tackles pushback carriers (like Vita Vea overpowering a runner).
New scoop tackles lift ball carriers off the ground.
Over 1700 tackle animations have been added or adjusted. Exciting updates, but cautious optimism remains for real gameplay experience.
↖ Detail 10. Enhanced Blocking
Tackling the challenge of offensive line play has been Madden's toughest feat. Replicating this intricate aspect is complex due to various factors like human randomness. Yet, EA devs upgraded Run Blocking via FieldSENSE and Foundational Football in Madden NFL 24. The run game gains impact with Hit Everything 2.0! Discover how smarter and more impactful blockers were developed for the run game. Post-launch updates will further refine the experience, just like previous titles.
↖ Detail 11. New Passing Features
Madden 24 introduces new passing features, including jump and dive pass animations. The dive pass animation raises concerns about its potential for exploitation, but its impact will only be clear once players get their hands on the game. The game also adds no-look passes, which some might find unnecessary but still cool. Developers are evaluating the effectiveness of the dive pass, which can lead to exciting moments for top players like Patrick Mahomes.
Dive passes can be attempted while rolling out to the sideline with a defender closely trailing, while jump passes occur in the pocket with a defender in front. EA has also adjusted slightly inaccurate passers' placement to maintain their playability in specific scenarios.
The catching system sees enhancements, too, with hundreds of new catch animations aimed at reducing missed catches and enabling more accurate receptions in stride. Additional dive catch animations add to the gameplay dynamics. This year's game promises memorable gameplay moments, both positive and negative.
↖ Tetail 12. SapienTechnology
Madden 24, Powered by SAPIEN Technology, showcases enhanced player realism through advanced skeletal emulation. Notable improvements are visible in offensive and defensive linemen, with more distinctions apparent during extended gameplay.
Conclusion:
In anticipation of Madden 24's imminent release, it's clear that EA Sports has meticulously crafted a game that caters to both avid fans and newcomers alike. With cross-play, revamped franchise and superstar modes, improved gameplay mechanics, and the allure of cutting-edge technology, this year's instalment promises an unparalleled football gaming experience. As you gear up to step onto the virtual field, armed with enhanced player ratings and innovative features, get ready to embark on a journey that encapsulates the essence of the sport like never before.
Most Popular Posts
Popular Category Lists