Madden 24 Updates: New Player Likeness, Equipment and Relocation Uniforms
Get ready, Madden fans, because early content for Madden 24 is here! In this comprehensive guide, we'll be diving into the exciting updates that the game has to offer. From enhanced player likenesses to brand-new equipment options, updated relocation uniforms, and more, there's plenty to explore. Keep in mind that the information is based on a pre-release build, so there might be some minor adjustments before the official launch.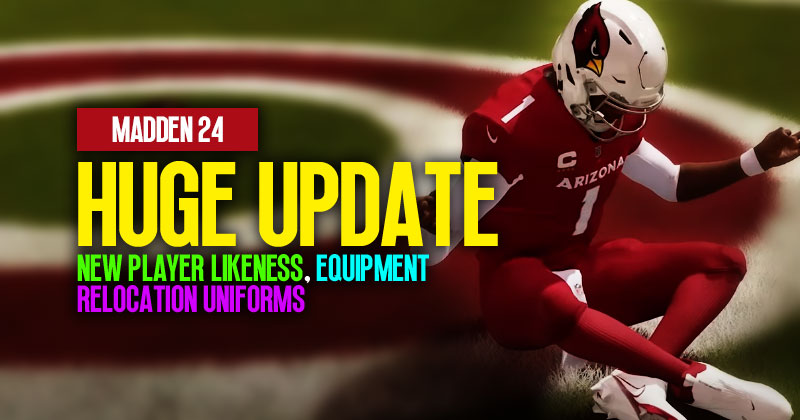 ↖ Player Likeness Updates
The Madden 24 update brings a host of player likeness improvements, making your favourite stars even more true-to-life on the virtual gridiron. Let's take a look at some of the notable updates:
Austin Eckler: Finally, Austin Eckler's player likeness has been added to the game, a much-anticipated change for fans.
Derwin James: Derwin James' updated appearance reflects his recent hairstyle change, featuring a more accurate representation.
Justin Herbert: Justin Herbert's player likeness has seen significant improvement, with better facial features and hair textures.
Kyler Murray: Kyler Murray's rookie face scan has been replaced with a much more realistic and accurate representation.
Josh Allen: The cover athlete, Josh Allen, received a minor update to his appearance, including changes to his hair and face.
Fred Warner: The best linebacker in the game, Fred Warner, now has his accurate player likeness.
Jalen Hurts: Similar to Josh Allen, Jalen Hurts has received a slight player likeness update, with changes to his cap and facial features.
Aiden Hutchinson's Signature Eye Paint: A cool addition to the game, Aiden Hutchinson's unique eye paint has been added to his appearance.
↖ Rookie Player Likeness
New Rookies: The game features updated face scans for rookie players, utilizing advanced face scan technology to make them look more realistic and accurate.
Notable Rookies: Some of the top rookies, including Bryce Young and CJ Stroud, are featured with highly detailed face scans.
Improved Face Scans: New rookies are better represented than in previous versions, ensuring a more authentic experience.
↖ Player Body Types
Enhanced Player Skeletons: Madden 24 introduces improved player skeletons, resulting in more realistic body types and athletic proportions for players.
↖ Equipment Updates
One of the standout features of Madden 24 is the extensive equipment update. Here's a breakdown of some key additions:
Axiom Helmet: One of the most requested additions, the Axiom helmet, is now available in the game. It's worn by players like Michael Parsons and Tony Pollard.
Axiom Helmet Face Masks: The Axiom helmet comes with various face mask options, including the two-bar, three-bar, and jagged variations.
Riddell VSR4 Helmet: An older style helmet, the Riddell VSR4, has been added to the game, catering to players who prefer vintage equipment.
Baggy Sleeves: Baggy sleeves, a popular player preference, can now be equipped in team colours, black and white.
New Gloves: The Adi Zero 13 gloves from Adidas have been introduced, offering secondary colour options in black and white.
Adjustable Hand Warmer: Players can now move the Hand warmer to the back, a small but appreciated addition for customization.
Improved Jordan 1 Cleat: The colour scheme of the Jordan 1 cleat has been improved to better match real-life options.
New Cleats: Additional cleats from Adidas have been added, including the ADI Zone 11 Turbo Low and Adidas Freak Ultra Mid.
↖ Throwback Classic Jerseys
Oilers and Seahawks: Updated classic jerseys, including the Oilers and Seahawks, have been added to the game with modern Nike designs.
Team Updates: Some throwback jerseys are still being updated, and alternate helmets will be added in future updates.
↖ Relocation Uniforms
Madden 24 continues to expand the creative possibilities with updated relocation uniforms for your franchise teams. While not all teams and alternate helmets are available in the initial release, there are exciting options to explore. Some of the highlights include:
Houston Oilers: Relocating to Houston allows players to use the Oilers' old-school helmet and logo with updated modern uniforms.
Uniform Variations: Each team offers home, away, and alternate uniform options, with helmets being a significant focus of the updates.
Helmet Improvements: Helmets have been redesigned to look more authentic and up-to-date, enhancing the overall visual experience.
Team-Specific Uniforms: A variety of relocated team options are available, allowing players to create unique franchise experiences.
Classic Helmet Designs: Unique and creative helmet designs for relocated teams, like the Nighthawks and Redwoods, offer diverse customization choices.
Conclusion:
Madden 24 introduces a range of exciting updates, from player likeness improvements to enhanced equipment options and updated relocation uniforms. With more realistic rookies, customizable gear, and improved visuals, players can look forward to an even more immersive Madden experience. Stay tuned for further updates as the game's release approaches!
Most Popular Posts
Popular Category Lists