Madden 24 Glitches: Double Pre-Order Packs, Missing Rewards, and Bonus 84 Headliners Hero!
In the world of Madden 24, glitches have made quite the entrance, ranging from concerning issues to surprisingly advantageous situations. In this guide, we delve into the realm of these glitches, ensuring you're informed on how to navigate the twists and turns they present. From double pre-order packs to mysteriously absent rewards and an unexpected 84 Headliners Hero, we've got you covered.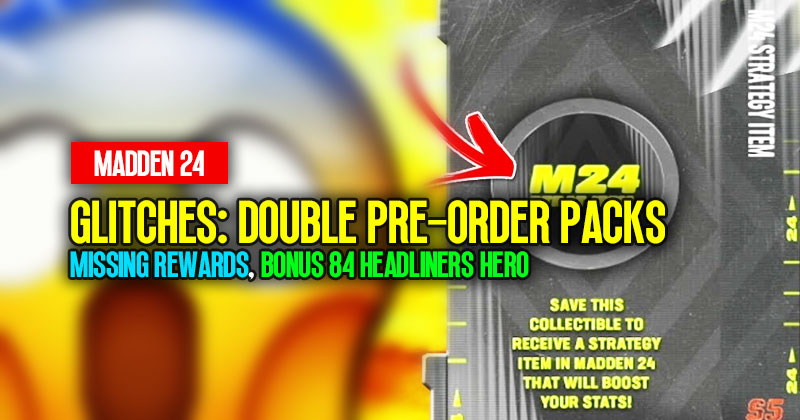 ↖ Pre-Order Pack Predicaments
The annual tradition of pre-order packs is notorious for its hiccups, and Madden 24 is no exception. Many players, especially on the PlayStation platform, have faced the frustration of missing their pre-order packs altogether. While Xbox platform users also encountered this issue, it was particularly pronounced on PlayStation. However, before you lose your cool, remember that these issues aren't necessarily a sign of the entire year going downhill. Glitches happen, and developers are actively working to resolve them.
↖ Double the Packs, Double the Fun?
Surprisingly, some players found themselves in an interesting position – double pre-order packs and extra Madden Points! Instead of the expected 4,600 Madden Points, lucky users walked away with a whopping 9,200 Madden Points and additional packs. The intricacies of how this occurred remain unclear, but one thing's for sure: some players had a double dose of fun.
↖ The Phantom Rewards
In a rather baffling glitch, some Madden 24 enthusiasts discovered they were getting a taste of rewards they never pre-ordered. Even individuals who joined the party after the pre-order deadline found themselves with the coveted Sauce Gardener and Justin Jefferson. While it might sound like a lucky draw, it left players scratching their heads.
↖ Platform Juggling and Lost Rewards
A new twist adds a layer of complexity to Madden 24 – platform-specific progress. Unlike previous iterations, this year's game does not carry over progress between different versions. If you're playing on Xbox One or PlayStation 4 and later decide to upgrade to the Xbox Series X/S or PlayStation 5, brace yourself for a fresh start. This created a hiccup with the pre-order packs; many PlayStation 5 players discovered their pre-order packs were sent to the old-gen version of the game, leading to frustration and confusion.
↖ EA's Response and Your Actions
Electronic Arts (EA) has acknowledged the issues, as seen in their tweet addressing the pre-order pack and points concerns. While they are working diligently to address these problems, some players have already received their pre-order packs, while others are still awaiting theirs. If you find yourself in the latter category, patience is key. However, if you need more time, consider reaching out to EA Help for assistance.
↖ The Unexpected Bonus: 84 Headliners Hero
In the midst of these glitches, an unexpected opportunity arises for players to get their hands on a bonus 84 Headliners Hero. Solo challenges in the Field Pass were meant to grant OBJ upgrade tokens, but due to the glitch, they're currently awarding an extra 84 overall BND Headliners player instead. It's a temporary silver lining that savvy players can exploit while the glitch remains active.
↖ Making the Most of It
As you ponder which player to choose with your unexpected 84 Headliners Hero, remember that this glitch isn't likely to last. EA is sure to address the issue sooner or later, reverting back to the intended rewards. So, seize the opportunity and select wisely from the roster of promising options, such as Carlonquo Arcaroncos, JC Horn, Tevin Jenkins, Kadarius Toney, Khalil Herbert, and Trayvon Walker.
Conclusion:
Glitches are an unfortunate yet inevitable part of any game's launch, and Madden 24 is no exception. While the missing pre-order packs and platform-specific issues have caused frustration, the unexpected bonus of an 84 Headliners Hero provides a silver lining. Remember, developers are actively working to address these problems, so patience is key. Please make the most of the advantageous glitches while they last, and stay tuned for updates from the gaming community and EA.
Most Popular Posts
Popular Category Lists