NBA 2K24 Gameplay: Summary of Key Improvements on New Gen
Immerse yourself in the future of virtual basketball with NBA 2K24 on PS5 and Xbox Series X|S. Experience the game like never before, thanks to the groundbreaking ProPLAY™ technology. This innovation takes realism to unprecedented heights, translating real NBA movements into your gameplay. Get ready for genuinely contested shots, acrobatic layups, and more, all mirroring the authentic actions of your favourite players.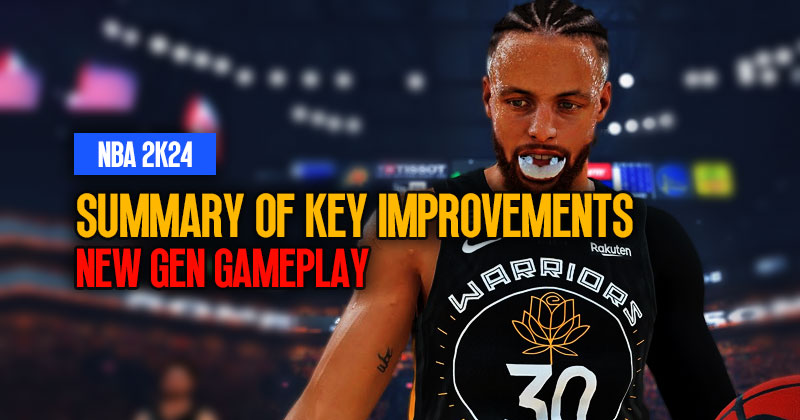 ↖ Unveiling the Distinction
Dive into the world of real gameplay versus mere imagined shots. While motion capture brought NBA 2K close to replicating the action, ProPLAY abandons artificial technology in favour of genuine, intense in-game scenarios. Shots, motions, and player actions are captured in real-time, delivering a level of realism that surpasses all expectations. Witness the introduction of player-specific, authentic moves—such as Durant's jumpshot, Curry's dribbles, and Jokić's finesse. ProPLAY takes believability to new heights, minimizing disruptions in authenticity.
↖ New Animations Take Center Stage
Elevate the realism across the game with ProPLAY on New Gen. Every facet, even the most minute motions, has been meticulously captured. ProPLAY immerses you fully in the NBA journey, from the tip-off to the final whistle. Immerse yourself in an authentic New Gen experience with ProPLAY, as NBA 2K24 enriches gameplay across all consoles.
↖ Masterful Offensive Gameplay
Offensive skills like shooting and dribbling have never been more intuitive and accessible, catering to players of all skill levels—from novices to seasoned pros.
↖ Precise Shot Timing
In challenging modes like Hall of Fame, REC, and City, players are tested with Green or missed shot timing for the ultimate challenge. However, Quick Play, MyNBA, and MyTEAM offer more forgiving shot timing, reducing the need to memorize exact release points. The Shot Timing Release Time has evolved into a Shot Timing Visual Cue, allowing adjustments based on animation cues and simplifying gameplay with unfamiliar players.
↖ Revamped Layup Timing
Layup timing is now active by default and has been redesigned for smoother rim finishes while retaining rewards for mastering the skill. Advanced layups, including floaters, reverses, euros, hop steps, and scoops, offer powerful tools, especially for slashing players.
↖ Dunking Excellence
New Gen console players can now execute controlled rim hangs with two-hand dunks by holding the Sprint trigger during the dunk. Flashy dunks can be pulled off using the Pro Stick, while Up/Down or Down/Up double throws enable contact dunks with the dunk meter. Meter dunks are more precise on higher difficulty levels.
↖ Dominating the Paint
NBA 2K24 empowers big players in the paint. Offensive rebounds seamlessly transition into putback attempts using the Shoot button. Post fades, and hop shots become potent tools for post players. Strength and weight play a role in dominating the paint, with glass cleaners outrebounding and scoring over smaller opponents for crucial second-chance points.
↖ Enhanced Dribble Breakdowns
Dribble Breakdowns in NBA 2K24 have received comprehensive improvements across all modes, difficulties, and player expertise levels. Mastery of dribbling separation is essential for high-percentage shots. Players now have two breakdown versions: Regular (flick up on the right analog stick) and Aggressive (flick up on the right analog stick while sprinting). These initiate signature size-up moves for creating separation or transitioning into explosive drives.
This year's system introduces more combos, such as double crosses and hesitation crosses. With ProPLAY on New Gen, top ball handlers feel even more explosive, boasting unique signature combos for outmanoeuvring defenders. A notable addition is the blowout dribble, activated by tapping Sprint while moving, offering a burst of speed for transitions or bypassing defenders.
↖ Revitalized Adrenaline Boosts
Adrenaline boosts return, now redesigned to enhance both offense and defense simultaneously. On offense, boosts no longer vanish during dribble combos or short moves, granting elite ball handlers greater creative freedom. However, boosts disappear when the on-ball defender interrupts a drive. The impact of losing adrenaline is now primarily on shooting rather than movement.
Skillful defenders can disrupt scoring by bumping the ball handler multiple times. Scoring isn't solely about dribbling; mastering off-ball play is equally important. NBA 2K24 introduces off-ball offense controls, enabling swift moves with the right analog stick for open shots or cuts. Off-ball players can initiate speed bursts by tapping Sprint, allowing explosive sprints to open areas, and setting up spot-up shots or rim runs for dunks and layups.
↖ Mastering Skill-Based Defense
NBA 2K24 introduces impactful changes to counter moves.
Both perimeter and paint defense has been enhanced, rewarding players for anticipation and smart decisions. Defensive movement is more responsive, minimizing sliding and aiding defenders in positioning themselves effectively.
The improved body-up system and refined contact mechanics empower defenders to stymie ball handlers.
Directional steals make a comeback, providing defenders with additional tools to hassle opponents.
Precise reaching is essential for success and avoiding fouls. The revamped contest logic prioritizes body positioning over past issues, aligning coverage scores with player expectations.
Blocking demands strategic timing and a keen understanding of the offense to avoid fouls and seize pivotal moments.
Mastering defensive instincts can have a game-changing impact.
↖ Reimagined Takeover
Takeover in NBA 2K24 on New Gen consoles makes a return with a twist. Instead of pre-selecting Takeover abilities during the build process, you can now choose them on-the-fly when the Takeover meter is full. Choose from Finishing, Shooting, Playmaking, Defense/Rebounding, or Physicals to enhance specific abilities. Delaying activation fills a second meter for a Double Takeover, boosting two categories. Unlocking Mamba Mentality upgrades all attributes with a Double Takeover.
↖ Effortless Coaching
2K Smart Play returns, streamlining calls while executing offense. An overlay appears after shots, indicating the play. Activate it by tapping L1 before crossing halfcourt; it's auto-assigned based on play type. For preferred plays, utilize the directional pad to choose from 16 actions, including plays, isolations, and give-and-goes. NBA 2K24 heightens enjoyment with the streamlined offense, defense, and coaching.
↖ Introducing Freelance Play
For NBA 2K24 enthusiasts eager for a deeper experience, 2K introduced the "Comp" freelance. Tailored for competitive players, it grants full control over AI teammates' movements. In Comp freelance, AI players space the floor in a five-out set. User-initiated actions encompass 16 plays and actions using the left directional pad. Enhancing this, five double action plays provide swift combo scoring opportunities, such as Give Flare, Give Fist, Fist Flare, First Screen, and Screen Fist. A novel cut-to-basket setting expands options for comp players, offering both auto and manual AI cuts.
Another inclusion is the motion freelance, adapting actions automatically to the team's strongest players for diverse scoring prospects. Unlike previous freelances, the motion freelance adjusts from 3-out to 4-out to 5-out and remains up-to-date through roster updates, ensuring ongoing versatility.
↖ Fresh Lineups & Substitution Strategy
NBA 2K24 introduces an innovative lineup and substitution system. Previously, all five players were substituted simultaneously, occasionally leading to AI scoring issues. The updated approach prioritizes retaining scorers on the court, supported by data-backed insights into 1, 2, and 3 scorer lineups. This guarantees managed minutes to sustain scoring potential and optimal starter presence. The system accommodates 6th-man lineups and various closing lineups. Coupled with the ACE offensive game-plan engine, offensive focus adjusts dynamically with lineups. This evolution presents a challenge, as users can no longer exploit non-scoring AI lineups.
Conclusion:
NBA 2K24's revolutionary ProPLAY™ technology ushers in a new era of gaming realism. Authentic NBA actions, real-time animations, and player-specific moves combine to create an unparalleled experience. From precision shots to dominating defense, this game's enhancements redefine virtual basketball, engaging players of all skill levels. ProPLAY™ delivers immersion, authenticity, and excitement, making NBA 2K24 a must-play for anyone seeking the closest thing to stepping onto the real court. Get ready to feel the pulse of the game like never before on the New Gen consoles.
Most Popular Posts
Popular Category Lists