Madden 24 Best Free QB Card Bryce Young: Key Attributes and Tips
Madden 24 has brought some interesting changes to the virtual football field, and one of the most talked-about topics is the performance of the free cards available. Many players were disappointed with the pre-order card of Josh Allen, which didn't live up to expectations. However, there's a shining star among the free cards that players can look forward to - Bryce Young. In this guide, we'll explore why Bryce Young's 84 overall card is considered an upgrade and provide you with essential tips to make the most of his impressive attributes.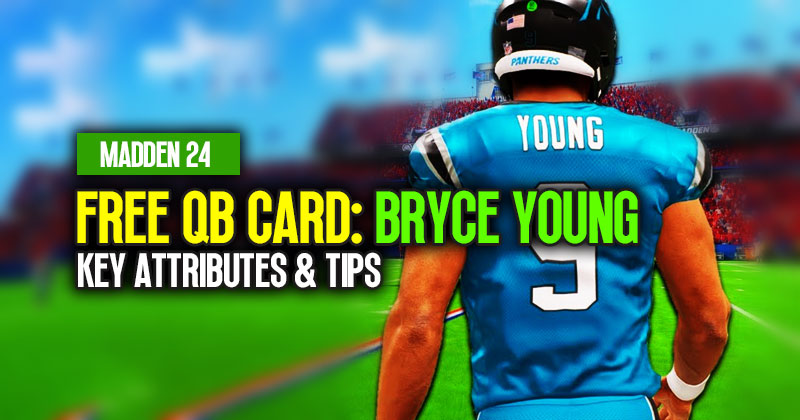 ↖ The Disappointment of Josh Allen's Pre-Order Card
The excitement of having a starting quarterback like Josh Allen quickly turned into disappointment for many Madden 24 players. His 83 overall pre-order card fell short of expectations, leaving players frustrated with his performance on the field. While some may argue that he's a decent card, the consensus seems to be that his attributes don't match up to the hype.
↖ Introducing the Game-Changer: Bryce Young
Thankfully, Madden 24 offers an alternative that can truly elevate your gameplay. Bryce Young's 84 overall card is a game-changer for those looking for a reliable quarterback option. Unlike the underwhelming Josh Allen, Bryce Young's card has some key attributes that make him a force to be reckoned with.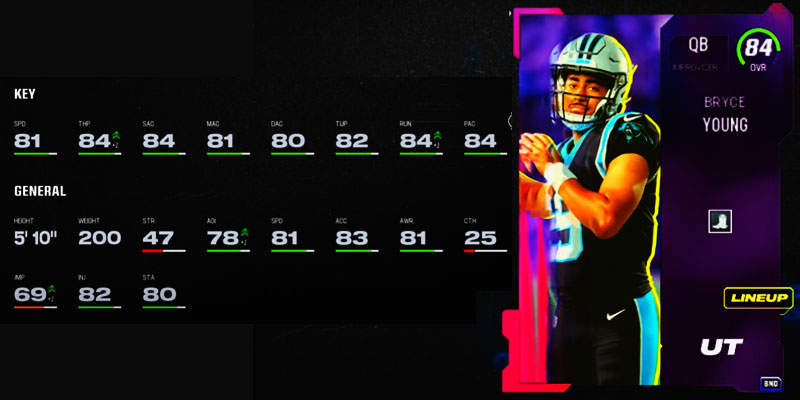 ↖ Key Attributes of Bryce Young's Card
Speedy and Agile: Bryce Young boasts an impressive 81 speed, making him one of the fastest quarterbacks in the game. This speed can be a game-changer, allowing you to evade defenders and scramble for critical yards when needed.
Accurate Passing: What sets Bryce Young apart from his counterparts is his throwing accuracy. With all of his throwing accuracies above 80, he's a reliable choice for making precise throws even under pressure.
Solid Release: Bryce Young's release is particularly effective when throwing medium to deep passes. While his short throw accuracy might leave a bit to be desired, his ability to deliver accurate medium and deep throws makes up for it.
↖ How to Obtain Bryce Young in Madden 24?
For those eager to add Bryce Young to their roster, it's important to know how to acquire him. He's available as a part of the Season One field pass. Simply head over to the objectives section and reach level eight to unlock this exciting card.
↖ Gameplay Tips with Bryce Young
Utilize His Speed: Take advantage of Bryce Young's speed by incorporating designed quarterback runs and scrambles into your strategy. His ability to break away from defenders can turn a broken play into a substantial gain.
Precision Passing: Bryce Young's accuracy is his strongest suit. Focus on making well-timed throws to capitalize on his high throwing accuracies. Mix up short, medium, and deep passes to keep your opponent guessing.
Exploit Medium to Deep Throws: Given his solid release and accuracy on medium to deep throws, focus on plays that involve post routes, corner routes, and streaks. These can exploit holes in your opponent's coverage and result in big gains.
Scramble Wisely: While his speed is a weapon, don't overcommit to scrambling. Be sure to read the defense and only take off when there's open space or a clear advantage.
Stay Calm Under Pressure: Bryce Young's attributes make him a great choice for executing clutch plays. When the game is on the line, rely on his accuracy to deliver crucial completions.
Conclusion:
Bryce Young's 84 overall card is a breath of fresh air for Madden 24 players disappointed by the underwhelming performance of Josh Allen's pre-order card. With his exceptional speed, accurate passing, and solid release, he can transform your offensive strategy and lead your team to victory. By implementing the gameplay tips mentioned above, you can harness the full potential of Bryce Young's card and dominate the competition on the virtual gridiron.
Most Popular Posts
Popular Category Lists