NBA 2K24 Updates: New Takeover and Significant Gameplay Features
NBA 2K24 is shaping up to be an exciting installment in the basketball video game series, and the community is abuzz with news and updates about the upcoming game. One of the most anticipated additions is the introduction of a new takeover, expanding the gameplay possibilities for players. In this guide, we'll break down the details of the new Takeover, along with other significant gameplay features shared by Mike Wang, the head gameplay developer for NBA 2K.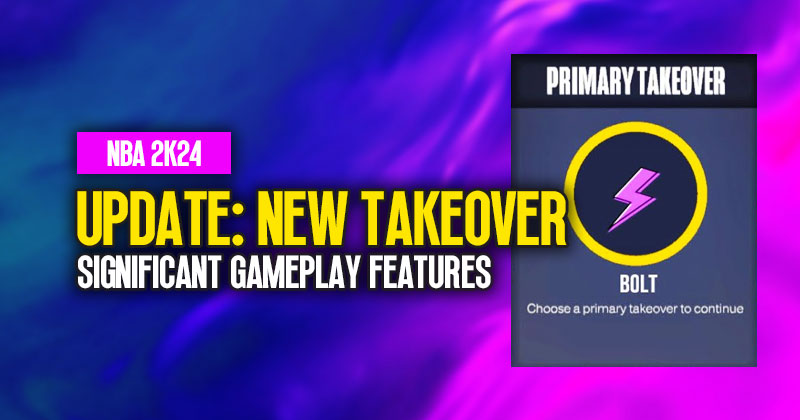 ↖ New Takeover Feature: Physical Takeover
The new Takeover system introduces a fifth type of Takeover called the Physical Takeover.
Physical Takeover focuses on attributes related to speed, acceleration, vertical, strength, and stamina.
Activating the Physical Takeover will grant boosts to these attributes, allowing players to excel in areas like speed, agility, and strength.
↖ Takeover Selection Strategy
Takeovers are categorized into Finishing, Shooting, Playmaking, Defense, and the new Physical category.
You can choose your Takeover in-game through an in-game menu, allowing for situational strategy and variety.
The effectiveness of Takeovers depends on your player's existing attributes and skills. Choosing the right Takeover that complements your build is crucial.
↖ Takeover Effects and Attributes
When activating Takeover, you receive a 10-point attribute boost in the selected category.
This boost stacks on top of your existing attributes, enhancing your player's performance in that specific area.
It's important to note that Takeover won't transform your player into a superstar in a low-rated attribute. It's most effective when paired with attributes you've already invested in.
↖ Takeover Rating Boost
Takeover will temporarily exceed the normal attribute cap of 99, boosting your skills even further.
For example, if you had a 99 three-point rating and activated a relevant Takeover, your rating could increase to 109 temporarily.
↖ Shot Timing and Shooting Changes
Shot timing and variability have been adjusted to provide a more balanced shooting experience.
Green window for shots is larger when open but shrinks when heavily contested or in traffic.
Shot timing stability becomes a significant factor, affected by your Stability attribute.
Turning off the shot meter and focusing on learning your timing can increase the green window by 20.
↖ Contest System Improvements
The contest system has been revamped to emphasize body position over hand location.
Ghost contests from previous years have been addressed, giving players a more consistent and fair contest experience.
Heavier penalties for being crowded at the start of a shot but fewer penalties for being out of position on a late closeout.
↖ Defensive Improvements
Perimeter defense is more responsive with improved control and fewer sliding movements.
Right-stick steals are reintroduced, offering players more control over their defensive plays.
Defensive body-ups are more effective, and sliding animations are reduced.
You can check out Defensive Changes and get all the relevant content!
↖ Animation and Dribbling Changes
NBA players' real-life movements are integrated into the game using Pro Play technology.
Dribble moves are more authentic and responsive due to using real-life player movements.
More dribble animations and moves are available, creating a wider variety of playing styles.
↖ Offensive Players Out of Bounds
Offensive players going out of bounds will now be penalized according to griefing rules.
Players who exploit this will receive a negative grade, discouraging unfair gameplay tactics.
↖ Customization Options
NBA 2K24 offers more controller customization options.
You can adjust the size and position of on-screen elements like the shot meter, player indicator, and fatigue bar.
Conclusion:
NBA 2K24 is poised to deliver an exciting gaming experience with the introduction of the Physical Takeover, refined animations, an improved contest system, and a host of other gameplay enhancements. The new Takeover system adds strategic depth to the game, while animation improvements and UI customization options provide players with a more immersive and tailored experience. As the release date approaches, fans are eagerly anticipating the chance to step onto the virtual court and explore these exciting changes firsthand.
Most Popular Posts
Popular Category Lists