EA Sports FC 24 Clubs and Volta Modes: New Features and Updates
Get ready for an exciting EA Sports FC 24 experience as we dive deep into the thrilling new features and updates awaiting you in the Clubs and Volta modes. This guide, we're joined by the brilliant minds behind the game, including Sheldon, Tim, and Brandon, who will take you on a journey through these beloved modes. From groundbreaking cross play that spans platforms to the exciting evolution of Clubs League format, the introduction of play styles, and much more, get ready to embark on a revolutionary football adventure.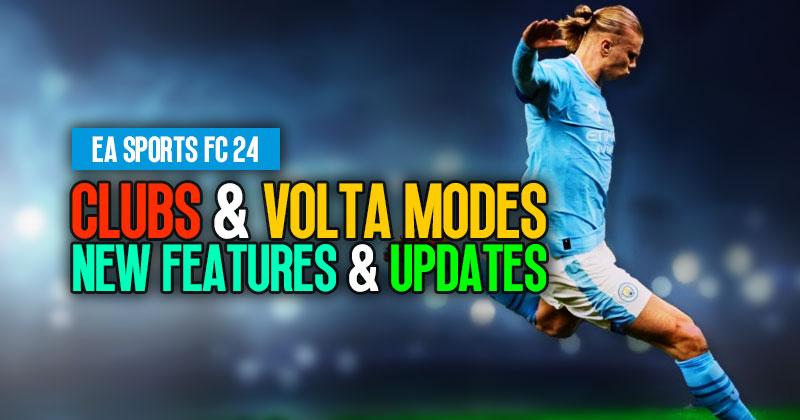 ↖ Cross Play Arrives
The long-awaited feature has arrived — cross play! Now, in FC 24, you can team up across platforms and play with friends seamlessly. This exciting addition applies to both Clubs and Volta modes. Cross play enhances the social experience and lets you enjoy the game with even more players. While cross play remains generation-specific, there's an additional surprise—clubs can now be played on the Nintendo Switch for the first time ever. Prepare to take your skills to new platforms!
↖ Revolution in Clubs League Format
Get ready for a revolution in the Clubs League format. The goal was to keep the experience fresh and enjoyable throughout the year, mirroring the journey of real-life football clubs. Seasonal themes and rewards will reflect the time of year and game-wide events. Here's a breakdown of the revamped league format:
| | |
| --- | --- |
| Seasons | The year is divided into seasons, each offering unique themes and rewards inspired by the gaming landscape. |
| League Phase | Clubs will compete in the league phase, similar to division play, earning points and climbing divisions. No more relegation—only upward progress! |
| Promotion Phase | This new phase adds excitement by breaking up regular league matches and promotion matches. Each match will have greater significance, with captivating intros setting the stage for intense matches. |
| Playoff Phase | At the end of each season, the playoff phase begins. Clubs compete in a set number of matches, climbing the division playoff leaderboard. No draws here—penalties will decide tied matches. |
| Post-Playoffs | After playoffs, your club's division will be reset at the start of the new season, giving you fresh opportunities to claim higher divisions. |
↖ Fans, Reputation, and Skill Rating
Fans and reputation are crucial aspects of your club's journey. Every match you play contributes to building your club's reputation and gaining fans. This reputation grows as your club's skill rating improves. Fans play a significant role in enhancing your club's atmosphere:
Fans & Reputation: More fans mean a higher reputation, unlocking bigger venues and improving your AI team.
Stadium Personalization: Streamlined Stadium bundles make decorating your venue a breeze. Build an electrifying atmosphere for your club.
↖ Pro Personalization and Play Styles
Express yourself on the pitch like never before with enhanced personalization options. Dive into new features to truly represent your style:
Vanity Options: More choices for hairstyles, tattoos, accessories, and boots to create a unique Pro.
Play Styles: Introducing play styles to Clubs in FC 24. Equip power shots, special abilities, and more to amplify your strengths. Unlock additional play style slots as you progress.
Play Styles Plus: Take it to the next level with Play Styles Plus, dialing certain abilities up to 11. Craft a Pro that fits your playstyle perfectly.
Conclusion:
And there you have it! An in-depth guide to the exciting updates and features coming to EA Sports FC 24's Clubs and Volta modes. From cross play to the revamped Clubs League format, enhanced personalization options, and the power of play styles, this year's experience promises to be revolutionary. Thank you, Sheldon, Tim, and Brandon, for sharing all the incredible details. Prepare to embrace the journey from Sunday League to the Champions League and make your mark in the world of virtual football. Welcome to the club!
Most Popular Posts
Popular Category Lists