NBA 2K24 Season 1 Rewards: Pro Pass, Hall of Fame Pass, Free Track and Level 40
NBA 2K24 enthusiasts, rejoice! The latest season: Season 1 is here, and it's packed with exciting rewards that'll keep you hooked. From free Virtual Currency (VC) to a special Ruby Giannis card, the new rewards are bound to elevate your gaming experience. In this comprehensive guide, we'll delve into the Season 1 rewards, exploring what's in store for MyTeam, MyCareer, and Park players. So, let's dive right in and discover the incredible rewards that await you!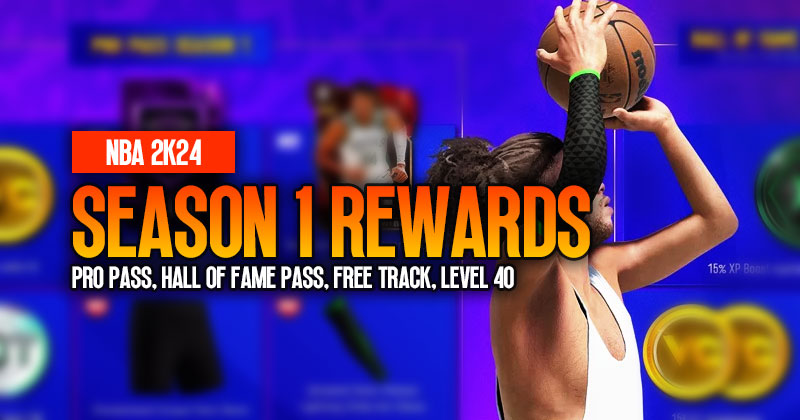 ↖ Pro Pass Rewards
The Pro Pass for Season 1 comes with a plethora of rewards that'll enhance your gameplay from the get-go. By purchasing the Pro Pass, priced at $10, you gain access to a slew of valuable rewards:
| | |
| --- | --- |
| 45,000 VC | Upon purchasing the Pro Pass, you immediately unlock a generous 45,000 VC, giving you the financial boost to enhance your player and gaming experience. |
| 20,000 MT | As an added bonus, you'll also receive 20,000 MyTeam points, which can be utilized to bolster your MyTeam lineup and make strategic moves. |
| HoF Limitless Range Badge | This badge can be a game-changer, especially early on in the season. Elevate your shooting skills with the Hall of Fame Limitless Range Badge and dominate the court. |
| Checkerboard Stripe Short Shorts | Express your style with the exclusive checkerboard stripe short shorts, available for your MyCareer and Park players. These unique shorts will set you apart as you take on opponents. |
| Animated Green Release Lightning Strike Arm Sleeve | Showcase your flair on the court with this animated arm sleeve. Whether in MyCareer, Park, or other game modes, this accessory will add an extra layer of personalization to your player's appearance. |
| Ruby Giannis Antetokounmpo Card (89 Overall) | The crown jewel of the Pro Pass rewards is the Ruby Giannis Antetokounmpo card. Standing at 6'11" and boasting an impressive 89 overall rating, this card holds incredible potential. While it might have a mobile-game aesthetic, it's an asset to your roster. With attributes like driving dunks and defense, this card is sure to make an impact early on in Season 1. |
↖ Hall of Fame Pass Rewards
For those who opt for the Hall of Fame Pass, priced at $20, an even more extensive array of rewards awaits:
| | |
| --- | --- |
| 15 XP Boost Applied Throughout the Season | With this boost, you'll progress faster and unlock rewards quicker, giving you an edge in your journey through Season 1. |
| 15,000 VC | Jumpstart your in-game currency with a substantial 15,000 VC. This injection of VC will empower you to customize and upgrade your player as you see fit. |
| 10 Level Skips | Skip ahead on the season reward track with these 10 level skips. Progress through the ranks efficiently and unlock more rewards in less time. |
↖ Free Track Rewards
Even if you opt not to purchase a battle pass, Season 1 offers free rewards that you can earn by simply playing the game. On the free track, you'll receive the following:
| | |
| --- | --- |
| 25,000 MT | By progressing through the levels, you'll accumulate 25,000 MT, providing you with resources to enhance your MyTeam lineup. |
| Free VC and MT Earning Opportunities | While the free track doesn't provide the same level of rewards as the battle pass options, you can still earn MT an VC by participating in various game modes, including MyCareer, Park, and more. |
↖ Speculating the Level 40 Reward
Though the official Level 40 reward for Season 1 hasn't been revealed, fans are buzzing with anticipation. Given Kobe Bryant's presence on the cover of NBA 2K24 and the inclusion of a Ruby Giannis card, there's speculation that Season 1's Level 40 reward could feature a beloved player like Jayson Tatum or even a tribute to Kobe himself.
Conclusion:
NBA 2K24's Season 1 introduces a range of enticing rewards across different pass options. Whether you're investing in the Pro Pass, the Hall of Fame Pass, or simply enjoying the free track rewards, there's something for everyone. From VC and MT boosts to unique cosmetic items and the coveted Ruby Giannis card, this season promises excitement and progression for players of all preferences. As Season 1 unfolds, keep an eye out for additional rewards and updates that enhance your gaming experience even further. So, suit up and dive into the world of NBA 2K24 Season 1 – your journey to the top starts now!
Most Popular Posts
Popular Category Lists