Madden 24 Pinch Buck Zero Defense: Shutting Down the Run, Sacking QBs, and Intercepting Passes
Welcome to this detailed guide on how to play the Pinch Buck Zero Defense in Madden 24. This defense is designed to shut down the run, sack quarterbacks instantly, and secure interceptions throughout the game. In this guide, we'll break down the specific plays and strategies that make this defense so effective. Stick around to learn how to use this defense to achieve impressive results against top quarterbacks in Madden history.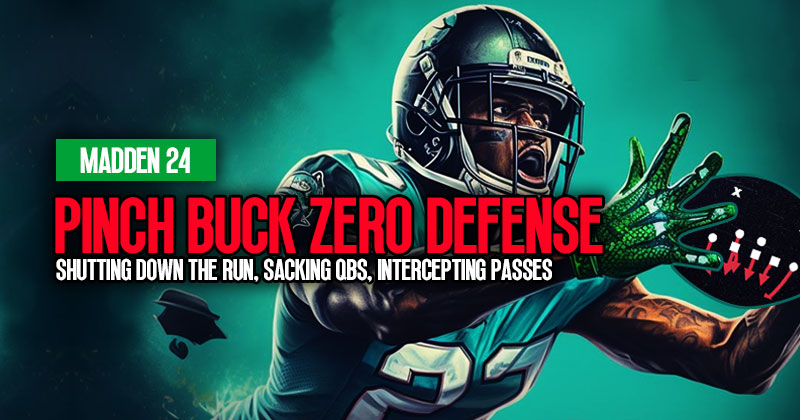 ↖ Setting Up Your Coaching Adjustments
The success of the Pinch Buck Zero defense hinges on proper coaching adjustments. Before the snap, take the following steps to optimize your defense:
| | |
| --- | --- |
| Zone Coverage Match | Set your zone coverage to match your opponent's routes, allowing your defenders to stick with their assignments more effectively. |
| Curl Flat | Adjust your curl flat to around 15, creating a better balance between covering intermediate routes and short passes. |
| Flats Depth | Depending on your opponent's play style, set your flats depth to 5 for a general defense or drop it to 0 to bolster run defense. |
| Cornerback Matchups | Change cornerback matchups to Play Ball for increased interception opportunities, giving your defenders a better chance at picking off passes. |
| Auto Alignment | Opt for the Base auto alignment to maintain a consistent pre-snap look, preventing your opponent from easily identifying your coverage. |
↖ Key Strategy: Concealing Your Coverage Pre-Snap
A critical aspect of the Pinch Buck Zero defense is concealing your coverage before the snap. This prevents your opponent from predicting your moves and making quick decisions. To achieve this, set your coaching adjustments in such a way that your defensive formation appears the same regardless of your intended coverage. This confuses your opponent, making them guess your actual coverage post-snap.
↖ Executing the Defense
Choose the Formation: Set up your defense in the 3-4 Odd formation, which is the foundation of the Pinch Buck Zero defense.
Pre-Snap Setup: Pinch your entire defense by pressing the appropriate button combination (R1/RB + down on the right stick). This tightens up your formation, pressuring the offensive line.
Secondary Adjustment: Modify your alignment further by pressing the "Triangle/Y" button and holding down the "B/Circle" button. This aligns your cornerbacks wider and brings your safeties closer to the line for run support.
↖ Adapting to Outside Runs
Be prepared for opponents attempting outside run plays to exploit the vulnerability of your cornerbacks. If your opponent starts running outside, adjust your defensive line and linebackers by spreading them out. This prevents them from getting blocked easily and contains the outside run effectively.
↖ Understanding Play Calling
Knowing when to use the Pinch Buck Zero defense and when to switch to other formations is key to its success. Consider the down and distance to determine the play your opponent is likely to run:
First and Ten: Use Pinch Buck Zero for unpredictability. Your opponent will need help to guess your coverage.
Third and Short: Expect a short throw, making Pinch Buck Zero a suitable choice.
Third and Long: Opt for a coverage that prevents deep passes, as your opponent is likely to go for a quick, short pass.
↖ Adapting and Baiting
Mix up your play calling to keep your opponent off balance. Occasionally, switch to the Pinch Buck Zero setup but keep your linebackers in coverage, effectively baiting your opponent into making quick throws. This can lead to interceptions and turnovers.
Conclusion:
Mastering this dominant defense in Madden 24 can give you an edge against opponents, shutting down the run, pressuring quarterbacks, and securing interceptions. Remember to adjust your coaching settings properly, switch between aggressive blitzing and conservative coverage, and adapt to your opponent's play style. By following these strategies, you'll be well on your way to achieving impressive results on the defensive side of the ball.
Thank you for reading, and remember that consistent practice and adaptation are essential to becoming a defensive powerhouse in Madden 24.
Most Popular Posts
Popular Category Lists