Madden 24 Dominant Defensive Strategy: Dime Normal, BD Blitz Zero, Mix Blitzing and More
Are you tired of watching your opponents score on your defense? Is your win-loss ratio suffering due to your defensive struggles? You're not alone. In this guide, we're diving deep into the most dominant defense in Madden 24 that will help you shut down both the run and pass game. Discover the power of the Dime Normal defense formation, the potent DB Blitz Zero play, and the art of mixing blitzing and coverage to control the game.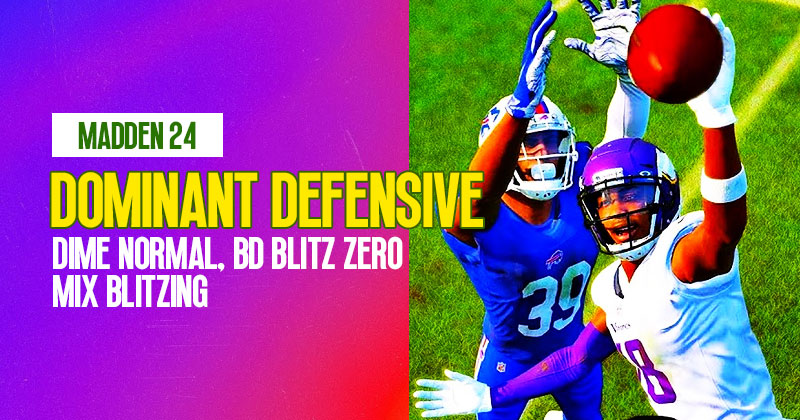 ↖ Unveiling the Dime Normal Formation
The underrated Dime Normal formation: Often overshadowed by Nickel and Dollar formations, Dime Normal proves its worth.
The beauty of base alignment: Start by setting Auto Alignment to base in your coaching adjustments for consistent base alignment.
Playbooks featuring Dime Normal: Find this formation in the Kansas City Chiefs Playbook, as well as other playbooks listed.
↖ DB Blitz Zero for Unstoppable Pressure
The foundation: DB Blitz Zero is the core play for this strategy, providing relentless pressure against the offense.
Key setup steps:

Press coverage: Wire Triangle + Left Stick Down to press the receivers at the line of scrimmage.
Shade up: Wire Triangle + Right Stick Up to prevent receivers from getting a quick release.
Defensive line crash: Left D-Pad + Right Stick Down to collapse the defensive line towards the middle.

User control decisions: Choose whether to control a linebacker or safety based on offensive formation and your preferred coverage.
User strategies against run and pass plays: Adjust your user-controlled player's position to counter the offensive strategy effectively.
↖ Blitz Variations and Coverage Adjustments
Unleashing the blitz: Witness how the DB Blitz Zero overwhelms the offense, forcing quick decisions from the quarterback.
Cover 2 and Cover 4 blitzing: Learn advanced techniques to adjust the DB Blitz Zero play into various coverage schemes.
Quick adjustments mastery: Execute quick adjustments with precision to transition between different coverages while maintaining blitz pressure seamlessly.
Smart blitzing against compressed sets: Exploit compressed offensive formations with tighter press coverage and efficient blitz execution.
↖ Mixing Blitz and Coverage
The synergy of pressure and coverage: Use the base alignment and aggressive blitzing to enhance your run defense.
Optimal user positioning: Place your user-controlled player strategically to eliminate running lanes and support the blitz.
Adapting to blockers: If the offense keeps running backs and tight ends in to block, maximize your coverage and pressure potential.
↖ Stock Coverages for Strategic Playcalling
Simplifying strategy: Explore stock coverages to combine strong pass rush with zone coverage.
Maintaining disguise: Press and shade adjustments maintain the element of surprise in your defensive approach.
Cover 2, Cover 3, and Cover 3 Cloud: Understand the versatility of these coverages and how they interact with blitzes.
Picking the right coverage: Analyze the situation and your opponent's tendencies to decide which coverage to use.
↖ Confuse Your Opponent
The cat-and-mouse game: Alternate between blitzing and coverage to keep your opponent guessing.
Pressuring while masking coverage: Maintain your defensive dominance by adopting different looks while maintaining the same pressure.
Utilizing different coverages: Mix and match coverages to force turnovers, incompletions, and quarterback mistakes.
Conclusion:
With this comprehensive guide, you're equipped to transform your Madden 24 defense into an unrelenting force. The Dime Normal formation paired with the DB Blitz Zero play provides the foundation, and your knowledge of adjustments empowers you to adapt to any situation. Whether you're sending blitzes or dropping into coverage, you'll keep your opponents on their toes and emerge victorious. It's time to take control of your defense, shut down both the run and pass, and secure more wins on the virtual gridiron.
Most Popular Posts
Popular Category Lists