Madden 24 Updates: Highlights, Upcoming Changes, Features and More
Welcome to the world of Madden 24! It's been just over a week since the game's release, and the excitement is already building up as EA has rolled out a new update. In this guide, we'll dive into the details of the recent update, discuss some of the roster changes, player updates, and bug fixes that have been introduced, and give you a sneak peek of what's to come in the upcoming weeks. So, let's get started!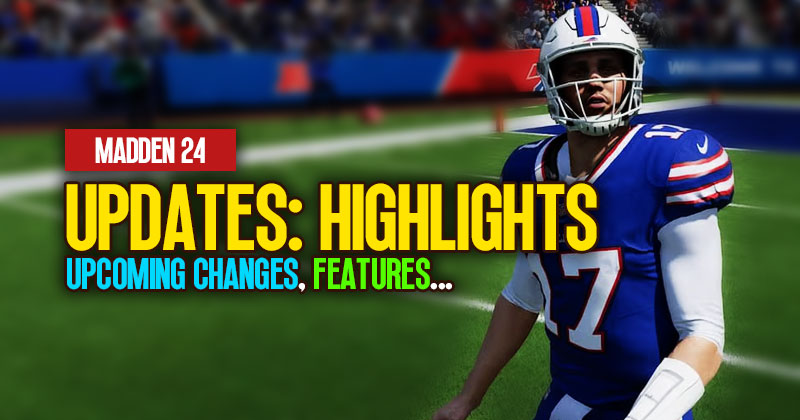 ↖ The Latest Update
Late last night, a new update for Madden 24 dropped, bringing some exciting changes and improvements to the game. Here's what you need to know:
Roster Moves
| | |
| --- | --- |
| Dalvin Cook to the Jets | One of the notable roster moves is Dalvin Cook's move to the Jets. He's now officially a part of the team, sporting the number 33. What's even more exciting is that he's an X Factor player, making him a force to be reckoned with on the field. He's equipped with abilities like Energizer and the powerful jukebox ability, which enhances his ball-carrying skills. |
| Ezekiel Elliott with the Patriots | Ezekiel Elliott has found a new home with the New England Patriots, donning the number 15 jersey reminiscent of his Ohio State days. While he's not an X Factor or superstar player anymore, his Star Development status ensures that he remains a valuable asset for any franchise. |
| Jadeveon Clowney Joins the Ravens | A bit of an eyebrow-raiser, Jadeveon Clowney is now officially a Baltimore Raven. Although his choice of number 24 might seem unusual for a pass rusher, he's ready to make his mark with the team. |
Ratings Updates
While an official list of ratings updates wasn't released, the game did receive several changes to player ratings. These updates still need to be fully aligned with real-life rosters, but fear not, as a comprehensive update is on the horizon. Expect these changes to reflect the latest player movements and rosters as the NFL season approaches.
↖ Upcoming Updates
The Madden 24 journey is just beginning, and there's a lot more in store for players. Here's a glimpse of what's coming down the pipeline:
Bug Fixes and Improvements
The development team is actively working to address various bugs and issues players have encountered. Some of the key fixes include:
Editing CPU Players: An issue preventing players from editing CPU players in franchise mode will soon be resolved, providing more control and customization options.
Free Agent Bug: A bug that affects players' experience and years in the league when editing their positions will also be tackled, ensuring a smoother experience.
Helmet Display: Certain helmets not sitting correctly on players will be fixed, eliminating the awkward appearance that has persisted in recent years.
Coach Clothing Options
For the coaches' fashion-conscious fans out there, you'll be pleased to know that the limited clothing options for coaches are being addressed. EA's developers have rebuilt coach models, so unique clothing options will return, allowing you to create coaches with their distinct styles.
Field and Uniform Updates
Realism is a cornerstone of Madden and field and uniform updates are on the horizon. Teams like the Giants and Jets will soon showcase their logos at midfield instead of the NFL logo. Additionally, uniform inaccuracies—like colours that are slightly off—will be corrected to maintain the authenticity of the game.
Franchise Mode Fixes
Franchise mode enthusiasts can look forward to resolving certain issues that have been identified:
Draft Class Appearance: The appearance of players when importing custom draft classes will be fixed, ensuring that your drafted players look as they should.
Multi-User League Editing: The ability to edit the height, weight, and age of players in multi-user leagues will be restricted to commissioners only, addressing unintended modifications.
↖ Performance Improvements for PC Players
For PC players seeking optimal performance, the following tips are recommended:
Frame Rate Adjustment: Adjust your frame rate from uncapped to a specific number, such as 60 or 120 frames per second, for improved game performance.
Full-Screen Mode: Ensure the game runs in full-screen mode under the visual settings menu to enhance performance.
Minimum Spec Requirements: Keep in mind that the minimum spec requirements for Madden 24 on PC have increased this year. Be sure to review the specs to ensure smooth gameplay.
↖ Ultimate Team Updates
MUT enthusiasts have some exciting changes coming their way as well:
MUT Champs on All-Madden: Going forward, MUT Champs (Weekend League) will be played on All-Madden difficulty. This change promises a more competitive and challenging experience, catering to the top-tier players.
Madden Companion App: While no release date is available yet, keep an eye out for the Madden Companion App's return, a tool that many players find valuable for managing their Madden experience on the go.
Conclusion:
As Madden 24 continues to evolve, EA is dedicated to providing players with a seamless and exciting gaming experience. The recent update and upcoming changes showcase their commitment to addressing bugs, enhancing realism, and offering new features that will keep players engaged and entertained. Stay tuned for more updates, and be sure to subscribe to stay in the loop with all the latest Madden 24 news. Enjoy your journey on the road to victory in the virtual NFL world!
Most Popular Posts
Popular Category Lists