NBA 2K24 New Update: New Badge System Breakdown
NBA 2K24 new badge system is here, promising an exhilarating experience for players. With revolutionary changes and improvements to the MyPlayer Builder and MyCareer mode, this guide will delve deep into the 24 new badges that allow you to tune your playstyle finely. From enhancing dunks and layups to boosting shooting accuracy and defensive prowess, these badges offer a comprehensive toolset for dominating the court. Get a sneak peek into the badge level progression, how to prevent regression and the innovative badge perks that elevate your gameplay. This breakdown sets the stage for an exciting journey of mastering your skills and rising to the top in NBA 2K24.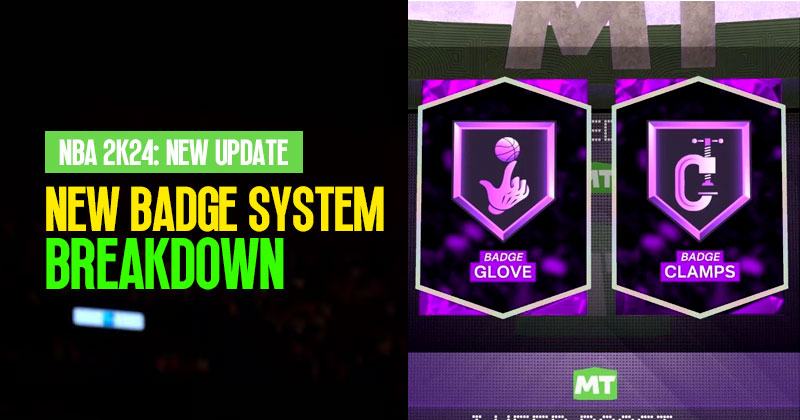 ↖ New Badge System: Introduction
It all began with a tweet from 2K that set the community buzzing. NBA 2K24 promises a host of improvements and changes to the MyPlayer Builder, making it the most advanced version yet. A brand-new progression system is introduced for MyCareer and The City modes, but this update is only available for the next-gen platforms.
↖ Breaking Down the 24 Badges
NBA 2K24 brings a total of 24 badges, each designed to cater to different playstyles and skills. These badges are essential for customizing your MyPlayer and elevating their performance on the court. Let's delve into the badge breakdown:
| Badge | Features |
| --- | --- |
| Precision Dunker Badge | Boosts finishing with skill dunks for players who utilize the skill dunk mechanic. |
| Two-Step Badge | Enhances cradles and euros for smoother and more effective moves. |
| Speed Booster Badge | Provides quicker launches for standstill and dribble moves. |
| Float Gang Badge | Improves floaters and runners for finesse around the rim. |
| Spin Cycle Badge | Elevates, finishing with spin layups or dunks. |
| Hook Shot Specialist Badge | Enhances a player's hook shot accuracy from the post. |
| Post Fade Phenom Badge | Increases success with post fades and hop shots. |
| Open Looks Badge | Encourages players to take and make wide-open jumpers. |
| Spot Finder Badge | Boosts off-ball movement speed to find open spots. |
| Whistle Badge | Increases the chance of drawing fouls when attacking the rim or shooting. |
| Three-Point Specialist Badge | Improves three-point shooting in clutch moments. |
| Bulldozer Badge | Enables players to push through physical defenders and finish with strength. |
| Relay Passer Badge | Enhances passing attributes for improved assists. |
| Touch Passer Badge | Accelerates passing animations for quicker ball movement. |
| Big Driver Badge | Provides an initial launch boost for driving from the mid-range. |
| Quick Ball Handler Badge | Increases success in body-up interactions when executing dribble moves. |
| Triple Strike Badge | Enhances triple-threat moves for more effective jukes. |
| Overdrive Badge | Accelerates badge level progression during gameplay. |
| Drill Savant Badge | Boosts badge level progression in practice drills. |
| A Scholar Badge | Increases badge progression for high teammate grades. |
| Winner Takes All Badge | Speeds up badge progression for victorious games. |
| Up for the Challenge Badge | Accelerates badge progression in tough games. |
| Immunity Badge | Prevents badge-level regression during gameplay. |
| High Risk Badge | Offers accelerated badge progression with fewer badge uses. |
↖ Badge Level Progression
Badge progression is determined by both usage and success. Badges that are frequently used and yield positive results will trend towards higher levels. On the other hand, badges with lower usage and less success will regress to lower levels. However, badges will always stay below bronze. The system rewards players who actively utilize their badges and perform well in-game.
↖ Badge Level Progression Beyond Bronze
To prevent a badge from dropping below a certain level, players can use floor setup prizes earned through season XP. These floor setup badges act as safety nets, ensuring your badges never regress below the specified level. While the floor setter badges are permanent, they can only raise your badge up to their level. If your attributes allow, your badge can still progress beyond the floor level.
↖ Using Badge Perks to Enhance Progression
Badge perks are powerful tools that provide various benefits to badge progression. These perks can be unlocked and assigned to specific badges, assisting in maintaining their levels. There are three types of badge perks:
Overdrive: Increases badge level progression during games.
Drill Savant: Boosts badge-level progression in practice drills.
A Scholar: Accelerates badge progression for high teammate grades in games.
↖ Other Enhancements and Challenges
The new badge system introduces a slew of enhancements, such as player-created templates and the flexibility to tailor your MyPlayer according to your preferences. In-game progression can also be worked on in various practice facilities and gyms.
Conclusion:
With the new badge system in NBA 2K24, players are in for an immersive and dynamic experience. The combination of usage, success, perks, and floor setup prizes makes badge progression more engaging and rewarding than ever before. So, get ready to fine-tune your MyPlayer and dominate the court with your customized skill set. Remember, the path to greatness is paved with badges!
Most Popular Posts
Popular Category Lists