NHL 24 World of CHEL Updates: New Features and Enhancements
Welcome to an exciting breakdown of NHL 24 World of CHEL mode, where we delve into the game's latest features and enhancements. The recently revealed trailer has showcased a range of gameplay innovations that promise to elevate your gaming experience. From full crossplay to revamped playoffs, streamlined customization, and the introduction of the Battle Pass and World of CHEL Store, NHL 24 is shaping up to deliver an immersive and dynamic World of CHEL mode.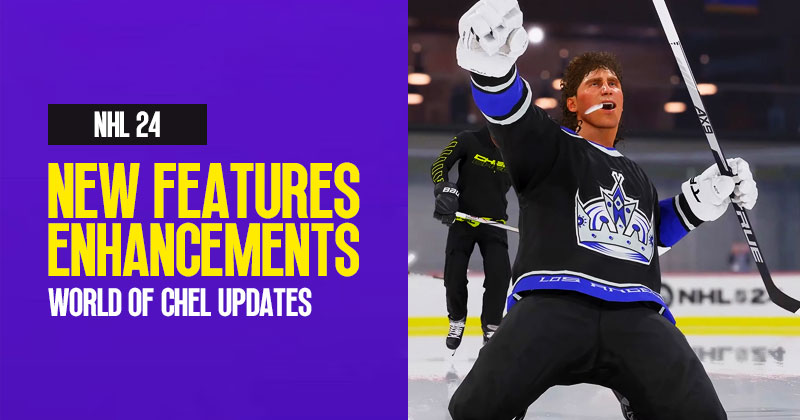 ↖ Full Cross Play and Enhanced Matchmaking
NHL 24 is embracing cross-play fully, allowing players from different console generations to team up and compete. Unlike the previous year, where only Xbox and PS5 teams could face each other, now players can mix and match individual club members. This exciting feature not only opens up new opportunities for competitive and esports scenes but also makes it easier for friends to play together, regardless of their console choice. It's important to note that cross-play is available between PlayStation and Xbox but only across some console generations.
Furthermore, a new matchmaking setting allows players to choose whether they want free-agent human players to fill the remaining spots on their roster. This innovation eliminates the need for AI players, which has been a pain point for many players. This feature not only enhances the gameplay experience but also provides a platform to find new teammates and build a better team.
↖ Revamped EA Sports Hockey League Playoffs
The playoff system in the World of CHEL has undergone a significant overhaul based on community feedback. Previously, the playoffs lacked a sense of skill and strategy, but now the system resembles the NHL playoffs. Players will engage in four best-of-seven series rounds, amounting to potentially 28 games to secure a championship victory. Each game carries higher stakes, adding to the intensity of the experience. Winning the championship brings a sense of accomplishment, celebrated with teammates.
In addition to the revamped playoffs, a new Quick Play 3v3 mode has been introduced. This mode offers a low-pressure, quick way to enjoy a game with friends without affecting your EA Sports Hockey League standing. This casual mode provides flexibility for those who want a shorter gameplay experience.
↖ Enhanced Creation Zone and Customization
NHL 24 introduces a more streamlined and improved Creation Zone, allowing players to customize their avatars and gear more easily. The new system provides an expansive range of options for creating a persona that suits your style. Customizing your appearance on the ice has never been more convenient, with all the necessary tools accessible on a single screen. This overhaul of the Creation Zone ensures that players can quickly and effortlessly modify their gear and appearance.
↖ Introducing the Battle Pass
Taking inspiration from popular games like Fortnite, NHL 24 introduces a Battle Pass system. Players can progress through 75 tiers of rewards each season. The Battle Pass includes both free and premium tiers, with the first premium Battle Pass being free for all players during Season 1. This system focuses on unlocking various cosmetic items, celebrations, banners, and gear. Notably, player classes that impact gameplay are available in the free tier, ensuring a balanced experience for all players.
↖ The World of CHEL Store
Gone are the days of relying solely on hockey bags for items. The World of CHEL Store offers direct access to the vanity items players desire. Using World of CHEL coins, players can purchase their preferred items, avoiding the randomness of traditional hockey bags. The store enables players to acquire the gear they want without any uncertainty. Most items acquired will carry over to NHL 25, ensuring continuity in personalizing characters and crews.
Conclusion:
NHL 24's World of CHEL mode has undergone significant enhancements, catering to player feedback and desires. With features like full crossplay, revamped playoffs, streamlined customization, and the introduction of the Battle Pass and World of CHEL Store, the game promises an immersive and exciting experience. These changes aim to provide a more enjoyable and engaging gameplay environment while retaining the core elements that players love. As the NHL 24 release date approaches, fans can look forward to diving into these new features and experiencing an upgraded World of CHEL mode.
Most Popular Posts
Popular Category Lists