FC 24 Pre-Season Promo Guide: 99 ICON Henry SBC and Packs
Welcome to the FC 24 Pre-Season Promo, an exciting period in the world of Ultimate Team where new player items, objectives, and special packs take center stage. In this guide, we'll delve into the details of the 99 ICON Henry SBC and the coveted FC24 Packs, helping you navigate through this exhilarating promotional event. Discover how to complete SBCs, maximize your rewards, and elevate your Ultimate Team experience during this limited-time extravaganza.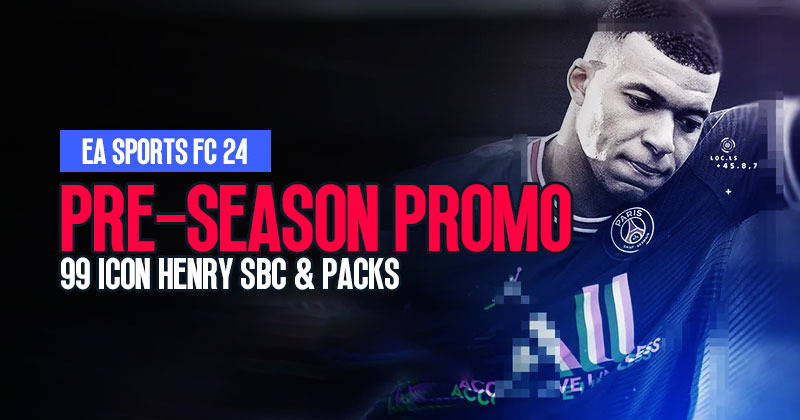 ↖ Promo Overview
The Pre-Season Promo has landed, and it's bringing a fresh wave of excitement to FIFA 24. This promo introduces new player items, objectives, SBCs, and pack rewards. The promo kicked off with a bang, featuring players like 99 Ronaldo, Di Maria, Torre, Alvarez, Alarcon, Gomez, Ronaldo Juliet, and Bellingham. Additionally, 99 Neymar has been reported as a potential packable item.
↖ Icon SBC - Thierry Henry
One of the most exciting aspects of this promo is the 99-rated Thierry Henry Icon SBC. This legendary player needs no introduction, and his card boasts incredible stats that make him a game-changer. With a 99 overall rating and a selection of top-tier traits, Henry is a force to be reckoned with. A suggested chemistry style for Henry is Architect, boosting his already impressive passing and physical attributes.
↖ Objectives
The Pre-Season Promo includes various objectives that allow you to earn unique player items. These objectives feature players like Alexis Sanchez, Declan Rice, and Mason Mount.
| | | | |
| --- | --- | --- | --- |
| Player | Alexis Sanchez (Moments) | Declan Rice (Moments) | Mason Mount (Moments) |
| Position | Left Mid, Left Wing, Center Forward, Striker | Defensive Midfielder | Attacking Midfielder |
| Rating | 95 | 96 | 95 |
| Key Stats | 5-star weak foot, 4-star skill moves, Flair trait, Outside the Foot Shot trait | 4-star weak foot, 5-star skill moves, Strong passing and physical attributes | 5-star weak foot, 4-star skill moves, Exceptional dribbling and passing |
| Suggested Chemistry Style | Engine or Hawk | Engine, Shadow, or Anchor | Engine, Anchor, or Hawk |
| Objective Requirements | Play nine games, score a goal using a striker in five separate games, and more. | Complete specific objectives like assists, goals, and wins with Marco Arnautovic. | Complete tasks like scoring and assisting specific players to earn this card. |
↖ Pack Rewards
The Pre-Season Promo offers various pack rewards that you can obtain by completing objectives and SBCs. These packs include 85+ player packs, 84x3 player packs, and even 85x10 player packs. These packs provide you with opportunities to obtain top-rated players, including Team of the Season (TOTS) and Icon cards.
↖ Season Progress
The Pre-Season Promo also features Season Progress, allowing you to earn additional rewards by completing milestones. Keep an eye on your progress and aim to achieve these milestones to enhance your squad further.
↖ Daily Login Rewards
Remember to log in daily to claim your rewards, which may include player packs, fc 24 coins, and more. These daily rewards provide valuable resources to bolster your Ultimate Team.
↖ Other Notable Features
All rewards earned during the Pre-Season Promo are untradeable and will be available in FIFA 25 Ultimate Team.

The promo runs for a limited time, so be sure to redeem your rewards by the specified date.

Conclusion:
The FIFA 24 Pre-Season Promo offers an exciting array of player items, objectives, and pack rewards. Whether you're aiming for the coveted 99 ICON Henry or pursuing other top-rated players, this promo is packed with opportunities to enhance your Ultimate Team. Keep an eye on the objectives, complete SBCs, and enjoy the thrilling content this promo has to offer. Good luck, and may your packs be filled with legends!
Most Popular Posts
Popular Category Lists