Madden 24 Huge Update: Gameplay, Franchise, Superstar, New Player Likenesses and More
EA Sports surprised the Madden community by releasing a significant update for Madden 24 earlier than expected. Typically, major title updates aren't released on Fridays, but this time, EA decided to switch things up. This update brings a plethora of changes, including gameplay adjustments, franchise improvements, updates to Superstar mode, new player likenesses, and equipment additions. In this detailed guide, we'll cover all the essential information you need to know about what has changed in Madden 24.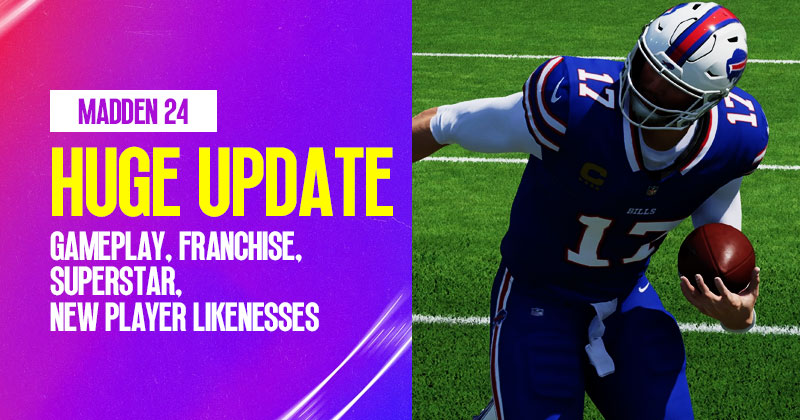 ↖ EA's Acknowledgment of Ongoing Issues
Before diving into the changes introduced in this update, EA addressed some ongoing issues they are actively working on. These include:
Slow UI Transitions: EA acknowledged player feedback regarding slow user interface transitions. They are actively optimizing high-traffic screens across all game modes to improve performance. Expect incremental updates and improvements in screen transitions in the coming weeks.
Passing Accuracy: Feedback about passing accuracy, particularly in Ultimate Team gameplay, has been noted. While this update doesn't include passing accuracy adjustments, EA plans to monitor quarterback performance. The expectation is that as players progress in Ultimate Team, quarterbacks will naturally become more accurate.
Franchise Draft Classes: EA is aware of issues impacting draft classes in franchise mode and is prioritizing fixes. They will provide updates as soon as they have a solution.
Now, let's delve into the changes introduced in the latest Madden 24 update, categorized by gameplay, franchise mode, Superstar mode, NFL authenticity, player likeness updates, presentation, and audio enhancements.
↖ Gameplay Adjustments
| Feature | Update/Fix Description |
| --- | --- |
| Defense vs. Hurry-Up Offense | EA has adjusted the game to allow defenses more time to make adjustments to counter an overpowered hurry-up offense. |
| Edge Pass Rushers | The issue causing edge pass rushers to shed to the inside too frequently has been fixed. |
| Defensive Coverage Bug | A bug that allowed users to draw defenders out of coverage on the gun-empty halfback wide RPO stick draw has been resolved. |
| Broken Routes | Several broken routes, including those in the gun Bunch y-flex verticals and gun trips tight end patch YN, have been fixed. |
| Snap Issues | Issues preventing the offense from snapping the ball after motioning a receiver in shotgun mesh plays have been resolved. |
| Jalen Waddle's Celebration | A bug causing incorrect signature celebrations for Dolphins wide receiver Jalen Waddle has been fixed. |
| Big Head Mode | An issue where players would see big head mode in other modes after leaving practice mode has been fixed. |
| Defensive Play Selection | A rare issue preventing users from picking a defensive play after an offsides penalty has been resolved. |
| Trench Battle Long Haul Minigame | Tuning has been applied to make tackling the QB less difficult in the trench battle Long Haul minigame. |
| Ability Tuning | Inside and outside shade have been made more effective, along with Unstoppable Force, double or Nothing, Jam Master, press Elite, and return man abilities. |
↖ Franchise Mode Improvements
| Feature | Update/Fix Description |
| --- | --- |
| Franchise News | Issue where no news generated after free agency in franchise mode is fixed. |
| Dynamic Momentum and Home Field | Dynamic momentum and home field advantage settings now work correctly. |
| Advantage | |
| Commissioner Controls | Commissioners can no longer edit appearance of other CPU players, change player's age, or edit height/weight. |
| Injury Consistency | Several injuries causing inconsistent recovery times have been addressed. |
| Contract Extension Factors | Issues with contract extension factors during off-season resignation week have been resolved. |
| Player Experience | Editing a player in the front end no longer causes issues with their years of experience. |
| Draft Widget | Season icons no longer appear in the draft widget during the draft. |
| Uniforms | Teams now wear selected uniforms when resuming a franchise game. |
| Coaches and Awards | Newly hired coaches now appear in the Coach of the Year award. Fixed crash when entering Scouts menu. |
| Depth Chart and Contracts | Fixes related to reorder depth chart option, contract restructuring, and player editing in leagues. |
| UI and Font Fixes | Various UI and font issues have been addressed. |
↖ Superstar Mode Updates
| Feature | Update/Fix Description |
| --- | --- |
| Online Uniforms | Correct color-curated uniforms now displayed in online games. |
| Showdown Squads | Fixed desync issue when party leader previews top rewards. |
| Celebration Wheel | QBs now see the celebration wheel on first downs and trigger chosen TD celebrations on game-winning touchdowns. |
| Lobby Events | Non-party leader users in Showdown can no longer view and scroll events in the lobby post-game. |
| Visual and Stability Improvements | Visual improvements to the blitz timer in Superstar Showdown, along with stability fixes. |
↖ NFL Authenticity Updates
Alternate Helmets: New alternate helmets for the Lions and Browns have been added to the game. The Lions' blue helmet is also now available.
Stadium Branding: Branding updates have been made to the Jaguar Stadium.
Team Center Field Logos: Center field logos for the Jets and Giants now use their respective logos instead of the NFL shield.
↖ Player Likeness Updates
Several players have received updated player likenesses, including Aaron Rodgers, Christian Gonzalez, Jalen Petri, Miles Murphy, Lucas Van Ness, and the Seahawks' right outside linebacker.
↖ Presentation Enhancements
Various presentation improvements have been made, including fixes for gameplay camera issues, backward referees, NFL player portraits, and more. Additionally, NFL stadium exterior shots have been updated.
↖ Audio Enhancements
Audio improvements include increased volume for collision sounds, team-specific crowd chants, and commentary. EA added 1900 lines of new commentary from Grant Gordon and Charles Davis.
Conclusion:
This massive Madden 24 update addresses numerous gameplay issues, enhances franchise mode, improves Superstar mode, adds NFL authenticity, updates player likenesses, and enhances presentation and audio. With these improvements, Madden 24 promises a better and more realistic gaming experience for all players.
Most Popular Posts
Popular Category Lists