NBA 2K24 Best Build: 6.7 Small Forward Hybrid Defender Guide
Are you ready to dominate the court as a lockdown defender in NBA 2K24? You've come to the right place! In this comprehensive guide, we'll break down the essential components of creating a 6'7 small forward hybrid defender build that can make a significant impact on both ends of the floor. Before we dive in, remember that the game's specifics may change over time, so use this guide as a foundation and adapt it to any updates or changes that might occur. Let's get started!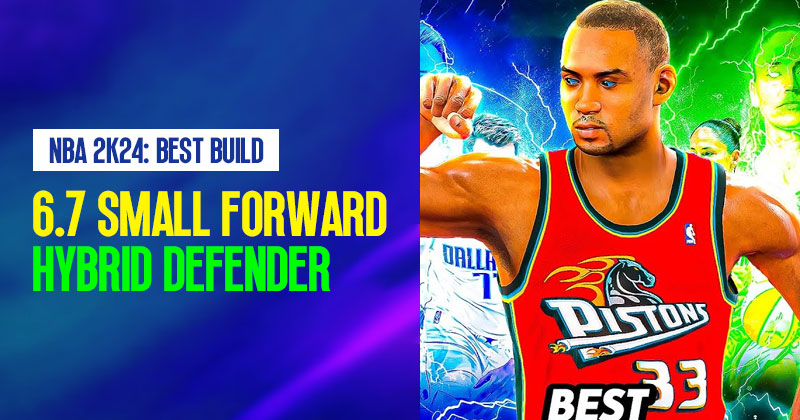 ↖ Weight Considerations
The first step in creating your 6'7 lockdown defender is deciding on the weight of your player. Weight plays a crucial role in determining your build's attributes, especially when it comes to strength, speed, and acceleration. Here are some weight options to consider based on your badge priorities:
198 Pounds: Optimal weight for Hall of Fame Fastbreak badge. This allows you to maintain excellent speed and acceleration while still having access to key defensive badges.
233 Pounds: A good middle-ground weight that provides Gold Fastbreak and Gold Immovable Enforcer badges. This weight balance offers versatility on both ends of the floor.
Ultimately, the weight you choose should align with your badge preferences and playstyle. Now, let's take a closer look at the various attributes that will make your lockdown defender excel.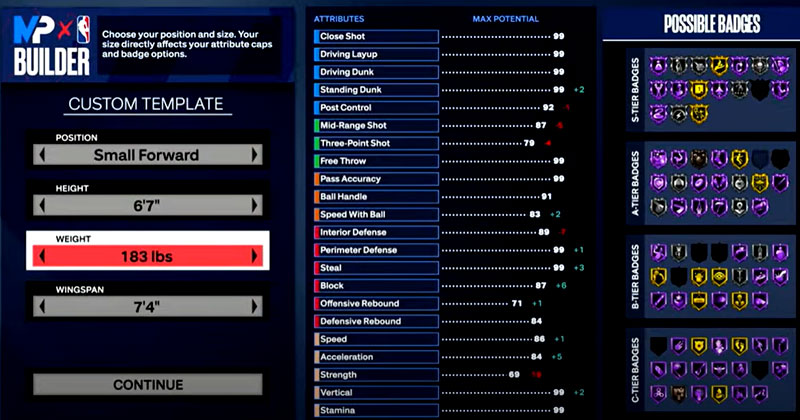 ↖ Defensive Attributes
Perimeter Defense: Your perimeter defense attribute is crucial for locking down opponents on the perimeter. Consider these thresholds:
94 Perimeter Defense: Provides access to Hall of Fame Clamps, ideal for elite on-ball defense.
97 Perimeter Defense: Required for Hall of Fame Fastbreak badge, which enhances your transition defense.
Choose the threshold that suits your playstyle, but keep in mind that a higher perimeter defense rating is more desirable for lockdown defenders.
Steal Rating: A high steal rating enables you to disrupt passing lanes and create turnovers. To unlock the Hall of Fame Ripper badge, you need a 96 steal rating. However, you can still be effective with lower ratings if you're skilled at using right-stick steals.
Block Rating: Your block rating impacts your ability to contest shots and defend in the paint. Aim for at least an 87-block rating to unlock Silver Anchor, a valuable badge for lockdown defenders.
Interior Defense: Secondary to block rating, you'll need a minimum of 72 interior defense to access Silver Anchor. This stat complements your shot-blocking abilities.
↖ Rebounding
Lockdown defenders aren't primarily responsible for rebounding, but having a decent rebounding rating can be helpful. Consider lowering your defensive rebounding rating to around 60 to unlock Bronze Rebound Chaser. This should suffice for grabbing boards when necessary.
↖ Finishing and Shooting
Driving Dunk: While lockdown defenders aren't known for their scoring, having some driving dunk rating (around 85-87) can allow you to perform contact dunks, making your offensive game more versatile.
Three-Point Rating: Max out your three-point rating to at least 79, which opens up valuable shooting badges like Silver Blinders, Silver Catch and Shoot, and Silver Green Machine. This level of three-point shooting is more than enough for a lockdown defender, especially when positioned in the corner.
↖ Playmaking
Your playmaking attributes as a lockdown defender should be relatively modest. Focus on:
Pass Accuracy: Aim for 75 pass accuracy to unlock Silver Break Starter. This enables you to make accurate outlet passes during fast breaks.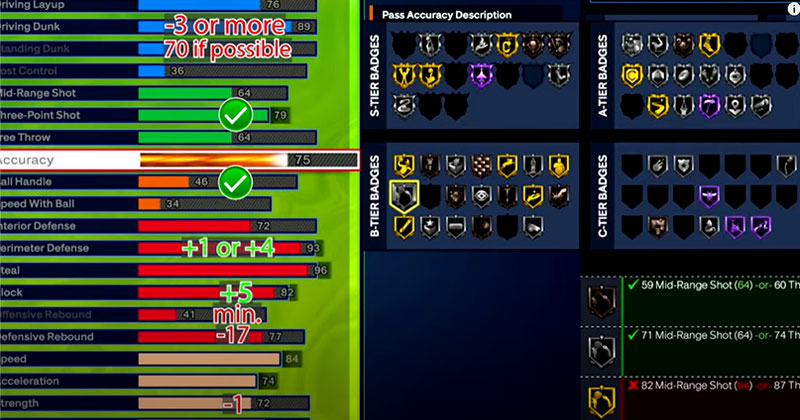 ↖ Physical Attributes
Speed: Maximize your speed to ensure you can keep up with the fastest players on the court. If you opt for a weight of 198 pounds, you'll have an 86 speed rating, which is ideal.
Acceleration: Maintain an acceleration rating of at least 82 to unlock Hall of Fame Fastbreak when combined with the 198-pound weight.
Strength: Achieve a minimum of 71 strength to unlock Bronze Immovable Enforcer, a useful badge for physical play. If you choose a different weight, adjust your strength accordingly.
Vertical: Keep your vertical rating at a level necessary to perform contact dunks based on your selected animations.
Stamina: Consider boosting your stamina to either 95 or 99, depending on your preference for the 94 Feet badge on Gold or Hall of Fame. This choice will impact your endurance and ability to maintain a high level of performance throughout the game.
↖ Final Thoughts
To summarize, creating the ultimate 6'7 lockdown defender in NBA 2K24 involves finding the right balance of attributes and badges to suit your playstyle. Use this guide as a starting point and tweak your build based on your preferences and the evolving game meta.
Remember, the key to success as a lockdown defender is a combination of defensive prowess, versatility, and smart decision-making on the court. With the right build, you'll be a game-changing force on both ends of the floor. Good luck out there on the virtual hardwood, and may your lockdown defender dominate the competition!
Most Popular Posts
Popular Category Lists