Madden 24 Ultimate Team Strategies: How to get free coins and players?
If you're diving into Madden 24 Ultimate Team and aiming to build the ultimate God Squad without breaking the bank, you've come to the right place. In this dynamic gaming universe, you have the chance to craft the God Squad of your dreams, assembling a team of elite athletes to dominate the field. This guide is your roadmap to success, offering insights into daily objectives, limited-time opportunities, and savvy market strategies to maximize your MUT 24 coins. So, let's dive into the strategies and tactics that will propel your Ultimate Team to greatness.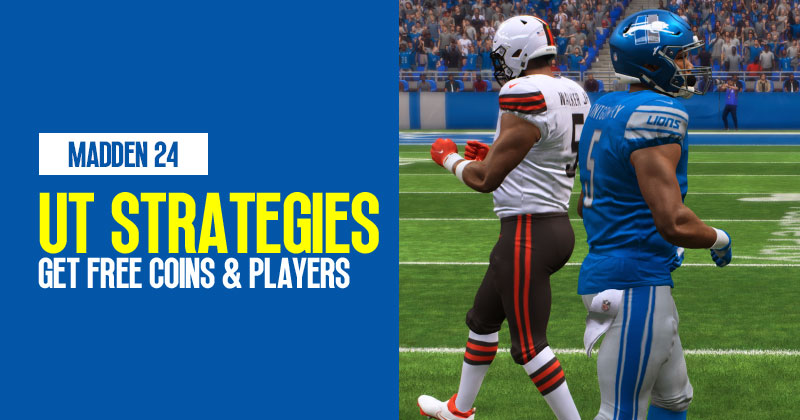 ↖ Daily Objectives for Season XP
Before we delve into specific strategies and limited-time opportunities, let's start with an essential aspect of building your Madden 24 Ultimate Team: Daily Objectives. These tasks offer you a steady stream of Season XP, which is vital for levelling up your team.
Daily Objectives: Madden 24 has introduced a new set of daily objectives that refresh daily. Be sure to complete both the regular and competitive passes' daily objectives for a significant boost in Season XP. These objectives are relatively easy and diverse, so there's always something fresh to tackle.
Competitive Pass: Pay attention to the competitive pass's daily objectives. These can be accomplished while playing solo battles on rookie difficulty, making them easy to stack with your regular daily objectives.
↖ Legends and AKA Passes
Now, let's talk about earning valuable rewards through specific passes within the game. Two of these passes stand out as excellent opportunities to bolster your squad.
Legends Pass: By completing various objectives like earning stars in solo challenges and acquiring specific Legend player cards, you can work your way through this pass. The reward for your efforts includes an 82+ Legends player, often worth more than expected.
AKA Pass: Similar to the Legends Pass, the AKA Pass provides fantastic rewards, including an 80+ AKA player. Achieve these goals by playing solo challenges and acquiring specific AKA cards. These rewards can significantly improve your team.
↖ Unlocking Free Players
Madden 24 offers a unique opportunity to earn free players like 89 overall George Pickens and 88 overall Micah Parsons. The catch is you need to watch the EA streams on Twitch and link your EA and Twitch accounts to earn MCS tokens. Here's how it works:
Visit Twitch.tv and log in to your Twitch account.
Navigate to your account settings and connect your EA account.
Tune in to the EA Madden NFL streams on September 5th (6:30 PM - 11 PM Eastern) and September 6th (6:30 PM - 10 PM Eastern).
Earn two tokens per stream, and once you have three tokens, you'll receive an 88 overall Micah Parsons for free.
↖ MUT Rewards
Sign up for MUT Rewards at Mutrewards.com. This program rewards you with free packs throughout the year. The more packs you open (from solo challenges, field passes, and more), the better your rewards. You don't need to spend money; just open packs as you play.
↖ Solo Challenges
Stay on top of solo challenges, especially those associated with field passes. Take your time, as they accumulate quickly, and tackling them all at once can be overwhelming. Stay ahead to claim your free players promptly.
↖ Market Strategy
Madden 24 market can fluctuate, but don't let fear drive your decisions. Instead, follow these guidelines:
Consider budget players: You can win games with budget-friendly cards like Canarius Tony or Christian Watson.
Limited-time cards: If you have a substantial coin stash, investing in Limited Edition (LTD) cards can be lucrative. Look for LTDs at a reasonable price, as you can quickly sell them for 350,000 coins.
Conclusion:
To succeed in Madden 24 Ultimate Team, prioritize daily objectives, work through specific passes like Legends and AKA, seize time-sensitive opportunities like Micah Parsons, sign up for MUT Rewards, stay on top of solo challenges, and be strategic when navigating the in-game market. With these strategies in your playbook, you'll be well on your way to creating the God Squad you've always dreamed of.
Remember, building your ultimate team takes time and smart decisions. Patience and persistence will pay off in the long run. Good luck, and enjoy the journey to building your dream team in Madden 24 Ultimate Team!
Most Popular Posts
Popular Category Lists