EA SPORTS FC 24 Ultimate Team: Top 16 Best Players Are Worth Buying
Welcome to FC 24, where we dive into the world of Ultimate Team and explore some of the top players to watch out for in the new release. This year, FC24 brings a refreshing addition to female players and icons, including the likes of Marta. We'll be highlighting both male and female players who have received significant upgrades or are simply outstanding. Whether you're building your starter squad or aiming for competitive success, this guide will help you make informed decisions about the best players to acquire in the FC 24 Ultimate Team.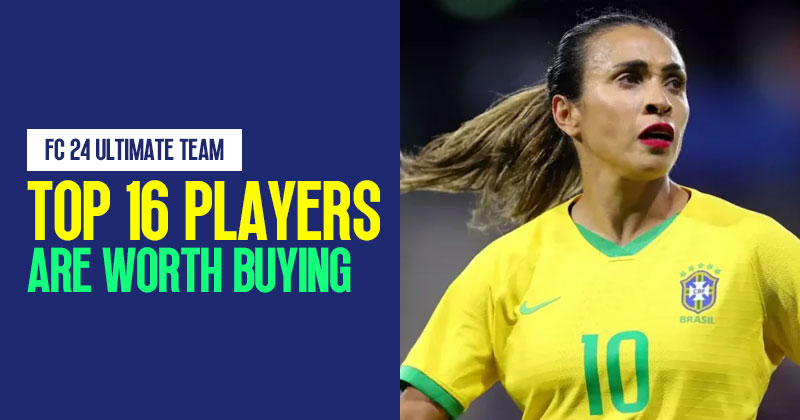 ↖ Iconic Newcomer: Marta Vieira da Silva (a.k.a., Marta)
Position: Midfielder
Stats: 91 Dribbling, 84 Shot
Comparison to Legends: Marta resembles a player like Laurent Blanc at the start of the game, offering incredible stats in dribbling and shooting. Her agility and pace make her a game-changer.
↖ Bremer - Serie A's Defensive Gem
Position: Center-Back
Price Range: 5,000 to 10,000 coins
Bremer, while not overly expensive, is a quality center-back option with a slight upgrade. However, be cautious about investing heavily in players with similar stats, as their prices might drop quickly.
↖ Debinha - Brazilian Five-Star Skill Sensation
Position: Forward
Attributes: 81 Finishing, 81 Shot
Debinha is similar to a slower version of Neymar. Her five-star skills make her a top choice, and her finishing is more than sufficient for a starting card.
↖ Jordan - Premier League Powerhouse
Position: Midfielder
Stats: 88 Physicality, 78 Pace
Jordan is the perfect box-to-box midfielder for the Premier League with his physicality, stamina, and pace. He's a player to watch out for in the early stages.
↖ Colin Maewene - PSG's Emerging Star
Position: Striker
Attributes: Great pace, shooting, and dribbling
Colin Maewene, with his move to PSG, is a silver-to-gold upgrade. He's a fantastic option for starting squads, and his rating is likely to rise further with in-forms and promos.
↖ Sadio Mané - Still a Premier League Powerhouse
Position: Forward
Stats: Excellent pace, shooting, and dribbling
Mané remains an excellent choice for starting squads. His speed and shooting make him a potent threat.
↖ Ruben Dias - Premier League's Reliable Defender
Position: Center-Back
Attributes: Solid pace, defending, and physicality
Ruben Dias is a consistent performer, and his attributes make him a reliable choice for your Premier League defense.
↖ Florian Wirtz - German Wonderkid
Position: Midfielder
Stats: Outstanding dribbling and agility
Wirtz is a rising star with incredible dribbling skills. He's an exciting addition to the game, and his potential is immense.
↖ Musiala - Bayern Munich's Rising Talent
Position: Midfielder
Stats: High dribbling, decent pace
Musiala is an exciting talent with great dribbling skills. He can be a valuable asset in creative midfield roles.
↖ Christian Nunez - Premier League Speedster
Position: Midfielder
Stats: Impressive pace
Nunez's 83 pace in the Premier League is noteworthy. He's a strong candidate for pacey midfield positions.
↖ Frank Ribéry - French Icon on the Horizon
Position: Forward
Attributes: Versatile, with room for future icon upgrades
Frank Ribéry may not have the best stats initially, but keep an eye on him for potential future icon versions.
↖ William Saliba - Reliable Center-Back
Position: Center-Back
Attributes: Strong defending, great physicality, and pace
Saliba's upgraded base card looks promising. He can be a staple in many teams, thanks to his stats.
↖ Vivianne Miedema - The Ultimate Striker (Female Player)
Position: Striker
Stats: Incredible pace, physicality, and finishing
Miedema is an outstanding female striker with stats that make her a standout option in the striker position.
↖ Thiago Almada - Liverpool's New Playmaker
Position: Attacking Midfielder
Attributes: Great pace and balance
Thiago Almada, newly transferred to Liverpool, offers balance and pace in the attacking midfield role, making him a valuable asset.
↖ Sandro Tonali - Premier League Midfield Maestro
Position: Midfielder
Price Range: Estimated around 100,000 to 150,000 coins
Tonali's well-rounded stats make him an excellent option for midfield control in the Premier League.
↖ Zico - The Brazilian Icon Playmaker
Position: Attacking Midfielder
Attributes: Outstanding shooting and passing
Zico is a Brazilian icon with impressive shooting and passing stats. He'll be a highly sought-after CAM in the game.
Conclusion:
With these players in mind, you can assemble a strong squad to conquer FC24 Ultimate Team. Keep an eye on player upgrades, in-forms, and special cards as the season progresses, and adapt your team accordingly. Enjoy your FC24 gaming experience, and may your team rise to the top!
Most Popular Posts
Popular Category Lists