Madden 24 Updates & Improvements: Franchise Mode, Gameplay Changes and More
Madden 24 is set to receive a flurry of updates, and this comes as no surprise to fans of the series. EA Sports has a history of actively improving the game post-launch by addressing various issues, introducing new features, and enhancing gameplay. In this comprehensive guide, we will delve into the latest updates and improvements on the horizon for Madden 24, covering franchise mode, gameplay changes, and more.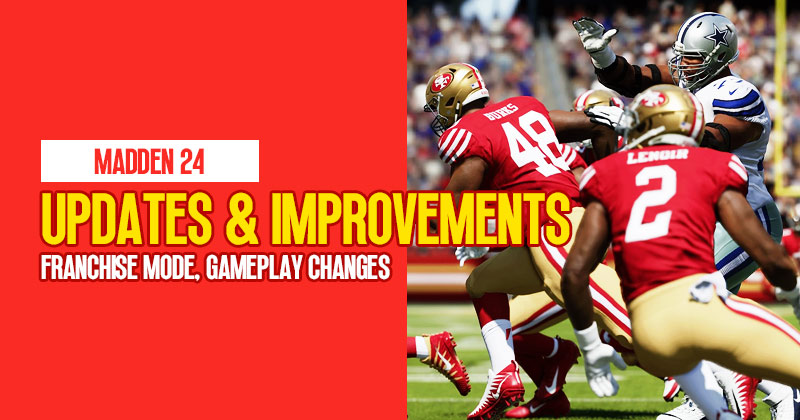 ↖ Free-to-Play Weekend
Before we dive into the upcoming updates, it's essential to mention that Madden 24 is currently available for free-to-play during the opening weekend of the NFL season. While you might need an EA Play subscription to access this offer (typically costing around $5), it provides an excellent opportunity to test the game before purchasing it.
Interestingly, some players have reported that after downloading the free trial, they continued to have access throughout the year, although this isn't guaranteed. EA Play also offers access to a range of other games, making it a worthwhile investment.
↖ Franchise Mode Updates
Franchise mode enthusiasts have reason to be excited as Madden 24 is set to receive several improvements in this area. Here's what to look forward to:
| | |
| --- | --- |
| Equipment Enhancements | The equipment and ratings team has been working diligently to fix various equipment-related issues, such as problems with helmets and cleats. They are adding new helmets that still need to be updated. Additionally, expect new equipment options to be introduced throughout the year. Notably, team colour spats for cleats will make a return, addressing a concern expressed by many players. |
| Draft Class Fixes | The development team acknowledges that fixing draft class issues is a high priority in franchise mode. While an exact release date has yet to be provided, they are actively working on resolving this problem. Fans waiting for these fixes can see them in the upcoming update. |
| Companion App | Although the companion app for Madden 24 has been notably absent, it is expected to make its return in the next few days. Clint, one of the developers, has confirmed its imminent release, providing a crucial tool for many players. |
↖ Gameplay Improvements
Madden 24's gameplay is also slated for significant enhancements. The developers are aware of certain gameplay issues and are actively working to make the gaming experience smoother and more enjoyable. Here's what you can expect:
Loot Blitz Fix: The Loot Blitz issue, which has been a topic of concern among players, will be addressed. While it has been a somewhat effective tactic for defense, its removal may necessitate a different defensive strategy. The developers aim to maintain balance in gameplay.
Match Coverage Overhaul: Match coverage has faced some difficulties in Madden 24, rendering it less effective than in previous iterations. The development team is committed to fixing these issues to ensure that match coverage returns to its former glory.
Zone Coverage Buff: Zone coverage is anticipated to receive a buff, a recurring adjustment made later in the season. The goal is to make Zone coverage more viable and competitive, offering players more strategic options when building their defenses.
New Abilities and X-Factors: A significant gameplay change is on the horizon, with the introduction of approximately 15 new abilities and two to three new X-Factors. Abilities have become a crucial aspect of the game, often outweighing player ratings. The addition of these new abilities will shake up gameplay dynamics, offering fresh strategies and challenges.
Input Lag: Input lag has been a persistent concern, impacting the overall online experience. While improvements have been made since the game's launch, the development team acknowledges that there is still work to be done in this area. Reducing input lag is essential for fluid and responsive gameplay, especially in a sports simulation where precise control is crucial.
Conclusion:
Madden 24 is gearing up for a series of updates that promise to enhance the gaming experience across multiple facets. Franchise mode enthusiasts can look forward to improved equipment options, draft class fixes, and the return of the companion app. Gameplay adjustments, such as addressing the Loot Blitz, improving match coverage, buffing Zone coverage, introducing new abilities and X-Factors, and reducing input lag, are all set to make Madden 24 a more engaging and competitive experience. As we eagerly await these updates, Madden fans can continue to enjoy the game's free-to-play weekend and explore the ever-evolving world of virtual football. Stay tuned for further developments, and get ready to tackle Madden 24 with a fresh set of improvements.
Most Popular Posts
Popular Category Lists