Madden 24 Defense: Top 5 Tips for Instant Improvement
Do you need help to improve your defensive skills in Madden 24? Do you find it challenging to contain your opponents' passing and running plays? Look no further! In this guide, we will unveil five expert tips that will instantly elevate your defensive game, helping you become a formidable force on the virtual football field. These proven strategies will empower you aiming to tighten your man-to-man coverage, fortify your cover-two defense, stop inside zone runs, enhance your pass rush, or utilize the deceptive cover three clouds.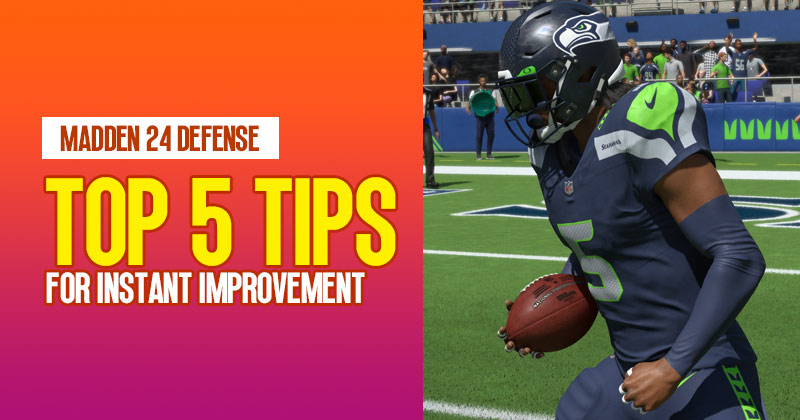 ↖ Enhance Your Man-to-Man Defense
One of the key aspects of a strong defense is tight man-to-man coverage. To achieve this, follow these steps:
Call the Two Man Under play to have two deep zones over the top for added coverage security.
Press the defense by pressing Y (Xbox) or Triangle (PlayStation), and then push the left stick down.
This will prompt your defensive backs (DBs) to jam the receivers at the line of scrimmage, disrupting their routes and giving your pass rush more time to pressure the quarterback.
Additionally, shade your defense underneath by pressing Y or Triangle and then pushing the right stick down. This ensures your defenders stay close to their assigned receivers, making it difficult for the offense to find openings.
Having two safeties over the top is crucial to prevent deep passes, and if you're user-controlling a linebacker in the middle, you can further tighten up the coverage. While this may occasionally leave the running back open, it's a trade-off that can pay off in the long run.
↖ Perfect Your Cover Two Defense
Cover two is a common defensive formation, but it can be vulnerable to certain route combinations. Here's how to make it more effective:
Avoid pressing the defense, as it can compromise the depth of your cloud-flat defenders.
Go to coaching adjustments and set the Zone Drop Flats to 20 or 30.
Call a Tampa 2 play to maintain a balanced coverage scheme.
Your cloud flat defenders will now drop to the appropriate depth, reducing the chances of getting beat deep.
Optionally, back off the coverage by pressing Y or Triangle and then pushing the left stick up, creating even more cushion for your defenders.
With this setup, your cover-two defense should be much more capable of containing deep routes and forcing your opponent into making risky throws.
↖ Stop Inside Zone Runs from Shotgun
Inside zone runs from shotgun formations can be tough to defend, but you can shut them down by using the Nickel 33 Cub formation:
Choose a play with all your defensive linemen rushing, such as OLB Blitz 1 or Mike Blitz 0.
Slide your defensive line to the side of the running back by going left on the D-pad and then right on the left stick.
Crash your defensive line out by going left on the D-pad and then up on the right stick.
Position yourself directly in front of the center and be ready to engage as soon as the ball is snapped.
This setup will disrupt inside zone runs, allowing you to tackle the running back for a loss consistently.
↖ Accelerate Your Pass Rush with Pass Commit
When you want to apply more pressure on the quarterback without blitzing, use the pass commit feature:
Press RB (Xbox) or R1 (PlayStation) to open the pass commit menu.
Select Guess Pass by pushing up on the right stick.
Your defensive linemen will shed blocks faster, making it difficult for the offense to pass effectively. However, be cautious and use this feature selectively, as it leaves your defense vulnerable against the run.
↖ Confuse Your Opponent with Cover Three Cloud
Cover three cloud is a hybrid coverage that can confuse your opponent:
Adjust the Zone Drop Flats to 25 or 30 in coaching adjustments.
Call a Cover Three Cloud play.
This coverage appears like a cover three on one side and more like a cover two on the other. It often catches opponents off guard, causing them to hesitate or make risky throws. User control over the middle is crucial to capitalize on this scheme.
Conclusion:
By implementing these five legit tips, you'll instantly improve your defense in Madden 24. Whether you're enhancing your man-to-man coverage, perfecting your cover two defense, stopping inside zone runs, accelerating your pass rush, or using cover three clouds, these strategies will give you the upper hand on defense and lead you to more victories on the virtual gridiron. Now go out there, dominate on defense, and take your Madden game to the next level!
Most Popular Posts
Popular Category Lists