NBA 2K24 Best All Around PG Build: 6'8" Jayson Tatum Guide
In this guide, we're about to unveil an exceptional build inspired by the skills of Jayson Tatum, the 6'8" All-Around Point Guard. This build is not your average player - it's a versatile force to be reckoned with, boasting the ability to shoot from anywhere on the court, finish at the rim, make plays, and lockdown opponents on defense. As we break down the attributes, badges, and physical attributes, get ready to craft a player who can dominate the game. It's time to elevate your NBA 2K24 experience with our meticulously designed Jayson Tatum build.!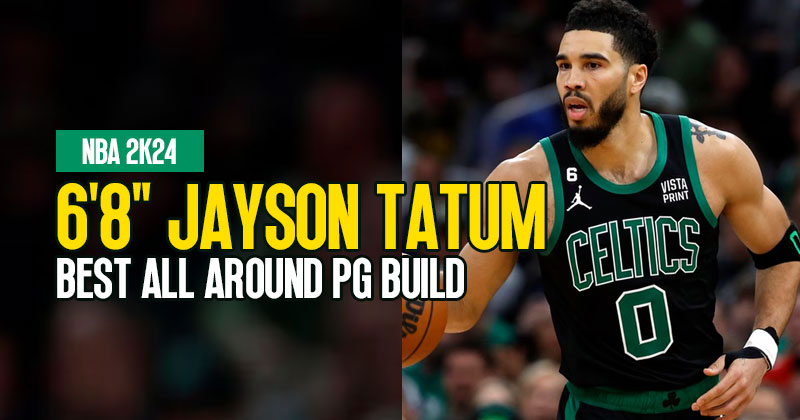 ↖ Build Overview
Now, before we break down the attributes, badges, and physicals, let me give you an overview of what this Jayson Tatum-inspired build looks like:
Position: Point Guard (though Shooting Guard or Small Forward are viable alternatives)
Height: 6'8"
Weight: 202 pounds
Wingspan: 6'10"
↖ Attribute Allocation
Finishing
Driving Dunk: 80 (to unlock essential dunk packages)
Close Shot: Capped
Mid-Range: 90 (for elite shooting)
Layup: Capped
Ball Handle: Capped
Shooting
Mid-Range: 90 (for badge unlocks)
Three-Point: 86 (for Silver Agent 3 badge)
Free Throw: 67 (for the Bronze Free Points badge)
Playmaking
Pass Accuracy: 82 (for Silver Touch Passer)
Ball Handle: 85 (for crucial dribble moves)
Speed With Ball: 75 (to unlock essential dribble styles)
Defense
Perimeter Defense: 85 (for Silver Clamps)
Steal: 85 (for Silver Glove)
Block: 77 (for at least Bronze Anchor)
Interior Defense: 61
↖ Badge Highlights
This build is designed to maximize its badge potential, and here are some of the badge highlights you can expect:
Finishing
Access to a variety of dunk packages and layup animations.
Shooting

Hall of Fame Open Looks
Gold Blinders
Gold Dead Eye
Gold Green Machine

Playmaking

Silver Touch Passer
Silver Blow By

Defense

Silver Clamps
Silver Glove
At least Bronze Anchor
↖ Physical Attributes
The physical attributes are crucial for this build, and here's how we've allocated them:
Speed: 81 (to unlock Silver Speed Booster)
Acceleration: 80 (for Hyperdrive)
Strength: 84 (for Silver Bulldozer and Hall of Fame Physical Handles)
Vertical: 60
Stamina: 93 (for Silver Handles for Days)
Conclusion:
There you have it, folks – the Jayson Tatum 6'8 All-Around Point Guard Build for NBA 2K24. This build offers a perfect blend of scoring, playmaking, and defense, making it a formidable presence on the court. Keep in mind that the actual effectiveness of this build may vary based on your playstyle and preferences, so feel free to tweak the attributes and badges to suit your game.
Most Popular Posts
Popular Category Lists