How do you make the most of FC Points in the early of EA FC 24?
If you're fortunate enough to start EAFC 24 with 4600 FC Points, whether from pre-ordering the Ultimate Edition or by other means, it's crucial to make the most of this valuable currency. In this guide, we'll walk you through how to wisely spend your FC Points, focusing on maximizing your potential gains in the early stages of the game. We'll also provide you with important dates to keep in mind and highlight some promising player investments.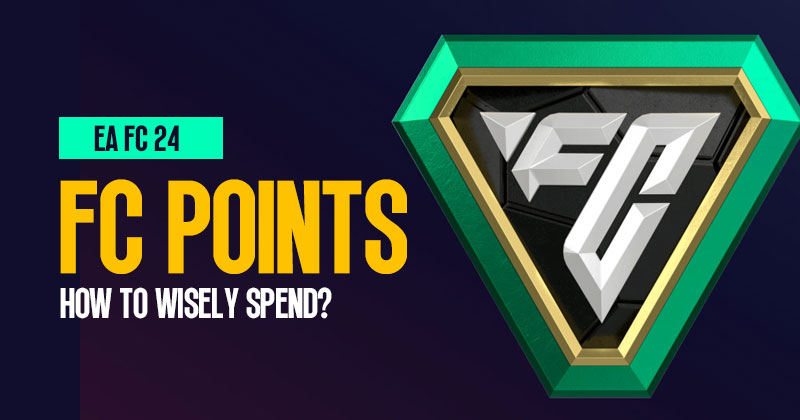 ↖ Spending FC Points
Opening Packs: Your first priority should be to open packs with your FC Points. Packs offer the potential for substantial returns, especially during the initial stages of the game when player prices are at their lowest. Focus on opening 7.5K packs. These packs are relatively affordable and can contain valuable players. Be on the lookout for top-rated and popular players who can fetch high prices in the market.
FUT Draft: While FUT Draft can be rewarding, it's time-consuming. Consider participating only if you're confident in your gameplay skills and can consistently win. Winning FUT Draft can yield better rewards than regular packs, but it requires dedication and skill. If you do decide to play FUT Draft, aim for multiple wins to maximize your rewards.
Investment Strategy: After opening packs, the key to long-term success is smart investing. Look for players who are likely to increase in value over time. Consider factors such as player rating, position, league, nationality, and potential demand when making investments. Keep in mind that some cards may rise in value rapidly, especially during the early days of the game.
↖ Important Dates
Content Creators' Early Access (September 19th): A select group of content creators will have access to the game on this date. They can open FIFA Points and start trading early. This will have a small impact on the market, but some cards may be listed by these creators.
General Release and FIFA Points Availability (September 22nd): This is when FIFA Points become available to the wider player base, and the market gets flooded with player cards. Trading has become more accessible, and this is the prime time to start making FC 24 coins. Player prices will start to rise from this date onwards.
↖ Additional Strategies
Completing Objectives:
Consider completing objectives that offer rewards like tradable packs or coins.
In particular, focus on objectives related to Mastery, Assist Mastery, and other FC 24-specific objectives.
You can also complete objectives in single-player drafts on lower difficulty levels to earn rewards while progressing towards objectives.
↖ Player Investments
Sandro Tonali: A highly rated midfielder with the potential for a significant price increase.
Emre Can: Versatile and capable of playing multiple positions, making him a valuable asset.
Marcos Llorente: His ability to play various roles makes him a sought-after player.
Antonio Rüdiger: Solid stats, good ratings, and strong links make him an excellent investment.
Avoid investing in cards like Kalulu and Casemiro, as they may only have temporary value.
Conclusion:
In EAFC 24, making the most of your 4600 FC Points is crucial for building a strong foundation for your Ultimate Team. Open packs wisely, consider FUT Draft if you have the time and skills, and focus on smart investments that will pay off in the long run. With the right strategy and awareness of important dates, you can thrive in the early stages of the game and set yourself up for success throughout the season. Good luck!
Most Popular Posts
Popular Category Lists