NHL 24 Official Presentation Deep Dive: All You Need to Know
NHL 24 is on the horizon, and it's bringing a wave of exciting changes to the beloved franchise. Today, we'll delve deep into the official presentation trailer for NHL 24, offering you an in-depth look at the game&" height="540" width="100%">39;s new features, enhancements, and gameplay experiences. We explore Height Moments, Flex Moments, Dynamic Rank Boards, customization options, improved graphics, and much more. So, grab your virtual skates, sharpen your sticks, and get ready for an epic journey through the world of NHL 24!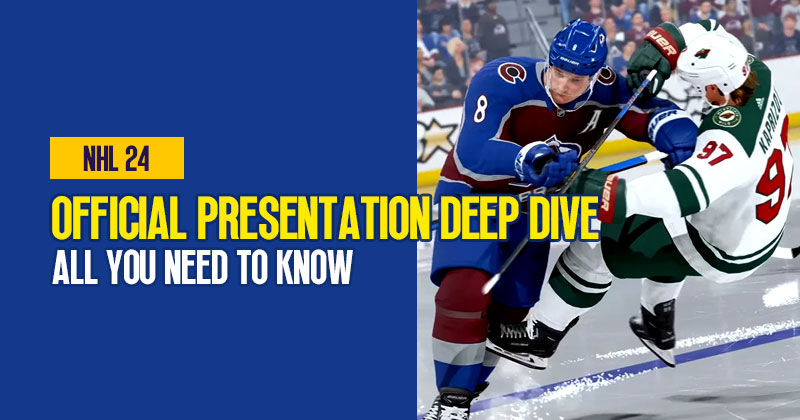 ↖ Height Moments
One of the standout features in NHL 24 is the introduction of Height Moments. This feature expands upon the Crown Engagement Score (CES), which includes both positive and negative events in the game. As positive events accumulate, the home crowd becomes increasingly engaged. This immersive addition makes the game feel more authentic and dynamic, providing a richer experience for players.
↖ Creation Zone Environment
In NHL 24, the Creation Zone environment is getting a significant upgrade. You'll now have the ability to create 30 additional teams, 15 more skaters, and 200 more goalies compared to previous versions. The customization options are extensive, with over 150 animated vanity gear items and over 130 non-animated but visually impressive pieces of gear. You can even create custom rosters with meticulous attention to detail, ensuring your team looks as authentic as possible.
↖ Flex Moments
One of the most exciting changes in NHL 24 is the introduction of Flex Moments. No longer will you celebrate from the distant gameplay camera angle. Instead, you'll be up close and personal with your player during their celebrations. This shift captures the essence of real player celebrations, with a variety of authentic and signature celebrations to choose from. The new camera angles, lighting, and facial animations add an extra layer of realism to the game.
↖ Dynamic Rank Boards
NHL 24 introduces Dynamic Rank Boards, a feature that has sparked some controversy. These rank boards provide information on relevant in-game and career milestones, such as hat tricks and career achievements. While some players have reservations about their presence, they can be a valuable tool for tracking your progress and achievements in various game modes.
↖ Player Banners
In the World of Chel mode, you can customize your character further with unique player banners. These graphics allow you to add a personal touch to your character's identity, making your player stand out on the ice.
↖ Graphics Enhancements
Graphical improvements in NHL 24 include sweat exertion on players, enhancing the realism of the game. As players exert themselves on the ice, you'll notice their faces becoming flush and sweaty. This detail adds depth to the overall gaming experience, especially during replays.
↖ New Color Commentator
A significant change in NHL 24 is the introduction of a new color commentator, Cheryl Pounder, replacing Ray Ferraro. Cheryl brings a fresh perspective to the game, with a focus on the fast-paced transitions and the goaltenders' talents and mobility.
↖ Authentic Track
In Face-Off moments, NHL 24 incorporates authentic music tracks to enhance the gaming experience. Classic tracks like Darude Sandstorm, Tsunami by DVBBS, Hand Clap by Fitz and the Tantrums, and the iconic Cha Cha Slide are included. These tracks even feature crowd participation, adding an extra layer of authenticity to the game's atmosphere.
↖ Improved Illinois Projections
NHL 24 has made efforts to improve the authenticity of Illinois projections for different teams. Teams like Washington, Montreal, and the Seattle Kraken are now properly represented, with eye-catching projections that add to the game's immersion.
↖ Full Replays Return to Franchise Mode
Great news for franchise mode enthusiasts! NHL 24 brings back full replays for all offline modes, including franchise, Be a Pro, and Play Now. Regardless of whether you control an AI or human team, you'll have access to all the goal replays. Additionally, the true broadcast camera, a popular feature among players, makes its return with two distinct camera options.
Conclusion:
NHL 24 promises to be a game-changer for fans of the franchise. With exciting new features like Height Moments, Flex Moments, Dynamic Rank Boards, and improved graphics, this iteration of the game is set to deliver a more immersive and authentic hockey experience. Whether you're a seasoned player or new to the series, NHL 24 offers something for everyone. Get ready to hit the ice and experience the thrill of the game like never before!
Most Popular Posts
Popular Category Lists