5 Most Significant Changes Are Coming To NHL 24
Welcome to the world of NHL 24, where the ice is cooler, and the gameplay is hotter than ever before. In this thrilling guide, we'll dive deep into the 5 most significant changes that are set to transform your NHL gaming experience. From cross-play connectivity that bridges console divides to game-changing passing mechanics and dynamic rink boards, NHL 24 is all about delivering the ultimate hockey experience. Get ready to score big as we explore the exciting new features and innovations that promise to make NHL 24 a must-play for fans and newcomers alike.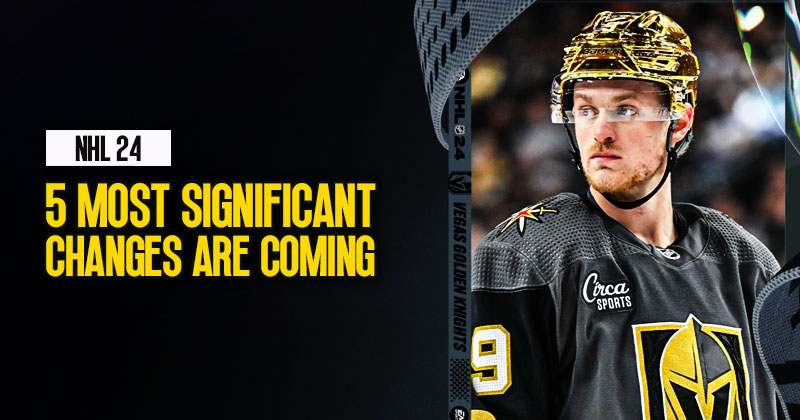 ↖ Cross-Play for Ultimate Connectivity
What's New:

NHL 24 introduces full cross-play support, allowing players to connect and compete with friends and opponents across both Sony and Microsoft consoles within the same console generation. This means that PS5 players can now face off against Xbox Series S and X players, while those on PS4 can engage with Xbox One players. The cross-play feature extends to team play, where you can even invite players from a different console to join your squad.
EA Social System:

A new EA social system accompanies cross-play, enhancing your social experience in NHL 24. From this screen, you can seamlessly add friends, invite players, and interact with people you've recently played with. The introduction of cross-play significantly improves matchmaking quality, resulting in shorter wait times for games so that you can spend more time on the ice.
↖ Enhanced Passing Mechanics
What's New:

NHL 24 brings about a revolution in the passing game. Face button remapping and new visuals above pass receivers enable more precise and dynamic passing options. With the introduction of One Touch Passing, you can quickly move the puck and capitalize on scoring opportunities. When passing, holding down the right trigger will display icons above players' heads, indicating the intended recipients, reducing accidental passes to the wrong player.
Vision Passing:

Vision passing is now available not only in the new Total Control scheme but also in Skill Stick controls. It allows for more efficient passing and opens up creative possibilities like disguising passes on power plays to set up perfect plays. This feature also unlocks stretch and breakaway passes, providing fresh ways to attack the net, but precise button input and gameplay factors are crucial for success.
↖ Dynamic Rink Boards and Broadcast Augmentation
What's New: NHL 24 introduces dynamic rink boards that communicate critical on-ice moments, including delayed penalties, goal summaries, stat milestones, and customizable vanity backdrops. These features enhance the in-game experience, providing real-time information without needing to glance at the bottom of the screen. The augmented reality broadcast now seamlessly integrates these elements into the game's visual storytelling.
Player Banners: In the World of Chel, player banners offer a unique customization opportunity. These graphical elements allow you to personalize your character and take over the rink boards, updating in real time. This adds an extra layer of immersion, especially during pre-game intros.
↖ The Exhaust Engine:
What's New: NHL 24 introduces the Exhaust Engine, a complete revamp of gameplay that rewards extended offensive events and sustained attack zone time. If you dominate in the offensive zone, both goalies and player stats will be affected. Goalies can get tired, making it easier to score, while players will find more opportunities as lanes open up.
Pressure Gauge: The pressure gauge displays the impact of sustained offensive pressure. The offensive team gains a boost in stats due to the adrenaline effect, while the defensive team experiences a decrease due to the "pinned effect." This encourages real hockey strategies like the dump-and-chase and tire-the-goalie tactics.
Puck Possession Balance: To prevent excessive puck possession in the offensive zone, EA has lowered the impact it has on building sustained pressure by 30%. Shots on goal and aggressive hits in the offensive zone now play a more significant role in maintaining offensive pressure.
↖ A New Dev Team and Community-Focused Approach
What's New: NHL 24 welcomes a fresh development team with a strong commitment to the community. They aim to rekindle the greatness of the NHL series, and they have been actively engaging with players to understand their needs and wishes. A new creative director and senior producer are leading the charge.
Connected Franchise (GM Connected): The developers have heard the community's clamour for a connected franchise mode. While they acknowledge its importance, they also recognize that it's a complex feature to reimagine and modernize. The team is actively exploring ways to bring it back but with a fresh perspective.
Regular Updates: NHL 24 promises regular updates throughout the year, with the development team actively listening to player feedback. This means that the game will continue to evolve and improve based on community input.
Conclusion:
NHL 24 is a game-changer in the franchise, with its emphasis on cross-play, enhanced gameplay mechanics, dynamic broadcast elements, and a dedicated dev team focused on community feedback. Whether you're a seasoned player or new to the series, these changes are bound to make NHL 24 an exciting and engaging hockey gaming experience. Stay tuned for more updates, and enjoy your time on the ice!
Most Popular Posts
Popular Category Lists