EAFC 24 Update: Evolutions and Season 1 Player Rewards Revealed
Welcome to the exciting world of FC 24, where innovations like the groundbreaking Evolutions feature and enticing EAFC 24 Season 1 rewards await you. In this guide, we delve into the intricacies of player upgrades through Evolutions, exploring the various options and challenges that will empower you to transform your favourite players into formidable stars. Additionally, we unveil the confirmed Season 1 player rewards, showcasing the enticing array of talent you can add to your squad as you progress through EAFC 24.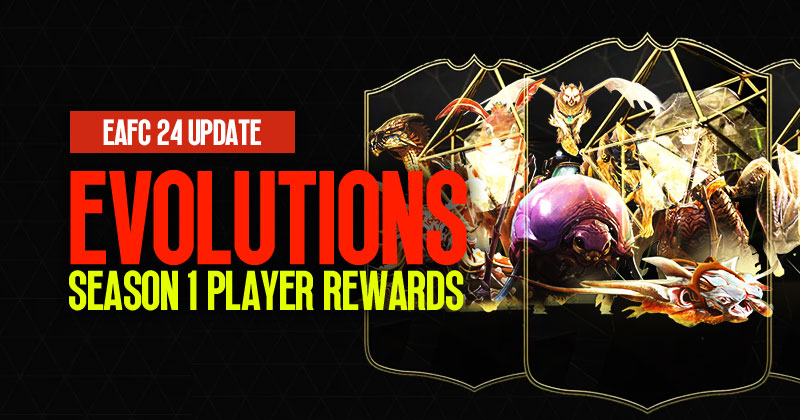 ↖ Evolution
FC 24 introduces a brand-new feature called Evolution, which allows you to upgrade your players in exciting ways. This feature enhances your gameplay experience by enabling you to boost your favourite players' attributes, making them even more formidable on the pitch. Let's dive into the details of how Evolution works:
Founders Evolution
Founders Evolution is a special feature for those who have supported the FIFA series as FC founders.
You can use this exclusive Evolution slot to level up a striker or player of your choice.
Example: You have a Gold Teemo Werner with 91 Pace, 80 Shooting, 70 Passing, 82 Dribbling, and 69 Physical.
You get two challenges to upgrade your player's attributes, such as Weak Foot, Shooting, and Physical.
The challenges vary based on the player's position, overall rating, and attributes.
Level 1 upgrades may include a +3 Pace and +3 Shooting boost.
These upgrades can be earned by completing matches in Squad Battles, Rivals, or Champs mode with your player.
Position-Specific Evolutions
Different player positions have unique Evolution paths and challenges.
For example, center-backs can improve their pace, making slower defenders more competitive.
The challenges may include winning matches, scoring goals, or achieving specific objectives with your player.
As you progress through the levels, the upgrades become more significant.
Relentless Winger
This Evolution focuses on upgrading offensive attributes of wingers.
You can boost attributes like shooting dribbling and even unlock the Relentless play style.
Challenges include scoring goals and playing matches with your player.
The upgrades can greatly enhance your winger's performance.
Golden Glow-Up
This feature allows you to upgrade bronze and silver players significantly.
Completing various challenges will help you unlock new traits, increase overall ratings, and make these players more usable.
Bronze and silver players can become valuable assets for your team with these upgrades.
Paid Evolution
Some Evolutions may require spending FC 24 currency or FC 24 points.
Evaluate if the investment is worth it based on your team's needs and your playstyle.
Season Progression
Evolution is tied to your progress in the season, and completing objectives and challenges will help you level up your players.
The Evolution cards have a unique design, and you can track your player's progress easily.
↖ Season 1 Player Rewards
EAFC 24 Confirmed Season 1 brings exciting rewards for players as they progress through the season. Here are some of the rewards you can look forward to:
Level 40 Reward: Matthias Cunha (89 Pace, 87 Shooting, 83 Passing, 90 Dribbling, 81 Physical). This player is an excellent addition to your team, and even if you acquire him in October, he'll remain valuable for a long time.
Other Player Rewards: Players like Kone (82 Pace, 82 Shooting, 87 Passing, 90 Dribbling, 85 Physical, 78 Defending) are available at different levels throughout the season.
Women's Players: EA continues to support women's football by including women's players like Baltimore and more.
Special Cards: Keep an eye out for special cards like Christian Tello (92 Pace, 80 Shooting, 85 Passing, 85 Dribbling), which can significantly boost your team's performance.
Level 30: You can also earn special rewards at level 30, so keep progressing through the season to unlock these valuable items.
Conclusion:
FC 24's Evolution feature brings an exciting new dimension to the game, allowing you to enhance your players and create unique, powerful squads. Combine this with the enticing player rewards in EAFC 24 Confirmed Season 1, and you have a season full of challenges and opportunities to improve your team. Stay tuned for more updates and guides as FC 24 unfolds its mysteries.
Most Popular Posts
Popular Category Lists