Madden 24 Offensive: 5 Professional Tips To Improve Your Chances of Winning
Are you tired of losing games in Madden NFL 24? Do you want to level up your skills and dominate your opponents like a pro? Look no further, as we've compiled an offensive tips guide with 5 professional tips that will help you win more games in Madden 24. These tips cover both offensive strategies that top Madden players use to stay ahead of the competition.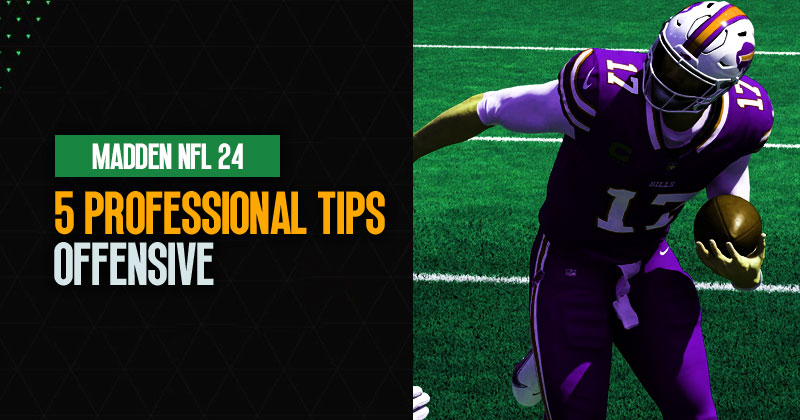 ↖ 1. Play Action Blocking vs. The Blitz
One of the most frustrating aspects of playing Madden is dealing with relentless blitzes from your opponent's defense. To counter this, pro players utilize play action blocking to confuse and disrupt blitzing defenders. The key is to select a play with a good play action component, such as the PA Boot Over from formations like Gun Bunch Tight End (found in popular playbooks like the Jets and Packers).
But here's the secret: Cancel the play action immediately after snapping the ball by holding down the right trigger (R2). This cancels the fake handoff midway through, causing blitzing defenders to bite hard inside, disrupting their blitz angles. This makes it difficult for them to pressure your quarterback effectively. Combine this with play action blocking's natural advantages for improved pass protection.
↖ 2. Zig Route vs. Man Coverage
Man-to-man coverage is prevalent in Madden, and it can be challenging to find open receivers against it. Pro players rely heavily on the zig route to consistently beat man coverage. To execute it, press the corresponding receiver's button (Triangle or Y), then select the zig route using the left stick.
The zig route involves a quick fake to the inside, followed by a sharp cut to the outside, creating separation from defenders. This route works against man coverage roughly 80% of the time, making it an invaluable tool to have in your playbook. Consider incorporating zig routes into your offensive schemes to keep your opponents guessing.
↖ 3. The Juke Move
When it comes to ball carrier moves, the juke is king. Pro players understand that juking is the most effective way to deceive defenders. Use the juke move to fake out both AI and user-controlled defenders consistently. The juke move is so potent that it outperforms other ball carrier moves like spinning, hurdling, and stiff-arming.
By juking strategically, you can make defenders miss and gain extra yards. Pro players incorporate multiple jukes within a single play, creating a dynamic and elusive running style that's challenging to defend against. Keep practising your juking skills to become a more elusive ball carrier.
↖ 4. RPO Stretches
Run-pass option (RPO) stretches have become incredibly powerful in Madden 24. These plays are the go-to choice for running the ball effectively. Most playbooks feature RPO stretch plays in various formations, such as single back, I-form, or strong.
What sets RPO stretches apart is that they do not trigger adaptive AI for run defense, unlike traditional run plays. This means that the defense won't cheat or react differently to stop these plays, even if you use them repeatedly. Incorporate RPO stretches into your playbook to enjoy a reliable ground game that keeps your opponent guessing.
↖ 5. Diving into the End Zone
Scoring near the goal line can be a challenge in Madden. With limited space to work with, it's challenging to pass or run effectively. Pro players have a secret weapon in their arsenal: the diving into the end zone technique.
When near the goal line, use a play like the fullback dive. As soon as your ball carrier receives the handoff, press the dive button (X on Xbox or Square on PlayStation). This triggers a spectacular diving animation that often allows your player to leap over defenders and into the end zone. Surprisingly, this manoeuvre is relatively low-risk, as running backs rarely fumble during these dives.
Conclusion:
By incorporating these five offensive pro tips into your Madden 24 gameplay, you'll significantly improve your chances of winning more games. Remember to practice these techniques, adapt them to your play style, and stay one step ahead of your competition on the virtual gridiron. Good luck, and may your Madden skills reach new heights!
Most Popular Posts
Popular Category Lists