Madden 24 Gridiron Guardian: How To Select The Best Strategy Card and Free 86 Overall Players?
In Madden 24, strategy and player choices can make or break your virtual football team. In this guide, we'll unravel the mysteries of the Gridiron Guardian promo, helping you select the best strategy card and free 86 overall players to elevate your squad to greatness. Keep in mind that these recommendations are based on the information available in the Gridiron Guardian promo and might change with future updates.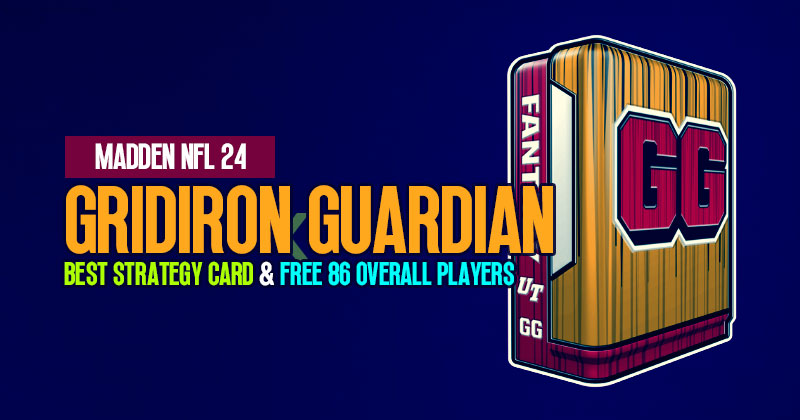 ↖ How to Obtain Gridiron Guardian Items?
To access the Gridiron Guardian items, you'll need to participate in the Field Pass and the House Rules event. Here's a breakdown of how you can acquire these free packs:
Field Pass: You'll receive the Gridiron Guardian Strategy Item Fantasy Pack at Level 4, an 86 overall BND player at Level 12, and an auctionable one at Level 20.
House Rules Event: Participate in the House Rules event and earn an 86 overall BND player after accumulating 25 wins, along with several 81+ overall players.
Now, let's delve into the best strategy card choices and the top 86 overall players to pick from this promo.
↖ How to Choose the Right Gridiron Guardian Strategy Card?
The Gridiron Guardian Strategy Card is a crucial element of the promo as it boosts all your Gridiron Guardian players, regardless of their chemistry. Here are some strategy cards to consider:
Legitimate Legs: This card provides boosts to agility, spin move, and kick power. It's an excellent choice if you have a strong receiver or running back in your squad, as these attributes can make a significant impact on offense.
Boom Bros: If you're focused on physicality, consider this card, which enhances hit power, strength, and trucking. It's a solid choice if you have a powerful running back like Najee Harris.
Scrappers: This card boosts impact blocking, catching, and blocking. It's versatile, benefiting both offense and defense. If you're planning to pick up an offensive lineman like Quentin Nelson, this card becomes even more appealing.
Compatriots: This card offers boosts to awareness, break tackle, and release. While awareness can help improve player performance, the other attributes may have little impact.
Ultimately, the choice of strategy card depends on your team composition and the Gridiron Guardian players you acquire. Consider waiting until Part 2 of the promo to see if you obtain players that align with your preferred chemistry before making a final decision.
↖ Best Free 86 Overall Players
Now, let's explore the top choices for the free 86 overall players available in the Gridiron Guardian promo:
Chris Olave (Wide Receiver): Height 6'1", 86 speed, 87 excel, 86 medium route running, 87 deep route running. Chris Olave is a solid choice if you need a reliable wide receiver with good route-running abilities.
Alec Ingold (Fullback): Speedy fullback with 85 speed and 87 excel. Excellent carrying, trucking, and blocking attributes make him valuable, especially for those who utilize fullbacks in their offensive schemes.
Jeff Okudah (Cornerback): Height 6'1", 86 speed, 85 man coverage, 86 zone coverage.Jeff Okudah is a decent cornerback option, but there are other free cornerbacks available in the game. Consider your team's needs before selecting him.
Preston Smith (Outside Linebacker): 81 speed, 86 excel, 88 power moves, 83 block shedding. Preston Smith can be useful if you require an additional pass rusher, but his value may diminish once you have better options.
Chris Manhertz (Tight End): Attributes: 80 speed, 81 catch in traffic, solid blocking. While Chris Manhertz offers decent blocking, his receiving skills and route running could be better compared to other tight ends.
Zach Allen (Defensive End): 76 speed, 80 excel, 83 strength, 85 block shedding. Zach Allen needs to catch up in terms of speed and pass-rushing ability, making him a less attractive option.
Conclusion:
In summary, when it comes to selecting the best Gridiron Guardian Strategy Card, it's crucial to consider your team's chemistry and wait until Part 2 of the promo to make an informed decision. As for the free 86 overall players, Alec Ingold and Chris Olave stand out as top choices, but your selection should align with your team's needs and playstyle. Please make the most of the Gridiron Guardian promo to strengthen your Madden NFL squad and lead them to victory on the virtual field.
Most Popular Posts
Popular Category Lists