NHL 24: What Are the Key Features and Changes in HUT Mode?
In this in-depth guide, we'll take a deep dive into the latest and greatest features of NHL 24 HUT mode. From the thrilling X-Factor moments that let you relive hockey's historic highlights to the revamped Objectives 2.0 that makes your HUT experience more engaging than ever, we've got it all covered. Explore the shared economy, HUT Share, XP sets, synergies, and much more. Get ready to embark on a rewarding journey in HUT, where you'll build your dream team and conquer the ice in NHL 24!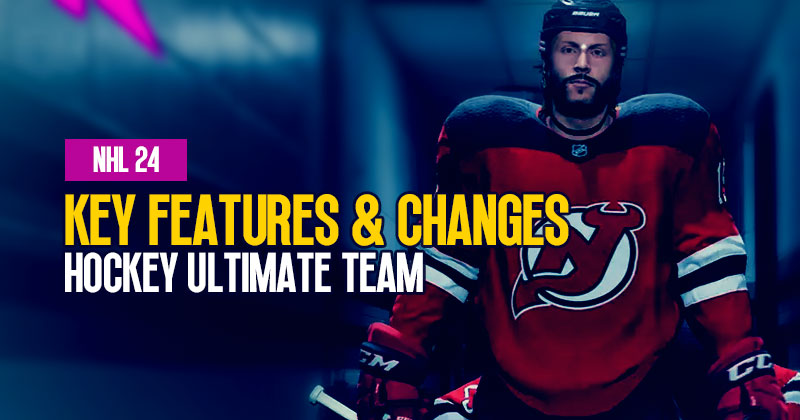 ↖ X-Factor Moments
One of the biggest additions to NHL 24 is the introduction of X-Factor moments. These moments allow you to relive some of the most historic and exciting moments in hockey history. Each NHL team will have its own X-Factor player, and these players will have corresponding moments at the launch of the game.
Here are some confirmed X-Factor moments that you can look forward to at launch:
Each NHL team will have one X-Factor player.
Moments will also include complete events from the upcoming season.
Some moments will require you to play as a specific player, including goaltenders.
A major quality-of-life improvement is the option to end a moment early if you've completed all the objectives. This gives you the flexibility to either continue playing or claim your rewards right away.
↖ Hot Moments
Hot Moments replace the offline HUT challenges from previous games. In Hot Moments, you'll be immersed in specific historical scenarios with customized rosters and X-Factor card art that matches the moment. These moments provide a more engaging and challenging experience compared to the old offline challenges.
Key points about Hot Moments:
Hot Moments have specific rosters tailored to the historical moments.
Some moments may require you to play as a specific player, even a goaltenders.
The rewards system in Hot Moments needs improvement, and it's hoped that every Master set player will have a corresponding moment for events.
↖ Objectives 2.0
Objectives 2.0 is a significant upgrade from NHL 23. Objectives will be tracked in real time and can include actions such as goals, assists, shot types, hits, and dekes. This makes completing objectives more dynamic and engaging.
Here's what you need to know about Objectives 2.0:
Objectives can be tailored to specific cards or players, adding depth to the mode.
Real-time tracking allows for a better understanding of your progress.
Daily and weekly objectives will be refreshed with new challenges, making it more fun and rewarding.
↖ Shared Economy
NHL 24 introduces a shared economy, allowing players on different consoles (PlayStation 5, Xbox Series S/X, PlayStation 4, and Xbox One) to buy, sell, and trade cards on a single market. This is a significant quality-of-life improvement that expands the market's card pool and enhances the overall gaming experience in HUT.
↖ HUT Share
HUT Share is a new feature that lets you easily share your roster progress through a single screenshot. It eliminates the need for third-party team-building websites and makes it convenient for players to seek advice and share their team setups.
↖ XP Sets
XP Sets offer a new way to obtain rewards by earning XP from logins daily and weekly objectives. Completing all 40 sets released weekly allows you to earn an all-99 overall Master item, which represents a significant reward for your progression throughout the year.
↖ Synergies
Synergies in NHL 24 have received a revamp, with a base set of synergies for each player type. Additionally, there will be new Boost synergies added to player items through live content, enhancing players' attributes and playstyles.
↖ Content Highlights
X-Factor Choice Packs: Five X-Factor players representing each NHL franchise and six women X-Factor cards from international teams.
Team Builders: You can acquire an 84 overall Team Builder card for each team by collecting cards from that team. It's a great way to earn valuable cards early.
Power-Up Icons: Icons are categorized into four sets—Playoff Heroes, Rookie Cards, Vintage, and Dynamic Duos. Collecting two headliner items from each set allows you to trade them for the ultimate power-up icons: Mario Lemieux, Wayne Gretzky, and Gordie Howe.
Conclusion:
NHL 24's HUT mode is set to offer an engaging and immersive experience with the introduction of X-Factor moments, Objectives 2.0, shared economy, HUT Share, XP sets, revamped synergies, and exciting content. While there may be room for improvement in certain areas, such as rewards and live content, the overall outlook for HUT in NHL 24 looks promising. Stay tuned for more updates and enhancements as the game progresses throughout the year. Enjoy your HUT journey in NHL 24!
Most Popular Posts
Popular Category Lists