Madden 24 Roster Updates and Changes: Tyreek Hill Joins the 99 Club
Madden 24 is where strategy meets adrenaline, and it's time to step into the cleats of your favourite players and lead your team to glory. We've got exciting news from EA Sports, including a fix for the custom draft class bug and a revamped companion app. But the real spotlight is on the massive roster update, with Tyreek Hill earning a coveted spot in the 99 Club, rising stars like Micah Parsons making waves, and several players experiencing rating adjustments.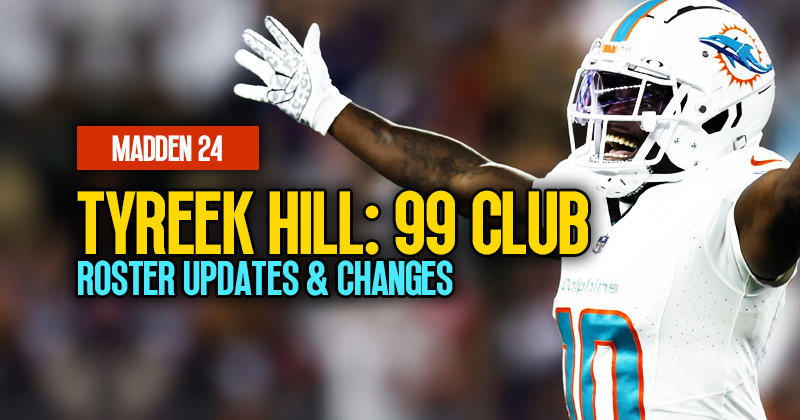 ↖ Upcoming Title Update
Before we get into the juicy roster updates, let's briefly touch on some important news. EA Sports officially announced that they had resolved the draft class bug issue with custom draft classes. In the next title update, set to release in a few days, Madden 24 will roll out the fix. This means you can finally enjoy seamless customization and proper functionality when managing your draft classes. It's a much-needed improvement for franchise mode enthusiasts.
Additionally, the companion app for Madden 24 was recently released. EA has completely revamped the app to address previous issues and improve user experience. If you've been waiting for the companion app or encountered problems with the earlier version, it's time to give it another try and see if the updates have made it a better tool for your Madden 24 experience.
↖ Roster Update Highlights
Now, let's dive into the exciting part—the roster updates! There's been a flurry of player movements this week, including some notable ratings adjustments.
99 Club
Tyreek Hill: The speedy wide receiver has finally earned his spot in the prestigious 99 Club with a +1 overall increase, making him a 99 overall. It's well-deserved recognition for his consistent excellence in the league.
Rising Stars
Micah Parsons: The Dallas Cowboys' star linebacker continues his impressive rookie campaign, moving up +1 overall to reach a 98. At this rate, he could soon join the 99 Club, becoming one of the fastest players to do so in Madden's history.
TJ Watt: Despite consistently performing at an elite level, Watt has never quite reached 99 overall. This season, he's up +1 to a 96 overall, inching closer to that coveted milestone.
Derrick Henry: The Titans' powerhouse running back is also on the rise, moving up +1 to a 95 overall. It's only a matter of time before he's back in the 99 Club conversation.
Bouncing Back
Josh Allen: The Madden 24 cover athlete had a rough start but is bouncing back with a +1 overall increase, reaching a 94 overall.
Roquan Smith: The Bears' linebacker is also on the rise, reaching a 94 overall with a +1 increase.
Terry McLaurin: The talented wide receiver for the Washington Football Team sees his rating improve to 93 overall, up +1.
Emerging Stars
CD Lamb: The Cowboys' young wideout is turning heads with a strong start to the season, earning a +2 boost to reach a 92 overall.
Tyron Smith: The Cowboys' offensive tackle is back in elite form, surging +3 to a 92 overall.
Mike Evans: After a standout performance, Evans sees a +1 increase to a 91 overall.
Defensive Standouts
TJ Hockenson: The Lions' tight end continues to impress and climbs +1 to a 91 overall.
Matthew Judon: With a +1 overall increase, the Patriots' linebacker reaches a 90 overall.
Trayvon Diggs: Unfortunately, this will be the last rating update for Diggs this year due to an ACL tear, but he finishes at a respectable 89 overall, up +1.
Other Notable Roster Updates
Various players across the league have received +1 increases, including Cameron Jordan, Devonte Smith, Matt Milano, Christian Wilkins, and more.
Some rookies, like Bijon Robinson and George Pickens, are making a name for themselves with +2 and +1 increases, respectively.
The roster update also covers players with +3, +2, and +1 improvements across different positions.
↖ Players on the Decline
Of course, not all news is positive in the Madden 24 world. Some players have seen their ratings decrease in this update, reflecting their recent performances.
Jaire Alexander, Josh Jacobs, and Joe Burrow have experienced slight declines in their overall ratings, each dropping by one point.
Offensive linemen Andrew Thomas and Tristan Wirfs have also seen their ratings decrease by one point.
DeAndre Hopkins has experienced a surprising drop of three points, bringing him to a 90 overall.
Other notable players on the decline include Lavonte David, Stefan Gilmore, Harrison Smith, Amari Cooper, and more.
↖ Wrapping It Up
In summary, this week's Madden 24 roster update is a significant one, with various players seeing their ratings rise or fall based on their recent performances. The addition of Tyreek Hill to the 99 Club is a notable highlight, alongside the rapid rise of Micah Parsons. Make sure to check out the changes in your favourite players and teams, and stay tuned for more Madden 24 updates and improvements in the upcoming title update.
Keep an eye on your franchise mode, and remember to make strategic decisions based on these roster adjustments. The NFL season is in full swing, and Madden 24 continues to evolve to deliver an immersive football gaming experience.
Most Popular Posts
Popular Category Lists