FC 24 25x 275K Elite Starter Packs: Is it worth the investment?
In FIFA 24 Ultimate Team, the highly-anticipated 275K Elite Starter Packs have arrived, offering a thrilling chance to bolster your squad with top-tier players, Icons, and exclusive items. These packs, available for 275K FIFA Coins or 3K FIFA Points, promise 30 Rare Gold Players rated 81 or higher, with a minimum of three players rated 84 or above. However, it's important to understand the contents, potential for compensation, and how to maximize these packs to craft your dream squad.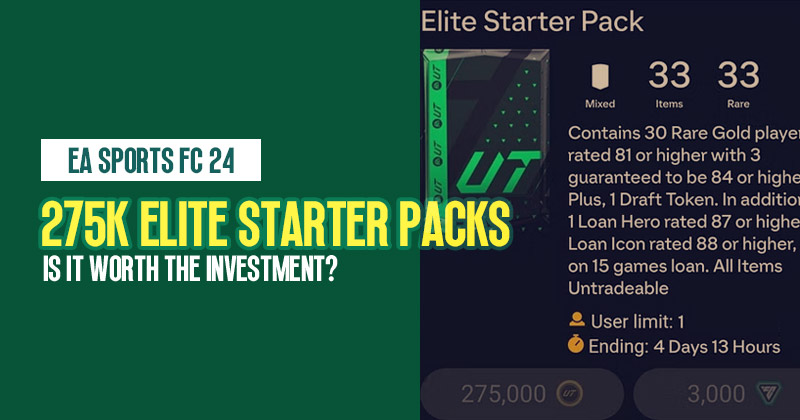 ↖ What are 275K Elite Starter Packs?
275K Elite Starter Packs are premium packs available in FIFA 24 Ultimate Team. They cost 275,000 FIFA Coins or 3,000 FIFA Points. These packs are highly anticipated by FIFA enthusiasts because they offer a chance to get some of the best players right at the start of your Ultimate Team journey.
↖ Key Features of the Pack
Here are some of the key features of the 25x 275K Elite Starter Pack:
30 Rare Gold Players: Each pack contains 30 rare gold players rated 81 or higher. This means you can expect a lineup of high-quality players to enhance your squad.
Three Guaranteed 84+ Rated Players: Among the 30 rare gold players, you are guaranteed to get at least three players rated 84 or higher. These players can significantly bolster your team's overall rating.
Draft Token: The pack includes a Draft Token, which allows you to participate in the FUT Draft mode and potentially earn valuable rewards.
Lone Hero (87+ Rated): You'll receive a Lone Hero player with a rating of 87 or higher. This lone player can be a game-changer in your squad for 15 matches.
Lone Icon (88+ Rated): Additionally, you'll receive a Lone Icon player with a rating of 88 or higher. Icons are legendary players, and having one in your squad, even temporarily, is a huge advantage.
Loan Players: It's worth noting that all the loan players received in this pack are for 15 games and are not tradable.
Cost: To obtain this pack, you will need 3,000 FIFA Points, which are available for purchase in the FIFA store.
↖ What Can You Expect When Opening the Pack?
When you open the 25x 275K Elite Starter Pack, you can expect a thrilling experience with the possibility of getting some of the best players. Here are some of the notable players and items you might encounter:
High-Rated Gold Players: The pack is filled with players rated 81 or higher, including some of the top stars in football.
Icons: There is a chance to pack legendary icons, which are highly sought after by FIFA players.
Heroes: Heroes are special cards representing standout performances by players in real-life matches. These can also be packed in the Elite Starter Pack.
Draft Token: The Draft Token gives you the opportunity to compete in the FUT Draft mode, which can lead to substantial rewards.
↖ What are the Key Players to Watch For?
While the packs offer a wide range of players, here are some notable cards that you should be thrilled to find in your Elite Starter Packs:
Lionel Messi: Messi is one of the most sought-after players in FIFA 24. His card is incredibly valuable and can enhance any squad.
Antoine Griezmann: Griezmann is known for his clinical finishing and versatility in attack, making him a top choice for strikers.
Mohamed Salah: Salah's incredible pace and dribbling ability make him a formidable winger in any team.
Thibaut Courtois: An elite goalkeeper like Courtois can drastically improve your defensive capabilities.
Midfield Icons: Icon cards often bring unique attributes and skills to your squad, making them highly desirable.
↖ The Odds and Probabilities
EA Sports provides odds and probabilities for each pack. While there is a high chance of receiving valuable items, it's essential to remember that pack luck varies from player to player. Some players may have incredible pulls, while others may have less favorable outcomes. It's also important to keep an eye on any potential compensation or adjustments made by EA Sports, especially if the pack odds do not align with the advertised probabilities.
Conclusion:
The 25x 275K Elite Starter Pack in FIFA 24 Ultimate Team is an exciting opportunity for players to acquire top-rated players, icons, and heroes right from the start of their FUT journey. While the pack requires 3,000 FIFA Points, it offers a chance to significantly boost your squad's quality and competitiveness. Remember that FIFA Ultimate Team is designed for fun, and while packing top players is thrilling, enjoying the game and building your dream squad is what truly matters.
Most Popular Posts
Popular Category Lists