FIFA 24 All New Features and Enhancements: Everything You Need To Know Before Start Playing
Welcome to the world of FC 24, where football enthusiasts and gamers unite for an exciting and immersive experience. In this guide, we'll walk you through every new feature packed into this latest installment of the beloved FIFA franchise. From exciting gameplay improvements to the addition of women's football leagues, Ultimate Team evolution, dynamic match intros, and much more, we've got you covered. Get ready to explore the game's enhancements, dive into Career Mode, and dominate in Pro Clubs with our expert insights.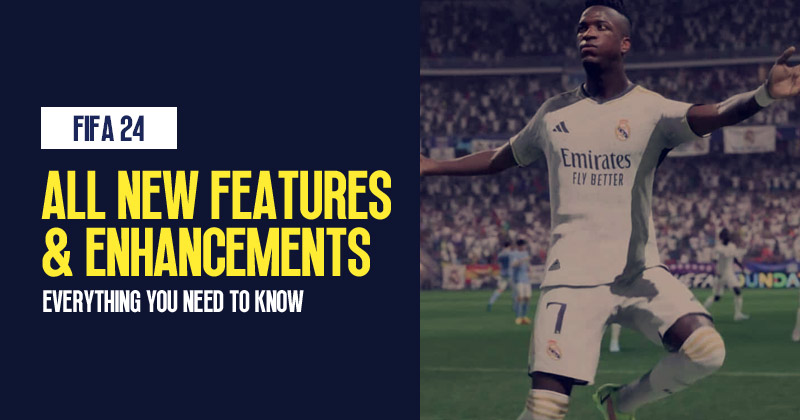 ↖ New Leagues and Players
Women's Football Leagues: One of the standout additions this year is the inclusion of women's football. Players from France, England, and Spain's women's teams are available in Ultimate Team mode, offering a fresh experience for fans of the sport.
New Players: FIFA 24 introduces a host of new players that you can use across all game modes. Whether you want to have Sam Kerr and Reece James in your Ultimate Team or explore new talents, the game offers plenty of options.
↖ Ultimate Team Evolution
Player Evolution: The most significant change in Ultimate Team is the introduction of Evolutions. Now, you can take a low-rated bronze player and turn them into a gold-tier player by completing objectives and improving their attributes. This allows for greater customization and uniqueness in your squad.
Double Walkouts: Walkouts have been a FIFA tradition for some time, but now there are double walkouts. If you open a pack and receive two players rated at 86 or higher, they will both appear in a special animation, like Son and Harand playing Kick Ups together.
↖ Gameplay Enhancements
New Cloth Technology: FIFA 24 brings enhanced cloth technology, making player movements appear more realistic as they run around the field.
Improved Lighting: The game features new lighting techniques that make players look more lifelike, particularly noticeable in the menus.
Interactive Crowd: Players can now fall over the advertising boards, adding a touch of realism to the game. However, be careful not to send your center-back flipping into the stands!
↖ Dynamic Match Intros and Cut Scenes
Dynamic Match Intros: When playing at iconic stadiums like Anfield, you'll experience special renditions of songs like "You'll Never Walk Alone" from the fans as they enter the stadium.
Cut Scenes: There are more dynamic cut scenes in FIFA 24, not just for goal celebrations. You'll also see goalkeeping and defending cutscenes, adding immersion to the gameplay.
Referee POV: For the first time, FIFA introduces a referee point-of-view. This feature allows you to experience the game from the referee's perspective during moments like setting up walls and giving cards.
↖ Commentary and Stats Overlays
New Commentators: FIFA 24 introduces new commentators Guy Mry and Sue Smith, who bring fresh commentary lines to the game.
On-Pitch Stats Overlays: The game now displays possession, shots on target, and other stats directly on the pitch during goal kicks or throw-ins, helping you visualize the flow of the game.
↖ Miscellaneous Enhancements
Upper Body Injuries: Players can now experience upper body injuries, adding a layer of realism to the game.
New Scoreboards: The La Liga rebrand and new Premier League scoreboards are included in FIFA 24.
Additional Stadiums: FIFA 24 features a range of new stadiums, including Luton's stadium, Rangers and Celtic's grounds, and various German stadiums.
Shortest Player: The game includes the shortest player ever in Ultimate Team, allowing for even more customization options.
↖ Career Mode Enhancements
Coaching Staff: Career mode enthusiasts will appreciate the addition of coaching staff. Coaches with different star ratings and abilities can help develop your players and shape your team's success.
Pre-Match Reports: Before each game, you'll receive reports that provide insights into your opponent's playstyle, helping you make informed decisions about your tactics.
Manager's Eye View: You can now watch matches from various perspectives, including in the stands, focusing on a specific player, or even taking a bird's-eye view from behind your manager.
Dynamic Moments: These moments add narrative to your career mode, such as open-top bus tours after winning a trophy, making each season unique.
Awards Ceremonies: FIFA 24 introduces the Ballon d'Or and other award ceremonies, adding prestige to your player's achievements.
↖ Player Career Mode
Player's Agent: In player career mode, your agent plays a pivotal role in shaping your career. They set objectives and help you secure moves to different clubs, adding depth to your player's journey.
↖ Pro Clubs
Crossplay: Pro Clubs now support crossplay, allowing players with different gaming platforms to compete against each other.
Upgrade Bot Players: You can upgrade AI-controlled players in Pro Clubs by completing objectives to enhance your team's performance.
Stadium and Team Customization: FIFA 24 offers new ways to customize your stadium and team, unlocking options through victories in mode.
Conclusion:
Now that you're armed with knowledge about all the exciting new features in FIFA 24, it's time to hit the pitch and experience the game for yourself. Which feature are you most excited about, and which game mode will you be diving into this season? Share your thoughts in the comments, and let the FIFA 24 adventure begin!
Most Popular Posts
Popular Category Lists