Madden 24 Guide: How to get Free Cards, Packs and Coins in Ultimate Team?
Welcome to the wild and wacky world of Madden 24 Ultimate Team, where virtual football meets the pursuit of freebies that would make even your grandma proud! In this guide, we're going to show you how to score touchdowns, and by touchdowns, we mean the best Free cards, packs, and coins. Let's dive into the world of Madden 24 and discover how to make the most of the free content available to you. From promos like Gridiron Guardians and Ultimate Kickoff to the Competitive Pass and Season 1 Field Pass, we'll break down the key elements to ensure you're on the path to success.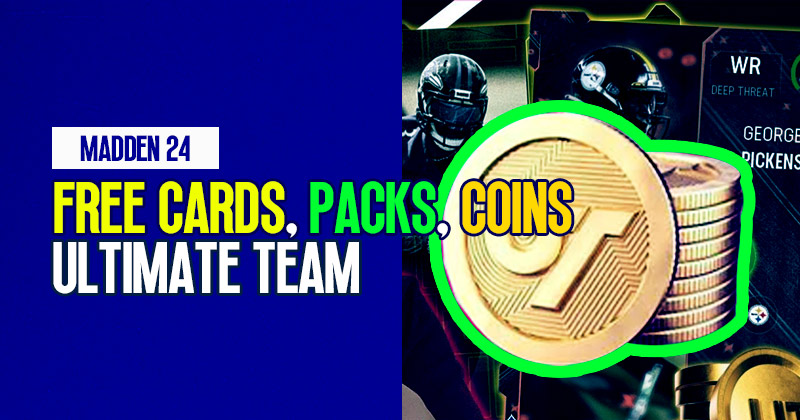 ↖ Gridiron Guardians Promo
Earn free Gridiron Guardian cards and maximize their potential.
Field Pass Rewards: The Gridiron Guardians promo offers a Field Pass with various rewards. Here's what you need to know:

You can earn four free 86 overall Gridiron Guardian cards from this promo, including two in the Field Pass.
Completing the Field Pass also grants you a free 84 overall card and a free strategy item that boosts the OVR of all promo cards.
At level 6 in the Field Pass, you'll receive a token that upgrades an 81 overall George Kar Loftus to an 84.
Having Kar Loftus in your lineup is essential for unlocking solo challenges and objectives, so be sure to use him.

Strategy Items: At level 4 in the Field Pass, you'll obtain a strategy item that boosts three different attributes. Choose the one that suits your playstyle.
86 Overall Fantasy Pack: At level 12 in the Field Pass, you'll receive an 86 overall Fantasy Pack. While it's not auctionable, you can select an 86 overall Gridiron Guardian card from it. Refer to our video for guidance on the best choice.
Level 20 Reward: Upon maxing out the Field Pass (currently not possible), you'll get another 86 overall Fantasy Pack. This one may contain both part one and part two players and is auctionable, offering a potential coin-making opportunity.
House Rules: Engage in the House Rules event to earn an additional 86 overall Gridiron Guardian cards. Aim for 25 wins to secure another BND GG hero Fantasy Pack. Consider waiting until part two of the promo before claiming your 25th win to increase your chances of getting new players.
Solo Challenges: There are two sections of solo challenges within Gridiron Guardian. Unlock these by having two of any player type from each tier in your lineup. Take your time to spend coins to achieve this; more players will be available in part two.
Season 1 XP: Take advantage of the Season 1 XP in Gridiron Guardians to level up your Season 1 Field Pass.
↖ Ultimate Kickoff Field Pass
Secure free rewards from the Ultimate Kickoff Field Pass.
Welcome Pack: Upon logging in, you'll receive an 81 overall Amon-Ra St. Brown and an 81 overall Brandin Cooks. These cards can be upgraded as you progress through the Field Pass.
Season 1 XP: Earn Season 1 XP from this Field Pass, which will be valuable when Season 2 arrives.
85 Overall Player: When you complete the Field Pass, you'll receive a choice between a random 85 overall non-BND Ultimate Kickoff player or a random 88 overall BND Champion player. Choose wisely based on your team's needs.
↖ Campus Heroes Field Pass
Collect free rewards from the Campus Heroes promo.
Note: This promo is slightly older, but it's worth mentioning for newcomers.
↖ Competitive Pass
Maximize rewards from the Competitive Pass.
Level 22 Reward: Reach level 22 to claim an 86 overall AJ Terrell, a solid card for Zone coverage.
Level 27 Reward: Upon hitting level 27, you can obtain a free 89 overall Legend player. Choose wisely based on your Team's needs.
Level 37 Reward: Achieve level 37 to receive an 87 overall Headliners pack.
Level 48 Reward: At level 48, you'll secure a free 87 overall for George Pickens, a valuable addition to your Team.
↖ Season 1 Field Pass
Maximize your progress in the Season 1 Field Pass.
Jalen Ramsey Upgrade: The main goal is to upgrade your 83 overall Jalen Ramsey to 89 overall. Ensure you reach at least level 55 to acquire the final token for this upgrade.
Level 57 Reward: Aim for level 57 to get a Season 2 collectible, giving you a head start in the upcoming Season 2 Field Pass.
↖ Weekly Solos
Participate in weekly solos to earn Milestone Stars and valuable rewards.
AKA Solos: These reset every Monday and grant AKA tokens, which can be traded for a free full AKA card in the future. Don't procrastinate; complete them regularly.
Team of the Week Solos: Released every Wednesday, these solos provide Team of the Year tokens for a free card at the end of the NFL season.
Legend Solos: Play through the Legend solos on Saturdays to earn Legend tokens. Collect 32 tokens to redeem for a free Legend player. These are non-BND and can be used to earn Madden 24 coins or improve your Team.
Conclusion:
By following these strategies and participating in the mentioned events and challenges, you can maximize your free rewards, strengthen your Team, and accumulate coins in Madden 24 Ultimate Team. Whether you're new to the game or a seasoned player, these tips will help you succeed in building the ultimate squad without spending a dime. Enjoy your journey in Madden 24 and happy gaming!
Most Popular Posts
Popular Category Lists