Madden 24 Pass Protection Guide: How to effectively ensure quarterback safety?
In Madden 24, understanding the intricacies of pass protection is essential for dominating your opponents. From decoding player ratings to mastering essential mechanics like slide protection, double teaming, and IDing the Mike, we'll break down everything you need to know. Get ready to build a solid foundation, protect your quarterback, and elevate your Madden game to new heights. Let's kick off your journey to becoming a pass protection pro!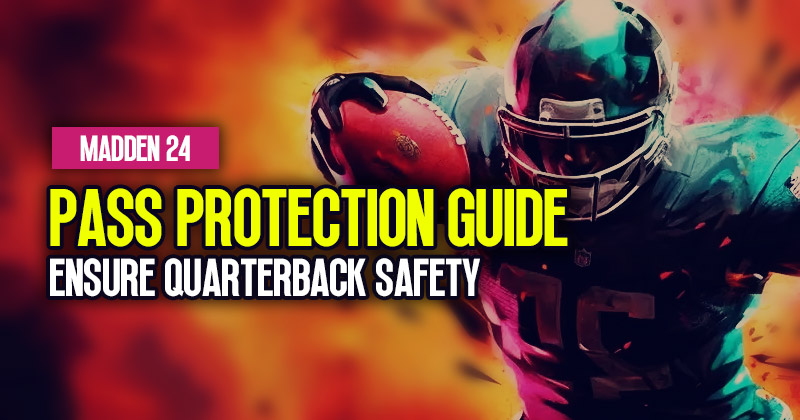 ↖ Player Ratings Matter
Before we dive into the nitty-gritty of pass protection, let's emphasize the importance of player ratings. Don't be fooled; not all offensive linemen are created equal. While abilities like Secure Protector help, three key ratings affect pass blocking:
PBK (Pass Block Rating): This rating reflects a player's overall pass-blocking ability.
PBP (Pass Block Power): This rating comes into play when facing power moves from defensive players.
PBF (Pass Block Finesse): This rating matters when dealing with finesse moves like swim and spin.
For effective pass protection, you'll want your offensive linemen to have high ratings in these areas. PBK and PBP are crucial when facing power rushers, while PBF matters against finesse rushers. Keep in mind that abilities, such as Secure Protector, can also impact pass protection.
↖ Setting Up Pass Protection
Now, let's break down the mechanics of setting up pass protection in Madden 24. Whether you're facing a blitz or a standard pass rush, these mechanics will help you keep your quarterback safe.
Slide Protection
Slide protection is your first line of defense against blitzes. Here's how it works:
When you slide protect to the right, your running back will move to the left to pick up rushers coming from that side.
When you slide protect to the left, your running back will stay on the right to block rushers from that side.
This mechanic is especially useful when facing blitz-heavy defenses like the 3-3-5 wide formation.
Double Teaming
Double teaming allows you to focus two blockers on a specific defender, usually a player you consider a significant threat. Here's how to use it effectively:
Select the player you want to double team, typically a star pass rusher.
Keep in mind that double teaming can leave other areas vulnerable, so use it strategically.
Consider combining double teaming with slide protection for maximum protection.
ID the Mike
Identifying the Mike linebacker is crucial for your offensive line's blocking assignments. The Mike linebacker is usually the player responsible for the primary blitz or pass-rushing threat. Here's how to use this mechanic:
Select the Mike linebacker to ensure your offensive line accounts for their potential rush.
This helps in directing your offensive line to the most immediate threat, improving pass protection.
↖ Tips for Handling Different Defensive Schemes
Now that you understand the mechanics, here are some additional tips for dealing with specific defensive schemes:
Against Dollar Defense
The Dollar defense was prevalent in Madden 23, and it might continue in Madden 24. Here's how to handle it:
Block your running back.
Slide protect to the side where the primary blitz threat is coming from.
Use double teaming strategically to handle strong pass rushers.
ID the Mike linebacker to ensure proper blocking assignments.
Under Center vs. Shotgun
Keep in mind that mechanics like slide protection work slightly differently under center compared to shotgun formations. Under center, the running back's positioning is more straightforward, allowing for smoother protection.
Advanced Techniques
For more advanced players, consider using mechanics to get your quarterback on the run or use cut-blocking to free up your quarterback for designed rollouts.
Conclusion:
With this beginner's guide to pass protection in Madden 24, you'll have the tools you need to keep your quarterback safe and make precise throws under pressure. Remember, player ratings matter, bugs exist, and understanding the mechanics of slide protection and double teams can be the key to your success on the virtual gridiron. So, hit the practice field, build that offensive line, and get ready for a fantastic season in Madden 24.
Most Popular Posts
Popular Category Lists