EA FC 24 Guide: Best Controller and Camera Setting You Need to Know
If you're aiming to dominate in Champions Division, Rivals, drafts, or any other game mode, optimizing your FC 24 settings can make a significant difference. In this tutorial, we'll break down the settings into various categories and provide recommendations to help you enhance your gameplay experience. Navigate through the best presets, shot assistance options, passing configurations, and much more. Elevate your FC 24 skills with expert advice on camera views, dribbling techniques, and goalkeeper settings.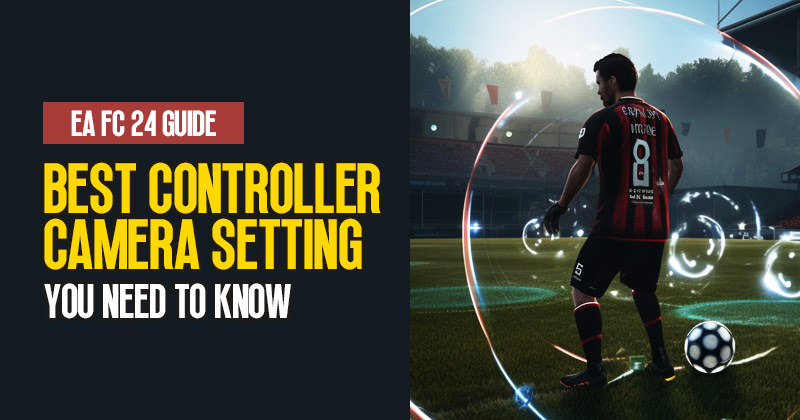 ↖ Controller Settings
Let's start by configuring the optimal controller settings for your gameplay. These settings can significantly impact your performance on the pitch.
↖ Game Settings
Presets: You have two options here, competitive and custom. For the best competitive experience, stick with "competitive." Custom settings are only available in single-player modes and can make the game easier but are not suitable for competitive play.
Shot Assistance: Use "assisted" for more reliable shooting accuracy. "Manual" is not recommended as it's challenging to score goals, especially in online play.
Time Finishing: Keep it "on" to take advantage of timed shots. Hitting a green timed shot can greatly improve your chances of scoring.
Pass Assistance: Stick with "assisted" for passing accuracy and ease of gameplay.
Cross Assistance: Choose "assisted" to execute precise crosses and set up your players effectively.
Low Pass Assistance: Once again, select "assisted" for more reliable passes.
Pass Receiver Lock: Opt for "power up" to gain better control over your pass receiver after executing a pass.
Precision Pass Sensitivity: Go with "normal" for assisted passing.
↖ Defending Options
Clearance: In most cases, "classic" is the best choice, as it ensures a random direction for clearing the ball, which can be crucial in defense.
Jockey Movement: You cannot adjust this setting in the competitive preset.
Defending: Stick with "tactical defending" for assisted defending, which provides more assistance in defending situations.
Pass Block Assistance: Keep it "on" to ensure your defenders actively try to block opponent shots.
Switching: Select "automatic" for the most effective player switching during gameplay.
Auto Switching Move Assistance: Set it to "none" for immediate control over your selected player after switching.
Right Stick Switching: Choose "classic" for the most familiar and effective switching method.
Right Stick Switching Sensitivity: Set this to a higher value for more responsive player switching.
Player Switching: "Classic" is the best option for effective player switching.
Player Lock: Keep it "on" to use player lock for creative attacking opportunities.
Icon Switching: Always use "off" to avoid unnecessary delay in your gameplay.
↖ Dribbling Options
Orbit Dribbling: This is a personal preference; you can keep it "on" or "off" based on your playing style.
↖ Goalkeeper Options
Safe Assistance: Keep it "assisted" for better goalkeeper performance.
Analog Sprint: Set it to "off" to enable maximum sprint speed with full analog stick input.
Trigger Effect: Keep it "off" to avoid controller input issues.
User Vibration Feedback: Set it to "off" to prevent unwanted controller vibrations.
↖ Camera Settings
Selecting the right camera angle is crucial for a better gameplay experience. Here are the recommended camera settings:
Camera View: Co-op is the preferred view for most players. It provides a wider field of vision, making it easier to control your players effectively. Customize the zoom and height settings to your preference within the Co-op view.
Far Side Focus: Personal preference; you can decide whether to use it or not.
Ball Tracking Speed: Leave it at "zero" for minimal camera delay when following the ball.
Penalty Area Zoom: Set it to "10" for the ideal zoom level in the penalty area.
Pro Camera Zoom: Maintain a zoom level of "10" for consistent gameplay visuals.
PowerShot Zoom: Keep it "off" to maintain a consistent shooting experience.
↖ Visual and In-Game Settings
Lastly, here are some additional visual and in-game settings to consider:
Player Name and Indicator: You can customize these settings according to your preference for better player visibility.
Player Switch Indicator: This setting helps you identify which player you're about to switch to before pressing the button.
Player-Based Difficulty Indicator: Personal preference; you can choose whether to display it or not.
Celebration Camera Focus: Customize it based on your preference for celebrating goals.
Time Score Display: Keep it "on" to see the score during the game.
Score Clock Drop Down: Set it to "off" for a cleaner HUD.
Precision Pass and Shot Visuals: Keep both of these settings "on" to enhance your passing and shooting accuracy.
Connection Monitoring: Enable this option to monitor your network connection's stability.
Input Overlay: Leave it "off" unless you're recording or streaming your gameplay.
Hyper Motion: Personal preference; you can choose whether to enable it or not.
Conclusion:
Remember that these settings are not set in stone, and you should adjust them to your personal preferences as you become more comfortable with them. Experiment, practice, and find the configurations that work best for your style of play. Good luck on the pitch, and may your FIFA 24 journey be filled with victories!
Most Popular Posts
Popular Category Lists