How to build a strong team within a budget of 100K Coins in EAFC 24?
Welcome back, FIFA fans! In this guide, we're going to help you build a competitive team on a budget of 100,000 coins in EAFC24. The game is constantly evolving, with player prices changing, so we're focusing on gold players in this guide. These players have proven their worth through extensive gameplay, whether in FUT drafts or Rivals. So, let's dive into the best players for each position, all under 100K.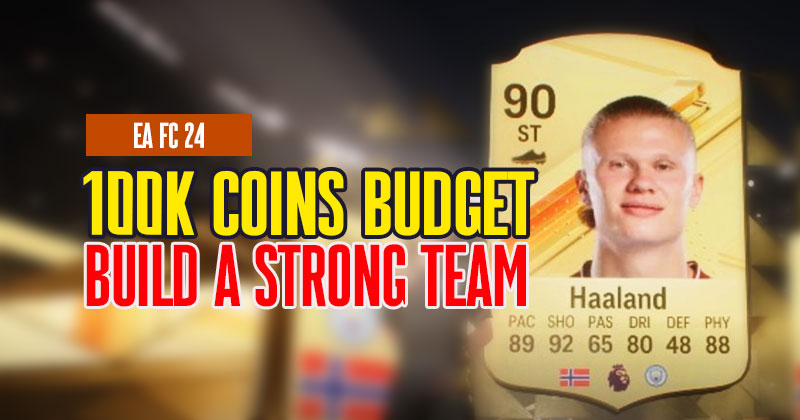 ↖ Goalkeepers
Starting with the last line of defense, the goalkeepers. In EAFC24, three standout goalkeepers under 100K coins are worth considering:
Alisson - While his price may vary due to market glitches, Alisson is a sensational choice. With his impressive stats, including speed and a high rating, he's a formidable presence in goal.
Nick Pope - A budget-friendly option at around 12K coins, Pope is an absolute steal. He excels in stopping cutback attempts and is incredibly reliable.
Thibaut Courtois - Priced at around 81K coins, Courtois offers exceptional reflexes and positioning. Standing at 6'6", he's a dominant presence in the box.
↖ Center-Backs
Moving on to the heart of your defense, center-backs. Here are some top-notch options:
Virgil van Dijk (Van Der Vin) - Priced at approximately 16K coins, Van Der Vin lives up to the hype. Standing at 6'4", he combines speed and a strong defensive presence.
Kim Min-Jae (Kim) - A solid Bundesliga option for around 30K coins. His physicality and imposing frame make him a beast in defense.
William Saliba (Saliba) - At roughly 66K coins, Saliba boasts a perfect combination of height, strength, and defensive prowess. He's a must-have in your defense.
Raphael Varane (Okay) - A real hidden gem for around 15-20K coins. His performance on the pitch is exceptional, earning him the nickname "Dutch Maldini."
Bremer - Priced at a budget-friendly range, Bremer's medium-high work rates and physicality make him a reliable option.
↖ Fullbacks
Your fullbacks play a crucial role in both defense and attack. Here are some top fullbacks for your consideration:
Marcos Llorente (Urente) - A versatile option that you can also play at center-mid, Urente offers pace and solid defensive skills.
Jeremie Frimpong (Frimpong) - A steal at around 35K coins. Frimpong's dribbling and agility make him a standout fullback.
Alphonso Davies - A budget option that plays like a god. His incredible pace and physicality make him a nightmare for opponents.
Cristian Tello (Roflo) - A great budget pick for the left-back position. He provides the pace and versatility you need.
Hakimi - While he might be slightly over 100K coins, Hakimi's pace and attacking prowess make him worth the investment.
↖ Wingers
Wingers can make or break your attack. Here are some standout options:
Karim Adeyemi (Adeyemi) - Priced at around 30K coins, Adeyemi offers pace and versatility. You can play him as a winger or a striker.
Jeremy Doku (Doku) - With explosive pace, Doku can create scoring opportunities easily. His Team of the Week card is particularly impressive.
David Guion (Gucci) - Gucci's trickster playstyle makes him an excellent choice. He's a real game-changer in attack.
Chloe Kelly (Beth) - A budget-friendly option for around 4K coins, Beth's 5-star weak foot and 4-star skills make her a hidden gem.
Ferran Torres - Although he may go over the 100K mark soon, Torres's pace and attacking skills make him an exceptional winger.
↖ Strikers
Lastly, let's talk about the players who score the goals. Here are some striking options:
Darwin Nunez (Darwin) - With blistering pace, Darwin is a menace for defenders. His ability to get in behind the defense is remarkable.
Antoine Griezmann (Griezmann) - Priced just under 100K coins, Griezmann's finesse shot trait makes him lethal in front of goal.
Josef Martinez (Osimhen) - A great budget option for around 57K coins. Osimhen's speed and finishing make him a reliable choice.
Vinicius Jr. (Vinicius) - While his price might fluctuate, Vinicius offers incredible dribbling and pace, making him a nuisance for opponents.
Karim Benzema (Benzema) - Priced at around 50K coins, Benzema is a game-changer. His ability to score goals is undeniable.
↖ Midfielders
Midfield control is crucial. Here are some midfielders who excel on a 100K budget:
Frenkie de Jong (De Jong) - A well-rounded midfielder for around 70K coins. His passing and dribbling make him a key playmaker.
Sergej Milinković-Savić (SMS) - A solid option at 80K coins, SMS offers physicality and passing skills in the midfield.
Franck Kessié (Kessié) - A budget-friendly option for around 4K coins. Kessié's all-around skills make him an excellent choice for a low-cost squad.
Chloe Kelly (Beth) - A versatile midfielder who can also play out wide, Beth's 5-star weak foot and 4-star skills are valuable assets.
Barcelona Women's Midfielders (Patrius, Aitana, Putellas) - If you can afford them, these midfielders are top-tier. They offer excellent passing and control in the middle of the park.
Conclusion:
These players should give you a strong foundation for your team in EAFC24, all while staying within a 100K budget. Keep an eye on the market for any price changes and adapt your squad accordingly. Enjoy the game and strive for victory!
Most Popular Posts
Popular Category Lists