Madden 24 Season 2 Roster Update: What are Highlights to Expect?
Exciting news for Madden 24 fans! EA Sports has confirmed a significant update for the game, including a massive roster update. In this detailed guide, we will cover all the latest information about season 2 and what you can expect from the upcoming changes. Plus, we'll touch upon some insights into the approval process for updates and upcoming events in Madden 24.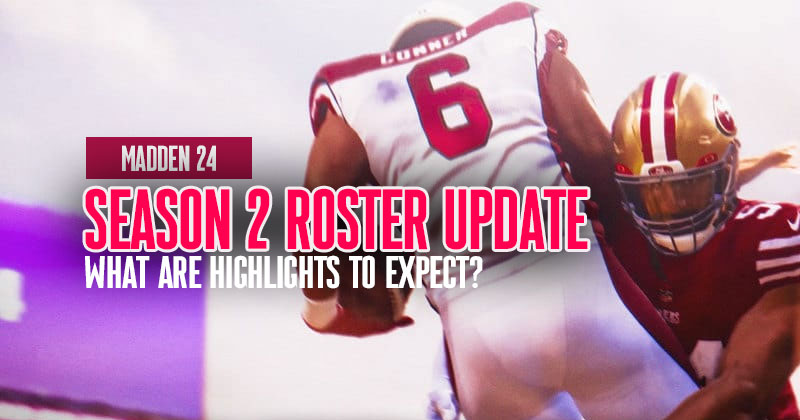 ↖ Update Approval Process
Before diving into the specifics of the Madden 24 update, it's important to understand the approval process. Updates, especially those involving significant gameplay changes or bug fixes, must pass through a rigorous review process with Sony and Microsoft. This process ensures that the updates are stable and won't adversely affect your gaming experience. Therefore, it's not as simple as pushing out an update as soon as it's ready.
As per recent information, it appears that the necessary approvals for the Madden 24 update are either underway or have recently been completed. This suggests that we can anticipate the update to be released early next week, either on October 3rd or 4th. So, keep your eyes peeled for these dates as they mark the transition to Season 2 in Madden 24.
↖ Season 2
Similar to many other games, Madden 24 now operates on a seasonal basis. This means that when a new season begins, you can expect a slew of changes and updates across various aspects of the game. These changes could include new abilities, updates to Ultimate Team, franchise mode tweaks, and much more. The fact that EA Sports has announced the official start of Season 2 on October 3rd indicates that the impending update will usher in a new era of Madden 24.
↖ Roster Update Highlights
Now, let's get into the exciting part – the roster updates. Madden 24's roster update is extensive, with numerous players seeing changes in their overall ratings. Here are some of the notable updates:
TJ Watt: Climbing up to a 97 overall rating, TJ Watt is making his case as one of the league's premier defensive players. Defensive Player of the Year contention could be on the horizon for him.
Max Crosby: Up one point to a 95 overall, Crosby is showcasing his prowess as a pass rusher.
Jesse Bates: The new Atlanta Falcons addition is up one point to a 94 overall, proving his worth in the secondary.
Justin Herbert: With a plus two increase to a 90 overall, Herbert is steadily climbing the ranks and could reach 94 or 95 overall soon.
Keenan Allen: Up one point to a 90 overall, Allen is having a stellar season and might deserve an even higher rating.
Micah Hyde, Charvarius Ward, and others: Several players are seeing modest increases in their overall ratings, reflecting their strong performances.
↖ Players on the Decline
Unfortunately, not all players are on the upswing. Some notable names are experiencing a dip in their overall ratings:
Josh Allen: After a strong start and a dip in week three, Allen's rating slips one point to 93 overall.
DeAndre Hopkins: While still a formidable receiver, Hopkins' rating drops one point to 89 overall.
Lamar Jackson: Jackson also drops one point to 89 overall as he faces challenges in the early season.
Dalvin Cook and Tyler Lockett: Both players drop one point to 87 overall.
These rating adjustments reflect the ever-changing nature of the NFL season and how player performances can fluctuate.
Conclusion:
The Madden 24 update and roster changes promise an exciting gaming experience for football fans. With the pending update and the onset of Season 2, players can look forward to new features, gameplay improvements, and exciting changes. Keep an eye out for the update release, and don't forget to check out Underdog Fantasy for a chance to win big while enjoying football season to the fullest. Stay tuned for more Madden 24 updates, and as always, keep that competitive spirit alive on the virtual gridiron!
Most Popular Posts
Popular Category Lists