ESO Witches Festival: Rewards, XP Boost, Farming Tips, and More
The Witches Festival in The Elder Scrolls Online is an eagerly awaited event that ushers in the eerie aura of Halloween. This celebration of all things spooky and supernatural brings with it a wealth of rewards, from the coveted double XP, boost to an array of unique items and cosmetics that will send shivers down your spine. In this guide, we will delve deep into the heart of the Witches Festival, exploring its history, potential event dates, the tantalizing rewards it offers, and the most effective farming strategies to ensure you make the most of this sinister celebration.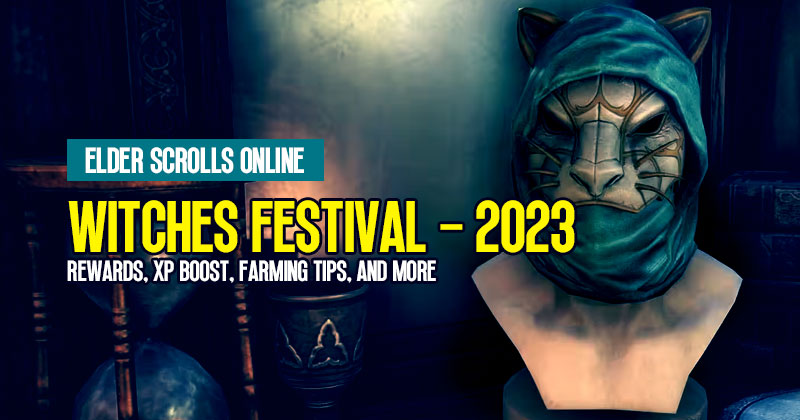 ↖ Event History and Timing
The Witches Festival typically commences in the second or third week of October and runs until the beginning of November. While we have yet to get official confirmation from ZeniMax for this year's dates, past patterns suggest a similar timeframe. This event is a fantastic opportunity to enjoy Halloween festivities within the Elder Scrolls Online world.
↖ Getting Started
To participate in the Witches Festival, you can begin by completing the free quest available in the Crown Store Featured section. Upon completing this quest, you'll receive the Witch Whistle Memento, which is a crucial item for the event. If you obtained it in a previous year, you can use it directly from your Mementos, saving you from redoing the quest. Activating the Memento grants you a 100% XP buff, making this event a prime time for levelling up your characters.
↖ Rewards from Plunder Skulls
One of the highlights of the Witches Festival is the Plunder Skulls, which yield various rewards. While ZeniMax tends to reveal the contents of Plunder Skulls before explaining how to acquire them, here's what you can expect:
Provisioning and furnishing recipes: These are essential items, and we'll discuss their significance later.
Fragments for pets.
Various crafting materials.
Creepy crawlies.
Special Witches Festival crafting writs: Completing these will grant you the coveted Hollow Jack style motif.
↖ HollowJack Style Motif
HollowJack style motif is visually striking, but its value has diminished over time due to its availability. Many players who desired this motif likely already acquired it. Therefore, it might not fetch a high price in the market, but it's worth collecting if you're interested in unique character customization.
↖ Farming Plunder Skulls
To obtain Plunder Skulls, you need to defeat specific types of monsters, including:
Delve bosses.
World bosses.
Arena final bosses.
Invasion bosses.
Dungeon final bosses.
Public dungeons.
Sweeper and quest bosses.
Trial final bosses.
Delve bosses and world bosses are the most efficient targets for farming Plunder Skulls. Later in this guide, we'll explore specific farming routes to maximize your rewards during the event.
↖ Event Tickets
Participating in the event activities, such as defeating bosses, grants you two event tickets. These tickets are valuable for acquiring various rewards from the impresario, the event's vendor. While the exact offerings may change each year, event tickets are essential for obtaining unique items. Keep an eye on the impresario's inventory for potential surprises.
↖ Witch's Grab Bag
The Witch's Grab Bag is an exciting addition to the event. This item grants you a chance to obtain valuable items from previous years. While these items are non-tradable, they offer a fantastic opportunity to acquire rare cosmetics and other goodies you might have missed.
↖ Notable Recipes
The Witches Festival introduces several recipes that are highly sought after in the ESO community. Here are some noteworthy ones:
Witch's Sugar Skulls: This recipe is incredibly popular as it serves as an excellent all-around buff food. It's easy to craft and provides valuable bonuses for various content types.
Purifying and Corrupting Bloody Mara: These recipes are useful for adjusting your vampirism status on the go, providing utility and flexibility.
Pack Leader Bone Broth: A top-tier recipe for those seeking the best-in-slot food options.
Potent Brew and Party Punch: These recipes offer useful bonuses, with Potent Brew typically being the more sought-after option.
Ghastly Eye: Ideal for magic-focused characters, as it provides maximum magicka and magicka recovery.
↖ Furnishings
The event also features unique furnishings that you can collect and potentially sell for ESO gold. These can be a great source of income if you're interested in the housing aspect of ESO.
↖ Best Farming Locations
For efficient Plunder Skull farming, consider these top locations:
Alak'r Desert: Accessible to all players, the dolmens in this area provide an excellent source of Plunder Skulls.
Bangkorai World Boss Triangle: This location offers a mix of World Bosses and dolmens for a balanced farming experience.
Deshaan: A versatile backup option with ample World Bosses and dolmens, providing flexibility if other areas are crowded.
Special Mention: Southern Elsweyr is a hidden gem for Dragon farming, especially valuable given the importance of dragon-related materials in Q4 PvE content.
Conclusion:
The Witches Festival in ESO is a thrilling event filled with spooky rewards, double XP, and endless opportunities for adventure. Whether you're a new player looking to level up or a seasoned adventurer seeking valuable rewards, this event has something for everyone. Stay tuned for more in-depth guides on farming routes, maximizing gold, and manipulating RNG to enhance your Witches Festival experience. Get ready to embrace the Halloween spirit and embark on a memorable journey in Tamriel.
Most Popular Posts
Popular Category Lists