Madden 24 Season 2 Update: Everything You Need to Know
Madden NFL 24 has undergone a massive transformation with the release of Season 2. This update has brought significant changes to the game, and players are adjusting to the new dynamics. In this guide, we will explore the key changes and features introduced in Season 2 of Madden 24.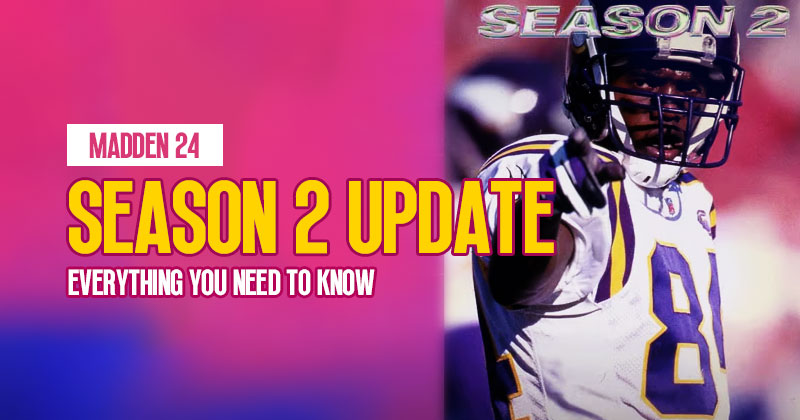 ↖ Most Feared Teasers
Most Feared is one of the most anticipated promos in Madden 24, and EA has started teasing it with some exciting player reveals. While we don't have all the stats yet, we've got a glimpse of the players who will be part of the Most Feared promo.
George Kittle: The teaser video features George Kittle, known for his speed and ability to run blocks effectively. Keep an eye on his card, as it could potentially include the "Tight End Apprentice" ability.
Maurkice Pouncey: Maurkice Pouncey, the Steelers' center, is also part of the Most Feared promo. His presence on the field is sure to make a difference.
Buddha Baker: Buddha Baker is a player known for his outstanding performance, even though he's not the tallest. Height might not be an issue this year due to gameplay changes, making Buddha Baker an intriguing choice.
Kirk Cousins: Kirk Cousins is set to receive a Most Feared card, which is great news for Vikings fans and anyone looking for a solid quarterback option.
Rashawn Slater: Chargers fans can look forward to adding Rashawn Slater to their Team. Offensive linemen are often crucial for protecting your quarterback and opening up running lanes.
Matthew Judon: Matthew Judon's card is a bit harder to identify in the teaser, but it's likely him. Keep an eye out for more details on this card.
Jared Allen: A pleasant surprise for fans of the game, Jared Allen, is making a return to Madden Ultimate Team (MUT). His card is sure to be a beast on the field.
Beast Mode: Last but not least, Beast Mode, Marshawn Lynch, is making his presence felt in Most Feared. Known for his powerful running style, Lynch's card is sure to be a fan favourite.
These teasers have the Madden community excited, and Most Feared is expected to drop next week. While we don't have full details on these cards yet, it's a promising start to the promo.
↖ Title Update Highlights
EA also released a Title Update that addresses various aspects of the game. Here are some key highlights:
Derrick Henry's Angry Runs: A new ability has been introduced for head-to-head rosters, and it seems tied to a new promo. This ability grants a high chance to win your first interaction with a defender when entering the Zone.
Kyle Brandt's Angry Runs Player of the Week: Keep an eye out for this player, as they'll likely be related to the new ability.
↖ Season 2 Content Schedule
To kick things off, let's take a look at the content schedule for this week so you know exactly when to expect new content drops. Here's what's on the horizon:
Season 2 Launch: Season 2 is set to hit the game, and it promises to be massive. EA Sports is doing a reveal stream to showcase some of the new players. Notable rewards include an 88 overall Jason Kelsey and an 88 overall Aaron Donald, both likely to be earnable through the Field Pass.
Hispanic Heritage Month Promo: Usually not a major promo, it typically offers a couple of free cards. Don't expect packs or a full Field Pass for this one; it's more of a smaller event.
Team of the Week: Wednesday brings the Team of the Week content, which is always exciting. Look out for new player cards and challenges to complete.
Unstoppable Promo: While not officially confirmed, the content schedule hints at an Unstoppable promo dropping on Thursday. EA Sports tends to release new promos on Thursdays, and this one is likely to follow that pattern. High hopes surround this promo, with the potential for an impressive 89 overall player cards.
Competitive Pass Release #2: On Friday, Competitive Pass Release #2 is expected. This pass, which has been more challenging to complete, may offer a 91 overall MasterCard, similar to the Season Pass.
Legend Promo: To cap off an action-packed week, the Legend promo arrives. Expect exciting Legend cards to join your roster.
↖ Leaked Season 2 Player Rewards
Season 2 is bringing some impressive free player cards, which will undoubtedly boost your Madden Ultimate Team (MUT). Here's what we know so far:
Jason Kelce (88 OVR):
Jason Kelce is set to be one of the free cards featured in the Field Pass for Season 2.
He comes equipped with a new ability, Lynchpin, which promises stronger blocking from all offensive linemen.
Keep in mind that this new ability might bring an exciting dynamic to your offensive line, but its exact cost in Ability Points (AP) remains unknown.
Micah Parsons (90 OVR):
Micah Parsons is making a return, this time as a 90 OVR card.
With a new X Factor ability called Dual Threat, Parsons increases the chances of defeating pass blocks and disrupting catches when activated.
Whether this ability will be worth the AP cost is something to watch for.
Randy Moss (86 OVR):
Randy Moss is back with a card that starts at 86 OVR and is believed to be upgradable to a maximum of 91 OVR.
Similar to the Jayen Ramsey card from Season 1, this Randy Moss might be a valuable addition to your Team.
A new ability on this card will likely make him a game-changer, but we'll need more details to be sure.
Aaron Donald (88 OVR):
Aaron Donald, a dominant defensive tackle, is joining the ranks as an 88 OVR card.
His new ability, Interior Threat, suggests he'll excel at executing pass-rush moves from the interior.
We're still waiting for specifics on the AP cost for this ability.
Travis Kelce (89 OVR):
Travis Kelce is another intriguing addition at 89 OVR.
He belongs to the Vertical Threat archetype, and if he has a 92 awareness, he'll unlock the Tight End Apprentice ability.
Whether he can outperform Vernon Davis is uncertain, but his stats will determine his value.
↖ New Abilities
Season 2 is introducing a slew of new abilities that promise to bring more depth and strategy to your gameplay. Here's a quick rundown of some of these abilities:
Deep Elite:
This ability improves catching on deep passes.
It combines elements of Deep Out and Deep In into one, offering enhanced offensive options.
The AP cost for Deep Elite is yet to be confirmed.
Third Down Threat:
This ability enhances mid-range catching on third downs against single coverage.
While it might not be a game-changer, it can be valuable in clutch situations.
Angry Runs:
Details about this ability are scarce, but it's reminiscent of Freight Train from previous seasons.
It might offer short-term benefits, such as breaking tackles or gaining yards.
Keep an eye out for more information on how it works.
Conclusion:
As the new season unfolds, players can look forward to new challenges, rewards, and opportunities to build their Ultimate Team. Keep an eye on Madden 24 for updates and events, and make sure to take advantage of the exciting content in Season 2.
For the latest Madden 24 news and updates, stay tuned to the official EA website and follow the Madden community on social media. It's an exciting time to be a Madden player, and there's plenty of content to keep you engaged and building that dream God Squad.
Most Popular Posts
Popular Category Lists