EAFC 24 Ultimate Best Attackers: Tier List & Ranking
Welcome to this detailed guide where we'll rank the best attackers in EAFC 24's Ultimate Team mode. In this tier list, we'll be evaluating the performance of various attackers in the game and providing insight into their strengths and weaknesses. Please note that hero cards and icon cards are not included in this tier list, as they will be covered separately in a future ranking. Let's dive into the rankings and see who stands out as the top attackers.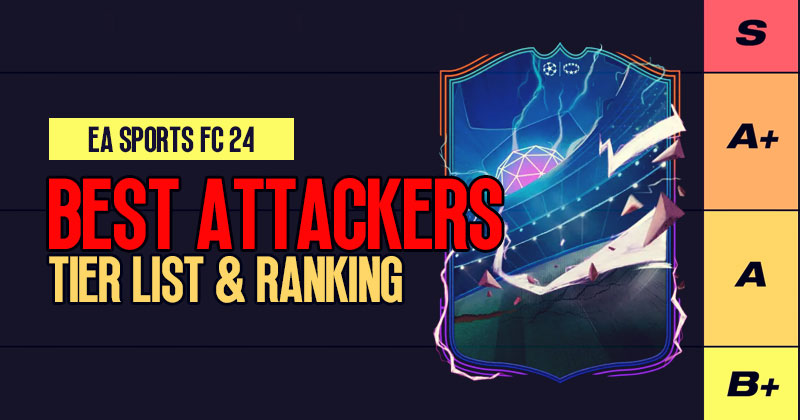 ↖ Tier List
| Tier | Players |
| --- | --- |
| S | Mbappé, Hansen, Dembélé, Vinícius, Messi, Salah, Neymar, Haaland, Son |
| A+ | Osimhen, Morgan, Debinha, Smith, Rodmann, Rafael Leão, Saka, Rodrygo, Rashford, Chiesa, Dybala, Swanson, Oshoala, Diaby, Lewandowski, Kerr, Kvaratskhelia, Ansu Fati, Diani, Nnkunku, Jota, Griezmann, Kundananji, Díaz, Doku |
| A | Diogo Jota, Reiten, Mertens, Correa, Martínez, Nuriez, Kane, Kolo Muani, Adeyemi, David Neres, Mitoma, Ben Yedder, Coman, Jesus, Cascarino, Raspadori, Werner, Gabriel Martinelli, Cristian Tello, Talisca, Boniface, Kelly Foden, Kudus, Benzema, Mahrez, Openda, Maddison, Akpom, Saint-Maximin, Raphinha, Hemp, Watkins, Katoto |
| B | Malen, Revna, Gonçalo Ramos, André Silva, Džeko, Pedro Gonçalves, Felix, Ronaldo, Sané, Mané |
↖ Tier S: The Elite Attacking Superstars
Kylian Mbappe: Unquestionably the best attacker in EAFC 24. His Road to The Knockout card is exceptional and a must-have for any competitive team.
↖ Tier A+: Outstanding Performers
Merens: Great on the ball and boasts solid shooting skills. A step below the elite but a valuable addition to your squad.
Alex Morgan: With a five-star weak foot and finesse shot play style, she's a top-tier striker. An incredible asset to your team.
Marlin: A decent winger but falls short of the A+ tier. He's a solid choice but not on par with the top attackers.
Korea: Comparable to Merens in terms of dribbling and shooting. An excellent choice for a forward position.
Hansen (Graham): Insane dribbling, speed, and finishing skills. Comparable to Neymar, deserves an A+ rating.
Raina: While an objective card, she can become decent. However, she's not quite on the same level as other A+ players.
Martinez: Good but overshadowed by Alex Morgan. He's placed in the A+ tier due to his versatility.
Diabi: A joke of a card. Exceptional dribbling, shooting, and five-star skills. Deserves to be in the A+ tier.
Smith: A solid striker option for your team, finishing everything. Placed in the A+ tier.
Sam Kerr: While expected to perform better, she's still an A+ card. Her cover style and skills make her valuable.
Harry Kane: Slightly below Lewandowski's level, deserving of the A+ tier. A dependable choice as a striker.
K. Moani: Exceptionally fast but falls behind the likes of Diabi. Still, an A+ card.
Admi: Incredible five-star, five-star card. Placed in the A+ tier due to her outstanding skills.
↖ Tier A: Very Good Options
Darren Nunes: Quick with solid shooting, but not at the A+ tier level. An A-tier forward.
Matoma: Offers good pace and dribbling but doesn't match the elite A+ players.
Bonny: Surprisingly good with heading ability. Placed in the A tier due to versatility.
Kelly: Exceptional winger with R1 dribbling and great speed. Deserves an A-tier rating.
Phil Foden: Best suited for a CAM position. Solid dribbling and pace but not elite.
Cavara (In-form): Exceptional dribbling, an improvement over his gold card. A-tier material.
Pedro Gonzalez: More of a CAM than a winger, and not as good as A+ options.
↖ Tier B+: Above Average Choices
Rafinha: Slightly below Rodrigo in terms of performance. Placed in the B+ tier.
André Silva: Falls short of the A-tier players. Placed in the B+ tier.
Léonel Messi: Disappointing this year, not at the A-tier level. Placed in the B+ tier.
Mané: Falls short of expectations. Not as effective as in previous FIFA editions.
Jan Felix: Didn't meet the expectations this year, hence the B+ rating.
Ronaldo: Unjustifiably downgraded to an 86 overall. Disappointing performance.
↖ Top 5 Attackers Suggested
Kylian Mbappé
Neymar
Hansen (Graham)
Léonel Messi
Erling Haaland
Conclusion:
These rankings should help you make informed decisions when building your Ultimate Team in EAFC 24. Remember that player performance can vary depending on your playstyle, tactics, and strategies. Feel free to experiment with different attackers to find the ones that best suit your preferences. In the ever-evolving world of FIFA, player ratings and gameplay mechanics can change, so stay updated and adapt your team accordingly. Good luck on your journey to building the ultimate attacking force in EAFC 24!
Most Popular Posts
Popular Category Lists