Madden 24 Update: Cosmetic, Player Likeness Updates, Equipment and Audio Changes
The October 4th update has taken the Madden 24 by storm, offering a substantial overhaul beyond gameplay and modes. In this guide, we'll delve into the extensive cosmetic changes, including new helmets, uniforms, and equipment additions. Additionally, we'll explore the updated player likenesses and face scans, providing an in-depth look at the visual improvements. This update not only enhances the aesthetics of Madden 24 but also promises a more immersive and authentic NFL gaming experience.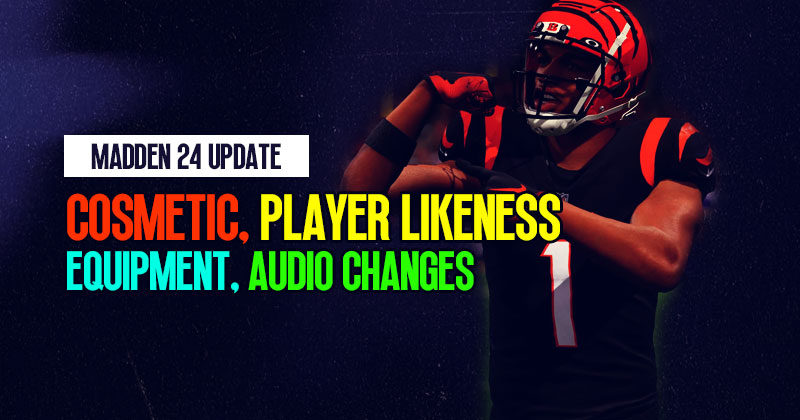 ↖ Cosmetic Changes
The Madden 24 update introduced various cosmetic changes, including alternate helmets, throwback uniforms, and fixes for certain teams' jerseys.
Alternate Helmets for Broncos and Colts: The alternate helmets for the Broncos and Colts are now officially in the game.
Vikings Alternate Uniforms: The Vikings' alternate uniforms received adjustments, including the helmet and socks.
Titans Oilers Throwback: The Oilers' throwback uniforms for the Titans received updates to the helmets and socks.
Seahawks Throwback: The Seahawks' throwback uniforms underwent adjustments to the helmets and socks.
Buccaneers Creamsicle Throwback: The Buccaneers' Creamsicle throwback uniforms were updated.
Eagles Kelly Green Throwback: The Eagles' Kelly Green throwback uniforms received updates.
Jets Alternate Uniforms: The Jets' alternate uniforms were adjusted, including the helmet and socks.
Panthers White Jersey Fix: The issue with the Panthers' white jerseys' collars showing the wrong color was fixed.
Jaguars Uniform Update: The Jaguars' uniforms received updates, particularly with regard to the patches on the jerseys.
↖ Player Likeness Updates
Several player likeness updates were introduced in the Madden 24 update, including the addition of rookie players and improvements to existing ones.
Brock Pi: Although his likeness was added to the game, some players have noted that something looks slightly off.
Jaylen Carter (Eagles): His player likeness is spot-on and accurate.
Nolan Smith Jr. (Eagles): Another rookie player for the Eagles, his likeness is also well-executed.
Jordan Addison (Vikings): The likeness of this rookie player includes details like tattoos.
Paris Johnson Jr. (Cardinals): The first offensive lineman drafted, his player likeness is now.
Alex Highsmith (Steelers): While not a rookie, this young player's likeness was added.
David Ojabo (Ravens): His player likeness is well-represented, including his distinctive beard.
John Meijer (Texans): Back from an injury, his likeness is now accurately portrayed.
Cameron Curl (Washington): Listed as a new face scan, although some uncertainty exists about whether it's truly new.
Baker Mayfield Hair and Beard Update: Baker Mayfield's outdated appearance was updated to reflect his current look.
Ongoing Player Likeness Updates: Expect more player likeness updates throughout the year.
↖ Equipment Fixes and Additions
The Madden 24 update addressed equipment-related issues, including fixes for cleats and updates to the player editor.
Jordan 1 Low Cleats Fix: A bug with these cleats showing incorrect colors was fixed.
Missing Adidas Cleats: Although four new Adidas cleats were announced, they were not found.
New Equipment Additions: The update promised new equipment additions but only partially delivered them, suggesting potential issues with the player editor.
↖ Audio Changes
The update also included audio changes to enhance the gaming experience, particularly in Superstar mode.
Music Volume in Superstar Mode Drills: An issue with music volume during drills in Superstar mode was resolved.
Team-Specific Chants Accuracy: Accurate team-specific chants were ensured.
Commentary Bug Fixes: Various commentary bugs were fixed to improve overall immersion.
Audio Sync in Combine Intro and Outro: Audio sync issues during the combine intro and outro were fixed.
Ongoing Audio Adjustments for Immersive Experience: Continued efforts were made to enhance the overall audio mix for a more immersive gameplay experience.
Conclusion:
In total, the Madden 24 update brought significant cosmetic changes, player likeness updates, equipment fixes, and audio improvements to the game. While many updates have been made, it's expected that additional updates will address ongoing issues and provide more player likeness updates as the season progresses. Stay tuned for further updates and enhancements to Madden 24.
Most Popular Posts
Popular Category Lists