EAFC 24 4321 Weekend League Formation Tactics Guide: Player Instructions and Choices
Welcome to the EAFC 24 Best Meta 4321 Weekend League Tactics Guide. If you're seeking the winning edge in the Weekend League and are eager to master the 4321 formation, you've come to the right place. In this guide, we will break down the tactics, player instructions, and recommended player choices to help you dominate the Weekend League. And dive deep into the details of this high-performance formation, ensuring you're prepared to secure victory after victory.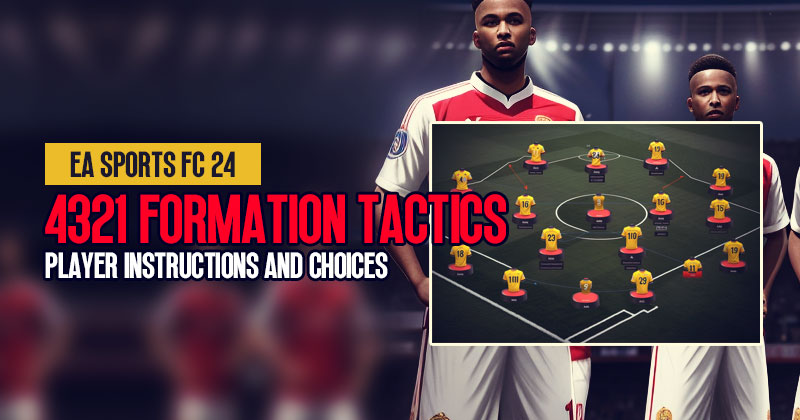 ↖ Tactics Strategies
Defensive Style:First things first, when it comes to the defensive style, it's crucial to stick with balanced. Many may suggest alternative options, but for the 4321 formation, balanced is the safest bet. Regardless of your skill level, whether you're an elite player or just trying to climb the ranks, sticking with "balanced" will prevent you from getting caught out.
Width: Set your width to 47. This width allows you to defend with a compact midfield three, making it easier to control the game. It also gives you the flexibility to exploit the wing areas using your left-center mid and right-center mid.
Depth: Depth is a pivotal factor in your defensive strategy. Depending on your skill level, you can adjust it accordingly. If you're a skill level three or higher player, you can push your depth to 71. However, it's advisable to start with 60 as it offers a good balance between aggression and defensive stability. Avoid setting it too high, as you risk overcommitting and getting caught on counters.
Build-Up Play: For build-up play, the 4321 formation requires a quick-paced approach. Opt for balanced build-up play, as it maintains a balanced tempo without being overly fast. Avoid "fast" build-up play, as it might not suit this formation's dynamics.
Chance Creation: When it comes to chance creation, you have two primary options: forward runs or direct passing. Both have their merits, but direct passing is more effective for this formation, especially if you rely on cutbacks and runs behind the defense. Keep your width at 45 for balanced attacking play.
Players in the Box: Set this instruction to 7. This will ensure that you have enough players inside the box during crossing and cutback situations, making your attacks more potent. These players will be crucial in providing support during offensive phases.
↖ Player Instructions
Now, let's delve into the specific player instructions to optimize your 4321 formation:
Strikers:
Stay Central
Stay Forward
Get in Behind
This instruction will keep your strikers focused on the central areas, helping you apply consistent pressure on the opponent's defense. However, if you prefer a more defensive approach, you can set them to come back on defense.
Central Defensive Midfielder (CDM):
Stay Back While Attacking
Cover Center
Edge of the Box
Your CDM should be a defensive anchor, so these instructions ensure that they stay back and cover the center, providing added security during counters.
Left and Right Center Midfielders:
These instructions strike a balance between attacking and defensive responsibilities for your central midfielders. They will support the attack when needed while maintaining their positions in the middle.
Left and Right Backs:
Stay Back While Attacking
Overlap (or Balanced)
Keeping your full-backs on stay back while attacking ensures defensive solidity. You can experiment with overlap or balanced based on your playstyle and how confident you are defensively.
↖ Player Choices
Choosing the right players for your formation is crucial. Here are some recommendations:
Strikers: Opt for pacey and agile forwards who excel in one-on-one situations. Players like Mbappé, Haaland, or Neymar are ideal choices.
Central Defensive Midfielder (CDM): Look for CDMs with excellent defensive stats, passing ability, and physicality. Players like Frenkie de Jong or N'Golo Kanté are solid options.
Left and Right Center Midfielders: Versatile midfielders who can contribute both defensively and offensively are valuable. Players like Kevin De Bruyne or Luka Modrić fit this role well.
Left and Right Backs: Speed, defensive skills, and passing ability are key attributes for full-backs. Players like Trent Alexander-Arnold or Andrew Robertson are strong choices.
Previous: 4231 Meta Formation Guide!
Conclusion:
The 4321 formation can be a potent weapon in your FIFA arsenal, especially in the Weekend League. By following these tactics and instructions and selecting the right players, you can build a formidable squad that will help you secure victories. Remember, personal preference and playstyle also play a significant role, so feel free to adapt these instructions to suit your unique FIFA style. Best
Most Popular Posts
Popular Category Lists