Madden 24 Season 2: 4 Best Strategies to Level Up Fast and Earn XP
In Madden 24's exhilarating Season 2, leveling up your team and earning XP in Ultimate Team mode has never been more rewarding. With a host of new features and opportunities, it's essential to have a winning strategy in place. This guide will take you through the top four strategies for supercharging your XP gains, helping you rise to the top ranks of Madden 24 in no time.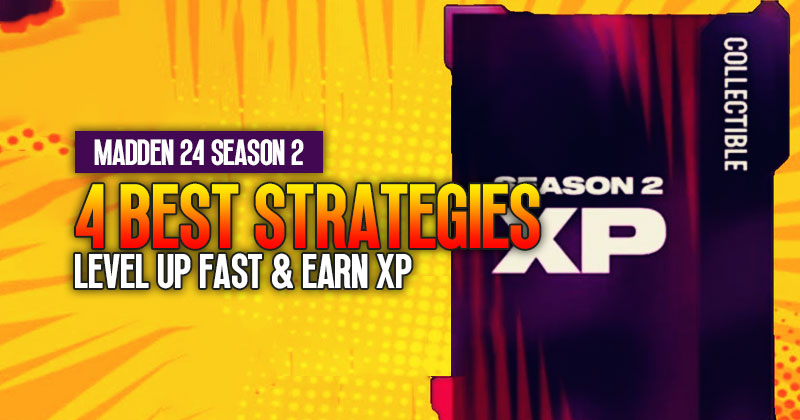 ↖ Weekly Milestone Objectives
One of the new features in Season 2 of Madden 24 is the Weekly Milestone Objectives. These objectives are refreshed every week and offer a substantial amount of XP, with each mission rewarding you with 10,000 XP upon completion. Many of these objectives are straightforward and can be achieved naturally while playing the game, such as recording interceptions, gaining special teams yards, and passing for touchdowns. Here's the key strategy:
Play the game naturally during the week, focusing on other activities like solos or online play.
Check the Weekly Milestone Objectives every Monday or Tuesday to ensure you're progressing toward them.
If any objectives are not progressing naturally, spend some time grinding for them before they expire.
By following this approach, you can consistently earn XP from these objectives without the need for excessive grinding.
↖ Field Pass Objectives
The Competitive Field Pass offers another excellent opportunity to earn XP in Madden 24. The objectives within this pass provide substantial XP rewards at various levels. To quickly level up your Competitive Field Pass, follow these steps:
Prioritize completing the Mud Champions objectives. These objectives are relatively easy and don't necessarily require winning games.
Solo Battles are your friend. Play a solo battles game and focus on achieving objectives like gaining yardage on first downs, throwing streak route touchdowns, attempting two-point conversions, and returning kickoffs for yardage. These can be completed in a single game and provide significant XP.
By efficiently completing these objectives, you can swiftly progress through the Competitive Field Pass levels, gaining valuable XP along the way.
↖ Daily Objectives
Don't underestimate the power of daily objectives in Madden 24. These daily tasks offer a consistent source of XP. Here's what you need to do:
Visit the Daily tab and complete all three daily objectives regularly.
Each completion awards you with 6,000 XP.
Over time, these daily objectives will accumulate and contribute to your overall XP progress.
Even if you can't log in every day, make it a point to complete these daily objectives whenever you play Madden 24. They add up quickly and provide a significant XP boost.
↖ Field Pass Opportunities
Various Field Passes are introduced throughout the Madden 24 season, each offering its set of objectives and rewards. To maximize your XP gains, focus on completing the objectives tied to these Field Passes:
Look for field passes with an "FP" next to them, such as Unstoppables.
These passes usually include tasks related to sets, solo challenges, and stats in head-to-head matchups.
Prioritize completing the easier tasks, like sets and solo challenges, as they can be quicker to finish.
By consistently working on objectives tied to different Field Passes, you can accumulate XP and level up your team rapidly.
Conclusion:
Madden 24's Season 2 provides numerous avenues to earn XP in Ultimate Team mode. By following the strategies outlined in this guide, including completing Weekly Milestone Objectives, maximizing Competitive Field Pass objectives, tackling daily objectives, and capitalizing on Field Pass opportunities, you'll quickly level up your team and become a formidable force in the game. So, get out there and start racking up that XP!
Most Popular Posts
Popular Category Lists