5 Essential and Effective Strategies to Improve Your Attacking in EAFC 24
Welcome to our guide on improving your attacking skills in EA SPORTS FC 24. In this guide, we'll delve into 4 essential and effective attacking strategies that can instantly elevate your gameplay and help you score more goals. From mastering finesse shots to using creative runs, player lock, control sprint, and effective left-stick dribbling, we've got you covered. Let's dive right in and unlock the secrets to becoming a more potent attacking force in the world of FC 24.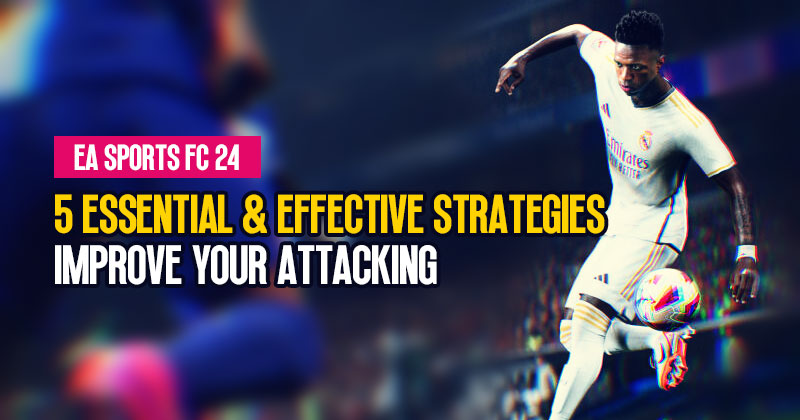 ↖ Finesse Shots
Finesse shots can be a game-changer when executed correctly. To nail them, follow these steps:
Create a 45° angle towards the goal.
Hold the R1 button (RB for Xbox) and then press the shoot button.
Aim for about 2/3 of the power bar.
Remember, you don't always need a green timing; finesse shots can be effective without it. Also, outside the penalty area, focus on the player's long shot stat rather than finishing.
↖ Creative Runs
Unlock the potential of creative runs to make unpredictable player movements. To execute them:
Press the L1 button for the player you want to move.
Flick the right analog stick downward to make them run.
Manipulate player movement to create space and confuse opponents.
Creative runs can be a powerful tool, especially against skilled opponents. Combine them with precision lob passes for deadly attacks.
↖ Control Sprint
Control Sprint is a potent technique when used wisely. To maximize its effectiveness:
Deceive your opponent with fake angles before initiating Control Sprint.
Pretend to move one way, then use Control Sprint to shift in another direction.
Combine it with left stick dribbling for versatility.
Control Sprint is your ticket to burst into space, but remember not to overuse it. It works best against opponents using normal jockey.
↖ Player Lock
Player lock is a valuable feature that allows you to control specific players on the pitch. Here's how to use it effectively:
Ensure player lock is enabled in settings.
Press L3 and R3 buttons simultaneously to activate player lock.
Use the right analog stick to switch control to the desired player.
Choose your type of pass (ground, lob, or through ball) to control your player's actions.
Player lock can help you create unique runs, control the game flow, and open up scoring opportunities.
↖ Left Stick Dribbling
Left stick dribbling may seem simple, but it's a skill that can be a game-changer:
Combine L1 triggers with left stick dribbling to outmaneuver defenders.
Use it to maintain control when opponents press aggressively.
Take advantage of goalkeeper errors with precise movements.
Left stick dribbling is essential for maintaining composure under pressure and finding those scoring chances.
Related: Top 3 Best Formations & Meta Custom Tactics!
Conclusion:
Implementing these five attacking tips will undoubtedly elevate your performance in EA FC 24. Whether you're a newcomer or a seasoned pro, mastering finesse shots, creative runs, control sprint, player lock, and left stick dribbling will help you score more goals and secure more wins. Don't forget to practice and adapt these strategies to your playstyle, and you'll see significant improvements in no time. Good luck, and may your goals keep coming!
Most Popular Posts
Popular Category Lists