How to Unlock Mounts and Enhance Riding Skills in Season 3 | New World?
Mounts have become an essential part of the New World experience, allowing you to traverse the expansive world of Aeternum with ease. Today, we'll cover everything you need to know about mounts in Season 3, including how to unlock them, level up your riding skill, and obtain various mount variants and styles.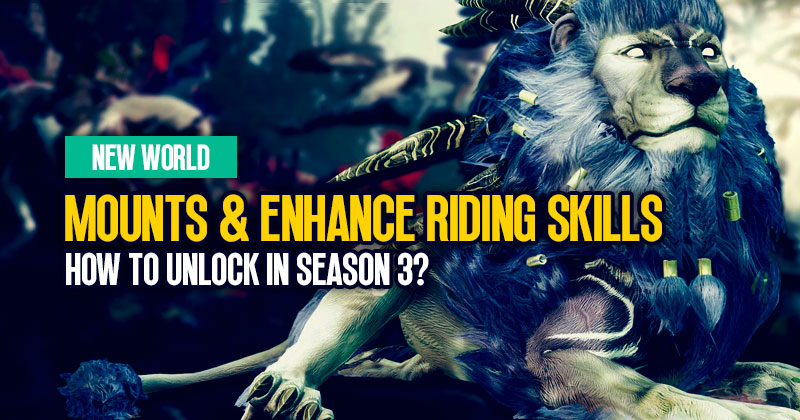 ↖ How to Unlock Your First Mount?
Your journey into the world of mounts in New World begins with a quest. Here's how you unlock your first mount:
Start in Windsward town and follow a quest marked by a horseshoe icon on the map. This quest will lead you to a location where you can start your mount journey.
After completing the initial quest, you will receive your first mount, which is a horse.
↖ Riding Skill and Mount XP
Your riding skill is crucial for improving your mount's performance. As you level up your riding skill, your mount's speed and capabilities will increase. Here's what you need to know about riding skill and earning XP:
The primary source of riding skill XP is the riding quest line you start when you get your first mount. This quest line provides a significant amount of XP, making it the easiest way to level up your riding skill.
Mount XP is displayed in the Riding skill UI, which shows levels from 0 to 200. You will unlock significant mount speed bonuses at levels 50, 100, 150, and 200.
You can earn additional riding skill XP through time trials, which are part of the quest line, and by using mount vittles.
↖ Mount Vittles
Mount vittles are items that enhance your mount's capabilities. There are four types of mount vittles:
Basic Mount Vittles: These are the first you'll unlock, and you'll receive some through the quest line.
Mount Vittles Tier 2: You need to reach riding skill level 50 to use these.
Hearty Mount Vittles Tier 3: You need to reach riding skill level 100 to use these.
Luxury Mount Vittles Tier 4: You need to reach riding skill level 150 to use these.
These vittles provide various bonuses and effects, including increased mount speed, dash recharge rate, and dash capacity. Be cautious not to consume vittles before the quest line instructs you to do so, as there's a daily limit of three.
↖ Mount Variants and Styles
New World offers various mounts and mount styles to cater to different preferences and playstyles. Here's how you can access different mount variants:
Moonshadow (Horse): You receive this horse through the initial quest.
Bon (Horse): Purchase from the shop vendor for 10,000 gold.
Golder (Horse): Drops from mobs in Dynasty Mutation level 3.
Blood Feast (Wolf): Part of the quest line in Great Cleave.
Wolf Gang (Wolf): Obtain in Starstone Barrows (requires mutation level 3).
Runa (Wolf): Purchase from the wolf vendor for 25,000 gold.
Yua (Lion): Your initial mount upon completing the quest line.
Kodja (Lion): Purchase from the lion vendor for 50,000 gold.
Godfrey (Lion): Obtain from mobs in Depths Mutation level 3.
Scourge (Lion): Available as a premium track reward in the Battle Pass (Season 3).
Please note that the Scourge lion is part of the Battle Pass and not obtainable in-game without it.
↖ Mount Charms and Pendants
Mount charms and pendants offer additional bonuses to your mounts, making your journey more comfortable and efficient. Here are some of the available options:
Mount Charms: Provide bonuses such as increased mount dash recharge rate, dash capacity, and off-road dash performance. You can swap these charms while riding your mount for situational advantages.
Mount Pendants (Talismans): Offer various enhancements, including empowering your mount after being dismounted through combat, increasing mount summoning speed, and improving mount landing durability.
You can choose the charms and pendants that best suit your playstyle and adapt them as needed during your travels.
↖ Legendary Tier 4 Power
A highly sought-after item is the Legendary Tier 4 Power - the Powerful Reddera Mount Charm. This charm provides a substantial boost to the mount dash recharge rate. To equip it, you need to have a riding skill level of 40. You can obtain it by:
Gathering from Elite chests and stockpiles in the Spire of Mopoho.
Farming it from specific mobs such as Siren Fury, Siren Dog, and Siren Brute.
This charm is valuable, and it can significantly enhance your mount's performance, making it worth the effort to obtain it.
↖ How to Unlocking Other Different Mounts?
The process of unlocking different mounts involves specific questlines and in-game actions. We've briefly mentioned how to unlock each mount variant, but here's a summary:
Horse Variants: Moonshadow (Quest), Bon (Purchase), Golder (Dynasty Mutation M3).
Wolf Variants: Blood Feast (Quest), Wolf Gang (Starstone Barrows Mutation M3), Runa (Purchase).
Lion Variants: Yua (Quest), Kodja (Purchase), Godfrey (Depths Mutation M3), Scourge (Battle Pass Premium Track).
Unlocking mounts provides diverse options for your adventures, enhancing your New World experience.
Conclusion:
In summary, mounts in New World offer a myriad of benefits, including increased mobility and efficiency in exploration and combat. Understanding how to unlock mounts, level up your riding skill, and make the most of mount vittles, charms, and pendants is essential for your success in Aeternum. Experiment with different mounts, choose the variants that suit your playstyle, and enjoy your journey in this vast and captivating world.
Most Popular Posts
Popular Category Lists