Madden 24 Most Feared Cards: Tier List and Ranking
The highly anticipated Most Feared promo has arrived in Madden 24, featuring a whopping 1090 overall cards. In this guide, we will review and rank every Most Feared card to help you decide if they're worth your hard-earned MUT 24 coins. This promo generates a lot of hype every year, and it's no different this time. We'll be sharing our reactions to the cards in real-time, discussing their strengths and weaknesses, and highlighting their suitability for different types of teams.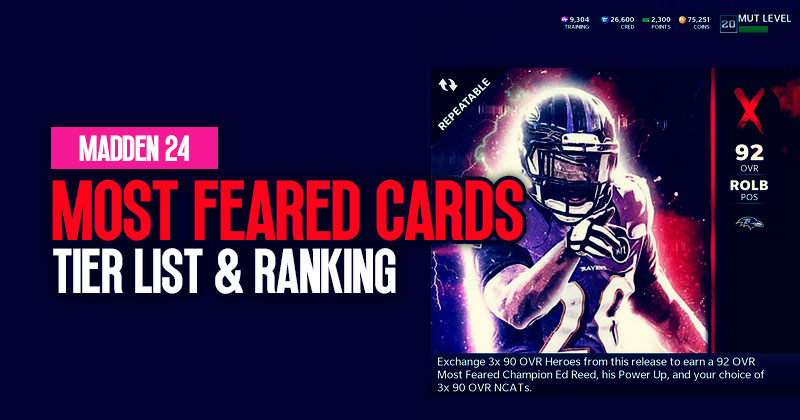 Note: The Most Feared promo includes a variety of overall ratings. We'll begin by reviewing the lower-rated cards and gradually work our way up to the most exciting 1090 overall cards.
↖ Lower Overall Cards (83-86)
Rudy Ford (83 OVR): The card art features a nasty, intimidating look, perfectly fitting the Most Feared theme. Lower overall cards like this are ideal for no-money-spend accounts and can be cost-effective additions to your team.
Sione Takitaki (83 OVR): Another 83 OVR card, these are budget-friendly options suitable for no-money-spend teams. These players can fill positions without breaking the bank.
DJ Humph (83 OVR): DJ Humph joins the list of 83 OVR cards. While not the most exciting, these players serve a purpose, especially for budget teams.
Kareem Jackson (83 OVR): Lower-rated Most Feared cards can be useful for specific team builds, but keep in mind their limitations.
Dawson Knox (83 OVR): Dawson Knox, an 83 OVR tight end, might be a budget-friendly option for those not using the top-tier tight ends.
↖ Moving Up to 87 OVR
Malik Hooker (87 OVR): Malik Hooker offers good speed and the potential to reach a 90 Zone rating. This card is promising for Cowboys-themed teams.
Tyler Higgy (87 OVR): While Tyler Higgy provides decent stats for a tight end, the competition, particularly against the widely used Michael Mayer, can be tough.
Kendall Fuller (87 OVR): A smaller corner with 87 speed might not be the first choice for most teams, especially when considering free alternatives like Ronde Barber.
Gabe Davis (87 OVR): Gabe Davis stands out with a height of 6'2" and 87 speed. He's a decent card with two thresholds above 85, making him suitable for various team compositions.
Joe Tryon-Sheno (87 OVR): With 83 speed and 86 Excel, Joe Tryon-Sheno might not be the best option for your squad. His low block shed and power move ratings are major drawbacks.
T Higgins (87 OVR): T Higgins, with only 86 speed and no thresholds above 85, may not be the best choice for your team, even though he has great catching stats.
↖ The Most Feared Stars (90 OVR)
Avante Maddox (90 OVR): This card is exceptional, boasting a massive 91 speed, suitable for locking down any wide receiver. His Zone coverage can be boosted to 90, making him one of the best cornerbacks.
Cooper Kupp (90 OVR): While Cooper Kupp offers solid catching stats, his 88 speed is rather average for the current state of the game, especially considering that faster wide receivers are readily available.
Matthew Judon (90 OVR): Matthew Judon features great speed and acceleration but is held back by a low block shed rating. Elite pass rushers may be a better investment.
George Kittle (90 OVR): George Kittle is a top-tier tight end with 88 speed, Red Zone Threat, and decent run-blocking. However, he faces tough competition from Kyle Pitts.
↖ Arcana Champions (90 OVR)
Von Miller (Arcana LTD): Von Miller's Edge Threat Elite ability with Under Pressure built-in makes him a game-changing player. He's arguably one of the best cards in Madden 24.
Cody White (LTD): Cody White is an LTD left guard, likely to become one of the best at his position. However, his price may be prohibitive for most players.
Budda Baker (Champion): Budda Baker offers a well-rounded safety card with good man coverage and hit power. Although he's similar to Troy Polamalu, he has his unique strengths.
Maurkice Pouncey (Legend): Retired legend Maurkice Pouncey joins the game as a top-tier center. He's a significant upgrade for offensive lines.
Jared Allen (Legend): Jared Allen makes a return to Madden after his retirement, bringing a powerful edge presence to the field.
Marshawn Lynch (90 OVR): Marshawn Lynch has a well-rounded card with great trucking and break tackle. However, his agility may limit his effectiveness in juking situations.
Conclusion:
The Most Feared promo in Madden 24 offers a wide range of cards with varying strengths and weaknesses. Your choice of cards depends on your team composition, playing style, and budget. While some cards stand out as game-changers, others may o
Most Popular Posts
Popular Category Lists