New World Season 3 Gear Upgrades Guide: Strategies and Tactics Without Break the Bank
Greetings, adventurers! If you're looking to elevate your gear in New World Season 3, you've come to the right place. In this guide, we'll delve into strategies and tactics for upgrading your gear in Season 3. Learn how to improve your armor and weapons without breaking the bank, acquire the best traits, and reach that coveted 700 gear score.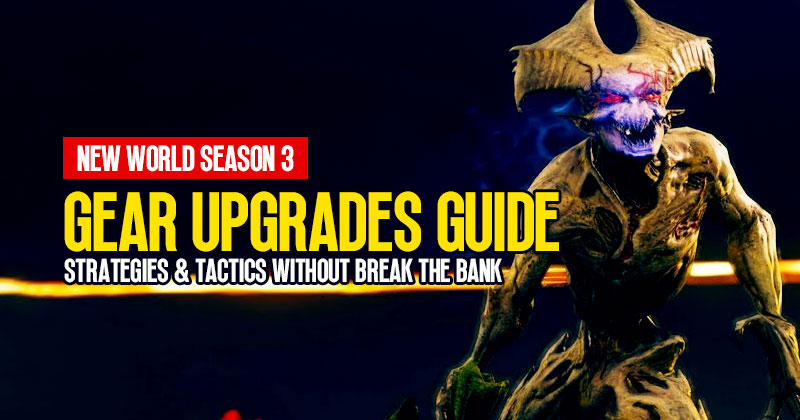 ↖ Gear Upgrading Basics
First and foremost, it's crucial to understand the fundamentals of upgrading gear. Your gear score directly impacts the quality of loot you obtain, so aim for higher gear scores whenever possible. Here's how to get started:
Overland PVE: When exploring the open world, pay attention to loot boxes and quest rewards. These often contain better gear than what you currently have. Equip any gear with a higher gear score immediately to boost your loot quality.
Traits: For those interested in PVP, focus on your gear traits, which matter greatly when you participate in Operations (Ops) and 3v3 matches. In these instances, all your gear is scaled up to 675, making traits more crucial. Keeping an inventory of various traits can pay off in the long run, as balance changes can affect the effectiveness of different traits.
↖ Earning High Gear Scores
If you're more into PVP, there's a strategy to maximize your gear score while keeping your expenses low:
PVP Tracks: Participate in PVP tracks to receive specialty named items that often come with valuable traits. For instance, Marauders' gear is worth considering for traits like Health, Shering Heels, and Refreshing Ward.
Artifact Items: Make sure to collect your three artifacts, which guarantee a 700 gear score. These can be a significant boost to your overall gear score.
Gathering Gear: Invest in gathering gear through PVP tracks to further bolster your gear score. These items can provide valuable traits specific to your playstyle.
↖ Crafting and Specialization
When it comes to crafting, there are some key points to consider:
Syncretic Weapons: Crafting a syncretic weapon is a cost-effective way to obtain high gear score equipment. These weapons are a valuable addition to your arsenal and can be crafted for 30K gold.
Faction Gear: If you prefer faction gear, evaluate whether it's worth the investment for your specific playstyle. Marauders, for example, offer gear with strong traits, but be prepared to spend around 20K gold to acquire a full set.
Gypsum Kiln: Don't overlook the Gypsum Kiln, which provides options for crafting high-quality gear. The Material you accumulate from Season Tracks can be used to craft equipment with desirable traits.
↖ Resourceful Tips
Here are a few additional resources and tips to make the process smoother:
MRO's Guide: Check out MRO's video on best-in-slot armor traits, as he provides valuable insights into effective trait combinations.
Welps' Strategy: For those aiming to level up PVP tracks swiftly, Welps has a great video explaining the process.
New World Database: Visit the New World Database to browse and explore available gear and traits.
Conclusion:
This guide should set you on the path to improving your gear score and becoming a formidable player in New World Season 3. Remember, it's essential to adapt your strategy to your playstyle and financial situation. We hope you found this guide helpful, and if you have any questions or comments, please feel free to ask. Good luck and may your gear shine on the battlefield!
Most Popular Posts
Popular Category Lists