FC 24 Best Controller and Camera Setting Update Guide | Post Patch
Welcome to the updated guide on the best controller and camera settings for FC 24 post patch. In this guide, we'll explore the settings you need to optimize your gameplay and give you an advantage to secure more wins. We've taken into account various aspects like shooting, passing, defending, and camera settings to help you fine-tune your FC 24 experience. So, let's dive right into it.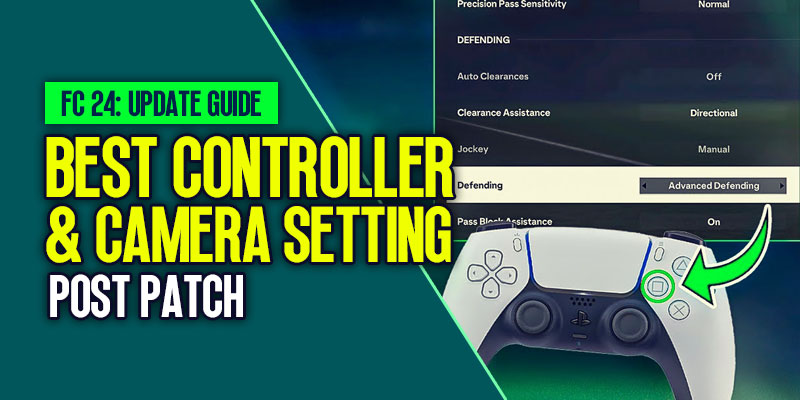 ↖ Gameplay Settings
Shooting Settings:
Precision Shooting: Avoid using it as it's not very effective this year.
Assisted Shooting: This is recommended for most players, as Precision Shooting may lead to inaccuracies inside the box.
Time Finishing: Use it for shots taken outside the penalty box, like volleys, finesse shots, or volleys. Inside the box, it may not be as effective.
Passing Settings:
Lob Through Pass: Set it to semi for more control.
Ground Passing: Go with assisted for better results.
Cross Assistance: Keep it on assisted.
Driven Pass: Useful for passing in tight situations.
Driven Cross: Inside the box, use this for precise crosses.
Pass Block Assistance: Set it to 'None' unless you're new to the game.
Defending Settings:
Tactical Defending: Most players should stick with this option. Advanced Defending offers more control but is suited for experienced defenders.
Air Balls: Set it to 'Loose Ball' for better control.
Switching Settings:

Stick with 'B Relative' for more consistency.
Sensitivity Settings:
Sensitivity settings are a matter of personal preference, but try starting at '4' and adjusting it slowly. Test it in Rivals to see what works best for you.
Classic Player Lock and Icon Switching:

Classic Player Lock is recommended for smoother gameplay. Turn off Icon Switching, as it tends to be slower.
Orbit Dribbling:

Leave it off unless you use it extensively.
Short Assistance:
Set it to 'Semi' for more control over your shots.
Analog Sprint:

With the introduction of Control Sprint, Analog Sprint isn't as necessary. Consider turning it off.
Other Settings:

Turn off 'Trainer,' 'Net Tension,' and 'Goalkeeper Switch Assistance' to minimize distractions during gameplay.
↖ Camera Settings
Camera Angle: For those struggling with player switching, defending, and shooting, 'Co-op' camera angle with '20' height and '0' zoom is the most recommended.
Ball Tracking Speed: To make the game feel faster, set 'Ball Tracking Speed' to '10' or '20.' This is a psychological tweak that can help the game feel quicker, although the gameplay itself remains unchanged.
Conclusion:
These updated controller and camera settings should give you a competitive advantage and potentially lead to more victories in FIFA 24. Remember that personal preferences and playstyles may vary, so take the time to experiment with these settings and adjust them to your liking. With practice and the right settings, you can elevate your FIFA game to the next level. Enjoy your time on the virtual pitch and keep an eye out for future updates or patches that might require further adjustments.
Most Popular Posts
Popular Category Lists