Guild Wars 2 Quick Gold Guide: Earn 20 Gold in Just 5 Minutes Daily
In Guild Wars 2, the allure of gold remains an unwavering constant. Every player dreams of ample coffers, but not everyone has the hours to dedicate. If you're a player constantly caught between the hustle of real-world commitments and the desire to amass wealth in Tyria, this guide is tailored for you. We present an avenue to acquire a significant 20 gold daily, all within a surprisingly succinct 5-minute window.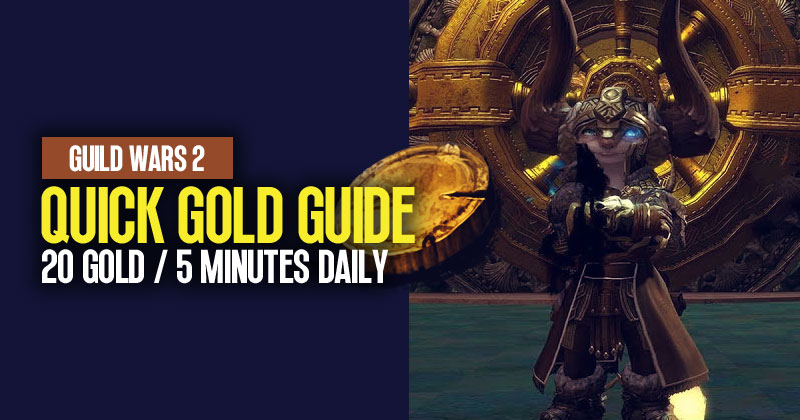 ↖ Introduction
Everyone's life is filled with endless chores and responsibilities. For the player struggling to squeeze in a moment for Guild Wars 2, this guide will show you how to optimize your short time in Tyria to its fullest.
↖ Preliminaries
↖ Efficient Gold Farming Tasks
Jade Runestones:
Requirement: End of Dragons expansion.
Method: Access four quick locations daily.

Jumping Puzzle in New Kang City: Park an alt and use 'Teleport to a Friend'.
Aaval Wilds: Three chests to focus on.

North of the M Village Waypoint: Use a skyscale or Jade ziplines.
Near Jade Gateway point: Two chests. Climb using Skyscale or ziplines.
Inside a nearby cave: Requires the Crypt Seeker achievement.

Result: Four Jade runestones daily.
Eternal Ice in Buor Mares:
Requirement: Living World season 4 and Resilience, Valor, Vigilance masteries.
Method: Open five large chests and three small ones.

Conversion: Transform Eternal Ice to Living World season 4 material and then into Volatile Magic. Buy mistborn motes, then trophy shipments.
Result: Gold based on sales from the box contents.
Draconus Mons Jumping Puzzle:
Rewards: Fire orchids and a guaranteed rare.
Note: Either sell fire orchids directly or consume for Unbound magic.
Tom of Primeval Kings:
Method: Four chests and one cache. Quick exploration and sales.
Flax Seeds in Verdant Brink:
Method: Dive to the bottom of the pit and harvest.
Daily Ascended Material Crafting:
Method: Craft four daily restricted items and then specific ascended materials. Sell at the Trading Post.
Result: Roughly 12 gold daily.
Charged Quartz Crafting:
Purchase 25 quartz crystals, convert to Charged Quartz.
Craft a Leyline Infused Tool and sell.
Additional Requirement: Layline Sparks from Heart of Thorns maps.
Bonus - The Wizard's Vault:
Potential Earnings: 1 gold daily and additional materials for more gold.
Tips: Complete daily objectives. Efficiency increases with practice.
With these methods in your arsenal, gold farming in Guild Wars 2 has never been faster. Happy hunting, and see you in the next adventure!
Most Popular Posts
Popular Category Lists