NHL 24 Player Guide: New HUT Champs Sets and Best Rivals Rewards
In NHL 24, the HUT Champs and Rivals modes have brought exciting new content and rewards for players. In this guide, we will break down how HUT Champs works, which rewards to choose, and provide insights into the new HUT Champs players. Additionally, we'll cover the Game Day cards and Rivals rewards, and help you make informed decisions.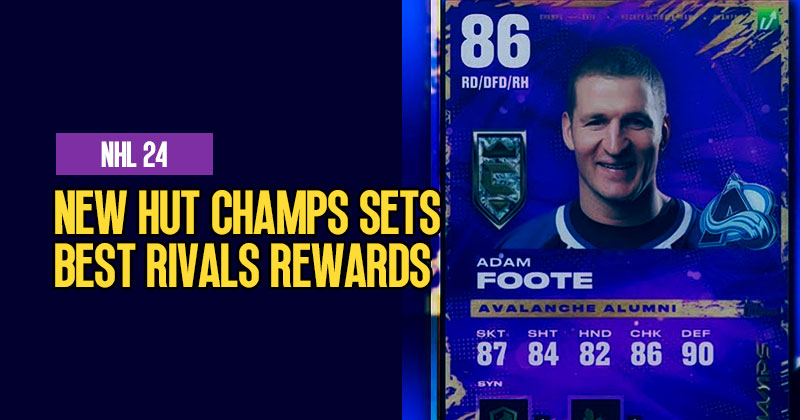 ↖ HUT Champs Rewards and How It Works
Hut Champs is a competitive weekend league where the goal is to win as many games as possible out of 20. The more wins you achieve, the better your rewards will be. While the reward structure for Champs may change, we've seen that 10 wins out of 20 can earn you 10 Hut Champs Collectibles, a significant reward.
Collectibles: In previous seasons, players could earn 10 Hut Champs Collectibles for 10 wins out of 20 games. This is a significant reward, but it's important to note that you can get an extra collectible for each win past 10, which incentivizes players to keep competing.
HUT Champs Sets: These sets allow you to exchange your Hut Champs Collectibles for various rewards. To access these sets, you need to be in Division 2 or higher and earn the win rewards from the previous week's Rivals.
PowerUp Collectibles: You should prioritize getting PowerUp Collectibles because they are vital for upgrading your favorite players. By earning more of these, you can enhance the cards you like, such as Ketov, to create a stronger team.
↖ New Hut Champs Players
In the new HUT Champs season, several exciting players are available. Here's a breakdown of the first set of players:
Martin St. Louis: This 82 overall card offers multiple tiers of upgrades, but the final tier unlocks a second synergy and a gold zone ability. While he may not be the best choice for your first line, he's a decent option, especially for those building theme teams.
Doug Gilmour: Gilmour's size makes him less ideal for some teams, but if you're constructing a theme team, he can be a good addition. He comes with the "Quick Draw" synergy, which can be essential for your team.
Adam Foote: At 86 overall, Foote provides excellent defensive stats and decent speed. He can be a solid choice for those who liked his card in NHL 22. However, his gold ability, "Ice Pack," might not be the best.
Cam Ward: Goaltenders are often not the best investment in HUT, and Cam Ward is no exception. While he may be a cool card and player, you can find better and cheaper options in goal.
↖ Game Day Cards
The new Game Day cards offer a +1 boost to the players from the teams that win their Saturday matchups. Here are some highlights:
McKenzie Blackwood (Sharks): Blackwood's performance stood out, making him a viable option for your team, especially if you're a Sharks fan.
Boone Jenner (Blue Jackets): Jenner had a fantastic game, showcasing his skills, especially in tipping pucks. A solid option for your lineup, especially if he gets an upgrade.
Frank Vrana (Red Wings): This card is primarily for Red Wings fans and might not be ideal for other teams. However, it could still be a fun addition to your lineup.
↖ Game Day Cards (Continued)
Tom Wilson (Capitals): With great size and body checking, Wilson can be a useful player if you're a Capitals fan. But watch out for his slower skating.
Cole Caufield (Canadiens): A popular choice among Montreal fans, Caufield can add firepower to your lineup. However, his defensive stats are not impressive.
Thatcher Demko (Canucks): Demko can be a reliable goaltender, especially considering his 6'4" frame and agility.
William Nylander (Maple Leafs): Nylander's upgraded card can be a valuable addition to your lineup, with improved skating and offensive attributes.
↖ Rivals Rewards and Untradeable vs. Tradable Packs
Rivals Rewards are a critical part of your Hockey Ultimate Team experience., and choosing between untradeable and tradable rewards can be a tough decision. With the new changes to sets, untradeable packs are often the better choice. This is because every card now has value due to the collectibles and sets. Here's why untradeable packs are advantageous:
Value of Every Card: With the ability to exchange unwanted cards for collectibles and sets, every card becomes valuable, increasing your overall progress.
More Packs and Cards: Untradeable packs give you more chances to acquire cards and assets for your team. You can use these cards to improve your roster.
Collectibles: As you accumulate untradeable cards, you can convert them into valuable collectibles for further upgrades.
In contrast, tradable rewards may provide you with assets to sell on the market, but the long-term benefit of untradeable packs often outweighs the short-term gains of tradable packs.
Conclusion:
NHL 24 introduces exciting new content, including Hut Champs sets, Game Day cards, Live Moments cards, and pack options. Understanding the best choices for your team and how to maximize your rewards in Rivals mode is crucial to building a strong team. Keep an eye on the ever-evolving Hut Champs reward structure and make choices that align with your ultimate team-building goals. Good luck, and may your virtual hockey season be a successful one!
Most Popular Posts
Popular Category Lists